A Coinigy Review
This bot, as we know, is coming up through the ranks of the best-automated crypto platforms to trade with. However, there's more that you should know. About ten years ago, the use of trading tools and robots was still very much so untapped — basically, things happened a lot more slowly, and crypto exchanges had relatively fewer chat features and inexpert interfaces. The trading bot breakthrough didn't come until its founders Robert Borden and William Kehl figured they could create ideal trading bots that could help beginners to both sell and buy. After an "ah-ha" moment in 2014, they decided to use this trading interface as an intuitive tool that crypto freshmen could relate to faster than what other exchanges provide.
What's more, in this Coinigy review, I'll shed more light on the features, pros and cons, discuss Coinigy vs TradingView,and answer some frequently asked questions about the trading system. Here we go!
Why Do I Need This Tradebot For Crypto Trading?
It is an interesting platform for chart reading and analysis. In my opinion, it is the springboard for marketplaces where international cryptocurrency trading is tracked and crypto exchanges are analyzed. Here, the tracking and analysis processes are realized with the help of carefully selected trading tools and indicators, and live prices are in turn recorded from analyzed exchanges.
There is, actually, even more: on this site, you can merge most of your trading accounts into one medium while keeping all of them encrypted & secure. You can likewise put in orders for different exchanges and have them tracked in one place. Traders are able to keep up with their balances, deposit funds, and conduct analyses.
Launched by the Milwaukee group in 2015, the company opens access to various global scale crypto markets, where traders can connect with more than 45 renowned crypto exchanges from the comfort of their mobile app or desktop.
While the Milwaukee team is made up of programmers, developers, and traders who have accrued many years of experience in the financial market, Borden and Khel pride take in more than one decade of working as programmers.
What Are The Features?
If you are wondering what features make it stand out from similar software start-ups, then you're on the right track.

Let's get to work:
Ease of use – it runs a network-based interface that is, hands down, the best user-friendly space for both beginners and experienced traders. A number of activities can be performed on the platform. These activities involve constant portfolio monitoring, charting, and in-account trading (via API integration). As well, the app let's users man their accounts from either an iOS or Android device.

Range of application – Boasts dependable technical indicators,more than 70 of them, and keeps users abreast of the latest crypto trends and live data feeds by using a real time API. This simply means that the platform provides an opportunity for traders to work with savvy charting, live exchange rates, and high frequency trading tools, as well as an extensive number of web, desktop, and mobile apps like the CryptoTicker and ArbMatrix apps. Similarly, the Google datasheet plug-in, SMS, email, and in-browser price alerts where traders are kept in the know through notifications are other very appealing features. The best feature of Coingy, also the key factor that sets it ahead of its peers, is ArbMatrix. With ArbMatrix, users are able to tie up popular cryptocurrency exchanges and profits that come from.price differences between exchanges. In addition to livīng off arbitrage opportunities, it mimics the overall purpose of a cryptocurrency tracker — it lets you quickly check on how various assets are performing across multiple exchanges.

Exchange account consolidation – In the blink of an eye, you can connect it to about 40 leading exchanges and watch over more than 4,000 different trading pairs and coins. That's not all: users enjoy the privilege of monitoring balances and can engage in comprehensive charting. At the same time, they can also buy and sell directly from their accounts. The interfaces that support this feature are API integration with exchanges such as Binance, Bitfinex, Bitstamp, Bittrex, CCEx, CEX.io, Coinbase Pro, Huobi Pro, Kraken, Kucoin, Poloniex, and Vaultoro.

Up-to-date technology – It is one of the trade bots that is hosted globally on Google's data centers, and also effectively uses the SocketCluster framework for apps and micro services. Another interesting detail is that the platform promotes instant access to not only real-time APIs and historical data, but also to live data (powered by the CryptoFeed). Above all, each one of the requests here is filtered through a trusted and verified (ORG) SSL, and user information is encoded with AES 256-bit encryption.

Responsive customer services – Clients are attended to nicely and can get in touch with the team at any time of the day. All they'll need is to send their concerns to the support crew or communicate using the live chats pre-installed on their accounts. Otherwise, they can place a call to the head office at +1.414.301.2289 or reach out through social media networks like Facebook and Twitter — it has active accounts on both platforms. As well, there's a FAQ section where questions get answered and extra support is provided. You can also get ahold of YouTube videos, updates, Coinigy review and so on.
Benefits Of Using
Let's delve into some of the advantages of using:
A very good trade name

Extensive charts and 75 Technical Indicators to trade with

Enterprise Grade Security Protocols

Google Sheet integration

Users can compare prices from other exchanges and be able to make smarter trading decisions

An intuitive-3rd party app integration that is also compatible with iOS and Android devices

Around-the-clock customer response system and live chat

30-day free trial
Drawbacks
A few of disadvantages include:
It has a learning curve that doesn't favour new traders

Beginners have to be dedicated when using Coingy: newcomers have to deal with learning from so many resources at once and, as such prime focus will be needed

A bit pricey for inexperienced users: the price ranges from $223 to $1,200
Can Beginners Use It?
It's probably fair to say that even though the intention was to create a ridiculously simple process of managing and trading cryptocurrency profiles, it still falls somewhat short of what beginners really expect. It turns out there's a learning curve, which means new traders have to learn at a fast rate. The reason is that some sets of features are a bit too complex to grasp all at once. Consequently, freshmen would need to pick up the pace in order to get through the bulk of the resources they will be faced with. Does this make sense?
More so, the Support segment comes handy when breaking down various initial steps like the layout or working with charts. Another plus is the Youtube channel, where beginners can use videos to better explore the platform. Remarkably, Coinigy review by most of their clients (beginners at the time) suggest that using the guides and videos actually made them more confident in learning the platform and standard value light (OHLC) graphs.
Coiningy also offers paid membership to all users. The problem here is that there is no decline button. If you're looking at subscriptions, you have no other choice than to accept the offer because it's how the platform operates. In other words, no subscription, no bot for you. On the bright side, you'll get an instant 30-day free trial. To be honest, this makes the process a whole lot easier, particularly if you are just learning the ropes or looking to come up while using charts and technical analysis indicators provided by various exchanges.
Here's an important point: it might not exactly be pocket friendly for newbies, but it doesn't break the bank. I feel that this is because first time users might not get rich as quickly as they want. So, the more money they invest, the more expensive it may seem. In any case, putting all your exchange accounts in one place and making use of Tradeview's charts and trading tools should surely bring good profit. Moreover, it takes the lead by enabling clients to set stop-loss and take profit margins, and cut down orders from their records — something uncommon in other crypto trades.
Coinigy VS TradingView: Which Should You Consider?
The Coinigy vs TradingView questions are some of the most common that make the rounds. A lot of people have compared it to TradingView, and you're also going to stumble upon reviews about Coinigy vs TradingView. The point is that although the two platforms are quite alike, there still exist obvious differences to be highlighted. Before jumping ahead, let me ask you: which one of them do you think is preferred by crypto traders? Clearly, it is thought to work better for other finance assets like Trailingcrypto, Cryptohopper, and 3Commas.
Now, without further ado, let's get right into identifying the areas in which they differ.
See the differences here: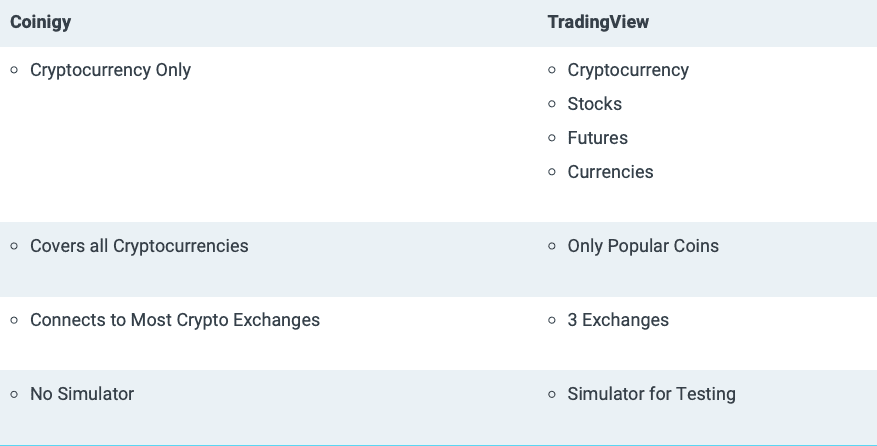 How About The Subscription Plans?
Check this out: contrary to similar crypto exchanges, there are no Coinigy fees or any other sort of trading fees. The way that it comes up with its revenue is by offering subscriptions. They also sell historical pricing data to software developers. New users will be able to use most of its features during the initial 30-day free trial. However, there are a few exceptions: only paid subscribers can access ArbMatrix.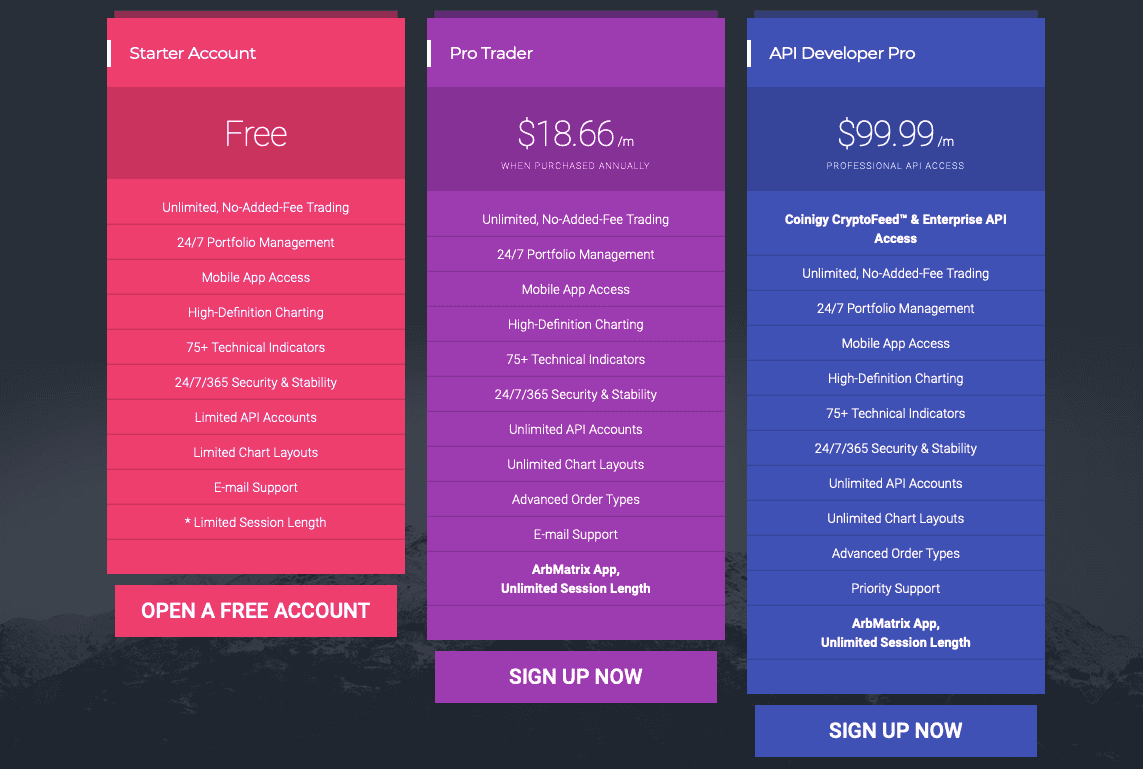 For more useful info about subscription plans, you can go to our platform (in it's profile). You can also find a detailed explanation of all the plans as they are listed on Coinigy's website.
In A Nutshell
Coinigy enables crypto traders to integrate their activities. They can tie up their accounts with 40 other driving digital currency trades. From allowing intuitive features like UI and charts, to providing tools for technical analysis, it tends to add a tiny edge to how much users can do. It all boils down to helping clients conduct stress free trades rather than jump from one crypto exchange account to another.
The best part of trading with it is how straightforward the company is. They only ever use low latency feeds and off-the-hook API integration, which are safe, proficient, and dependable. Traders are supplied an ample amount of trading and investing resources, 30-day free sponsorship — a cool way of letting users in on what to expect from trading with this crypto bot - subscription offers, and the like. Amazing, right?
In fact, let's hear from the horse's mouth:
"At Coinigy, security is our top priority. We have taken a multitude of steps to help ensure your data is safe and secure. We recognize that in order to provide a secure platform in the digital currency space, security is an interminable effort. Our security team works perpetually to combat the latest in cyber threats in a proactive manner. While we cannot disclose all of our defense techniques"...
This statement is totally impressive and a winner in my opinion.
The platform doesn't suit a hands-off approach and is definitely not for people who want to trade passively. According to feedback from the Coinigy reddit, the basis consists of an extensive range of features aimed at highly active traders who keep a watchful eye on their portfolios. Traders who are bent on using a " save money, live better" trading platform should make use of the 30-day free trial before deciding whether to commit to one of the paid subscription plans.
Finally, please don't forget that using a crypto trading bot does not generate profits as fast as you'd imagine, or that every trade is a sweet deal. The bottom line is that if you are new to cryptocurrency trading, it's best to try using a provider and a cryptobot together. To know more about crypto trading, crypto bots, and all the info you'll need to start up, follow this link. Most importantly, let's keep in touch.