Haasbot Step Guide: What You Should Know?
Haasbot reviews and Haasonline as crypto terms are quite popularly used, and as a crypto enthusiast, you are always going to bump into them. Why is that so? Being human, you need to reconnect with the real world from time to time, even if you're the busiest guy. Haasbot will be the eyes to keep your trade in check while you're at it. And today, I have something to make you feel you have crypto superpowers: Short steps to discover how having this magical formula makes the difference.
What Does This Crypto Trading Bot Really Do?
I think of it as my trading tool or personal assistant or a good friend. I mean what better way to describe an all-in-one masterpiece that automates your trade strategy, optimizes your profit and provides you with the trading secrets you need. As for a Haasbot review, that will be the feedbacks (e.g this write up) that cover most things about Haasonline — the website behind it.
Look:
Knowing what to do in the crypto space is great. Having an artifîcial assistant that helps out is great too. But when you can put BOTH on the table? That's when you know you're about to be on top of your game! Traders who succeed in using trading bots, do two things very well: First, they go for the best trading platforms and use smart-paced strategies. Second, they put 100% of whatever resources they have into scaling those strategies.
Now, let's speak about the license and Haasonline. A Haasbot license is simple to understand: It's an official permission to use some of Hassonline's preprogrammed codes that do what you say — buy, sell, long, short, etc. Such codes are easy to understand but tough to build and make profit from. But lighten up — as I mentioned earlier, this Haasbot review will give you important tips on getting started. Haasonline is a software company the provides various crypto bots and is compatible with 20 leading exchanges including Binance, Bitfinex, and BitMEX. The time was January 2014 and the idea was born by CEO Stephan de Haas. Currently, the company is biggest on the market and made up of a transparent team — including CTO Quintus de Haas and CSO Josh Becker. Their main product, Haasonline Trade Server (HTS), hosts different kinds of cryptocurrency bot.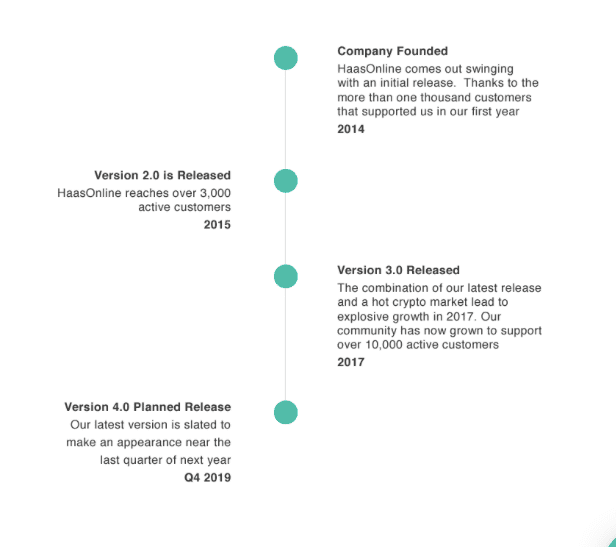 A few more things to know:
In my experience, understanding the structure of the market is as important as trading on the market. The same way, for developers to make fully customized bots that function in a particular way, they will also need fully programmable script bots. Again, using crypto trading bots do not guarantee profit optimization — that's why it's better to combine a provider and bot system. To read more on this information, click here.
Some Interesting Features
You maybe wonderīng: "What makes Haasbot stand out, exactly?".Here's the deal: So many things do.

But to answer to your curiosity, I will give 5 features to look out for:
Ease of use
The great thing about HaasOnline is that the platform considers all user skill level — it's both beginner and user-friendly. Trying out a trading bot with an intuitive interface and customizable dashboard helps first timers to advance at a good pace, and users to effortless find their way around. And with this bot, starting is as straight forward as installing the software on your PC or laptops. There's equally provision coined out for Windows and Linux OS support, and traders can set up bots to automatically makes trades throughout the day. These bots then select a wide range of technical indicators you can work with.
High-performance tools
You can access up to 50 technical indicators as well as a chunk of testing tools. Together, they help with historical and real-time backtesting. Another specialty is trade protection. Do you see how ideal this is? You're looking at owning 13 different types of insurance that secure your trades, and 21 safeties which initiate sales or purchases. A word of caution — be sure to meet the licensing requirements so as to buy and sell exchanges.
Compatibility
Aside Binance, Bifinex and BiMEX, the platform provides compatibility for 17 other top list exchanges including Bitstamp, Bittrex, CCEx, CEX.io, Coinbase Pro, Deribit, Gemini, HitBTC, Huobi, ionomy, Kraken, Kucoin, Nova Exchange, OKCoin, OKEx, OKEx Futures and Poloniex.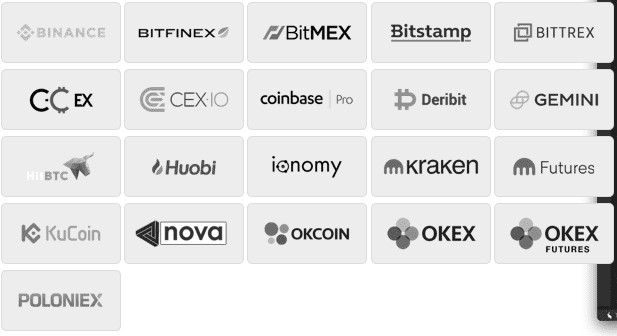 Technology
It's possible to link it with the accounts that run on compatible exchanges just by configuring HTS. For example, there are currently 15 pre-built bot types such as interexchange arbitrage, flash crash, and accumulations bots. You can connect your trade bot to any of those and still operate smoothly. Moreso, skilled Haasonline users similarly may seek customizing personal crypto bots with the help of completely programmable systems — so-called script bots.
Customer Support
Support tickets are available on in the support section for users who want to contact the team. Even better, they can interact with the team's social media accounts. The best part of the customer care is that an active Twitter account, Telegram group, Discord server, Facebook page and YouTube have been created by the team — it means answers to clients' common questions have been addressed in the FAQ section, also part of their Wiki resource page. To get a hang on Haasbot reviews on profits, losses and trade information, traders can integrate the software directly into their Telegram.
Cutting Edge Benefits
Fun fact: Trading bots aren't for everyone - but roughly anyone can find their way around it. As long as the User interface (UI) is friendly, newbies can take home some great advantages from the time-freeing aspects of bot trading. Advanced users likewise, do the same, particularly when the platform provides advanced trading strategies. For starters, Let's take a look at how Haasonline stacks up:
Non-selective compatibility
This crypto bot, like some trading bots, is based on compatibility — it needs to work with multiple exchanges. But not necessarily all exchanges will be compatible with your own trade bot. Even on Haasreddit, you'll find that only a successful trading bot, such as Haasonline's, seamlessly connects to a wide range of exchanges (Coinbase, Binance, Bitfinex). This ensures you won't miss out on hitting profitable trade. Check for one — this Haasbot review.
Security Guarantee
A trading bot, and in this case the Haasonline software, needs to keep you safe from flash crashes and other surprising market events. Haasonline affords you granular control of your crypto bots. They get to set them up as they deem fit, and protect your investment from market crashes.
Areas Where It Falls Short
What's the bottom line? There's no perfect trading bot system out there. Each and every one of them will have their pitfalls and drawbacks. Crazy isn't it? Yes, but what I do in the face of challenges is make lemonade from my lemons, you too can. So, briefly, these two bugs are the most common on Haasbot. Let's go through them:
No common ground
Striking a good balance between crypto old-timers and amateurs user interface would be ultimate. But Hassonline's software seems to stick to a middle ground here. We can't configure our bots without knowing what the markets are up to. Novices have a learning curve way too ahead of them, while vets could go with a few more features. Overall, however, I don't think it's not that much of a deal.
Single Language Interface
When I checked out a similar Haasonline Review, I tried to weigh on factors like uptime and customer service. Can I be honest with my findings? Both factors met global standards, but Haasonline's set back as it doesn't offer customer care in more languages. Hopefully, with future considerations and upgrades, this feature will come on board.
How Do You Know If It Suits Beginners?
We've all been there: Beginners who sucked at using crypto trading bots. And let me guess: It was annoying, discouraging, you hated it. Good news is it only gets better! Haasonline needs a bit of time to get used to as opposed to a few of its competitors. What to do in this case? it's necessary to install and configure HTS and download bots onto your computer. This process is tricky at first and as newcomers take on more tutorials, they will be able to pull it off eventually.
Think about it another way: What makes it special for beginners?
As soon as the HTS is up and running, new traders can access some pre-built bots, which are easy to use. Some examples are the Order bot — works according to predefined orders or the Accumulation bot — accumulates a particular currency through randomized ordering, and the Inter-Exchange Arbitrage Bot — takes advantage of price differentials on different exchanges.
Here's one more kicker:
On Haasonline, Safeties like Close Above/Below Profit, Price Pump/Dump plus a number of Stop Loss alternatives have been generated to protect traders' funds. See the difference? Exactly!
Lastly, Haasonline's insurances provide an additional layer of protection. Let me explain — possible losses are not only in trading but also in not having an insurance. Insurances like Stay Profitable, Never Sell Cheaper, and Overcome Fees, comply with safeties to trigger the buying or selling of certain assets at any point where special conditions are fulfilled. Ps: You can equally find this on Haasbot reddit.


What Subscription Plans Does This Bot Have?
Becoming a part of Haasonline is a no brainer. You'll do right to find all the subscription plans on their profile.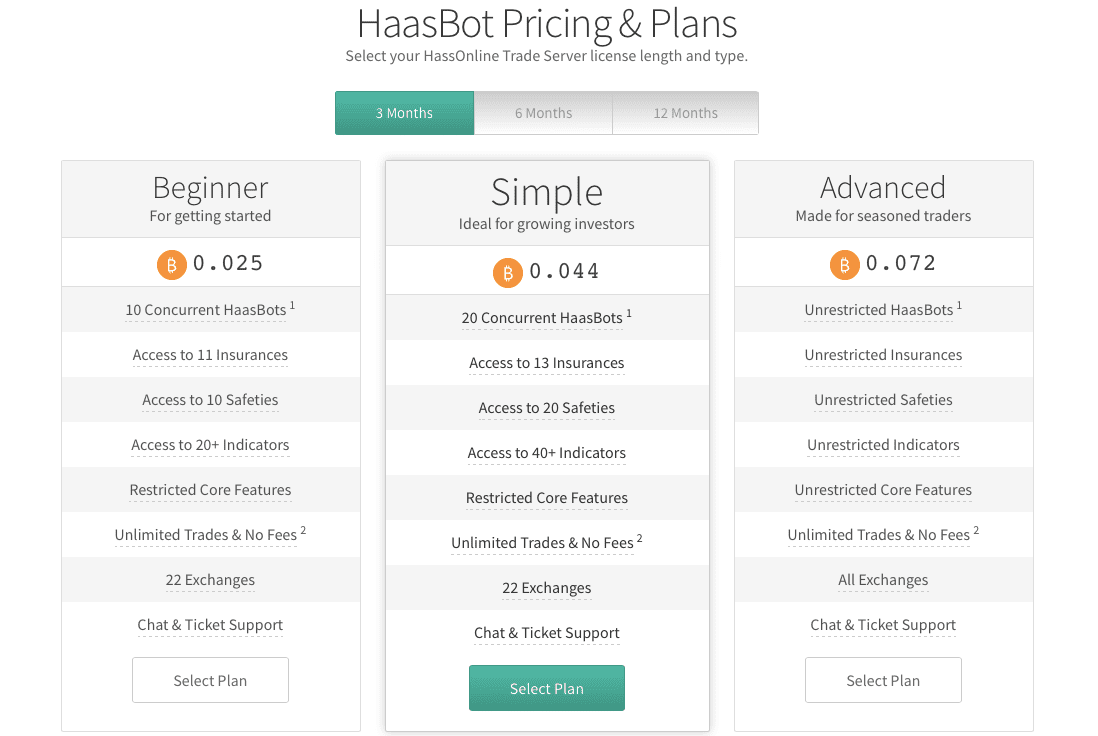 For further info on subscription, pricing, you can visit it's website.
Let's Round Off!
Haasonline is a comprehensive automated trading platform that requires users to do these:
Sign up to the website

Install and configure HTS

Subscribe to a license and then begin to use different bots.
This platform combines numerous leading exchanges and holds up over 500 currency pairs. Besides, a wide range of technical analysis and tools such as backtesting options, insurance, and safeties make up the pluses users may access while using it. Good news? There's no leaving out new traders — the company offers a range of licenses to the benefit of beginners. But beware, in general, Haasonline takes some getting used to, and at the same time, the need to download and install might put off some users.
Consequently, newer traders are encouraged to join the Telegram group to gain greater insight on how this bot works and probably be able to know the type of license they'll prefer to purchase — whether on a 3-month basis or more, during the space of time they'll spend getting acquainted with the HTS system. New users can also look to make use of some of the easier to use pre-built bots and be sure to protect their funds by making use of the insurance and safeties.
The wide range of technical indicators and the ability to customize bots will appeal to the more technically advanced, and the team provides extensive documentation on indicators, trading techniques as well as various software features. The project is backed by a well respected and transparent team and has built up a significant user base over the years.
According to Haasbot reddit feedback: Some traders have reported having issues with the software, and claim it can become unresponsive at times. What does it mean? Haasonline may be mostly recommended for people who are willing to their hands dirty or are prepared to spend time to make the most of the cash-rich features of the platform offers.
What's more, do you want to get more accurate info about Haasbot? Check this page and you will keep tabs on everything you need for adding crypto profits. Here it is possible to get some new info about this bot, info about crypto market, training videos and so on. I'd also love to share in your thoughts about this topic. See you again!