Wunderbit Trading - Useful Crypto Bot or the Scam Service? [Safetrading 2021 Review]
Wunderbit Trading is the automated copy trading service that offers a lot of predictions of professional traders and useful features.
They are very useful for cryptocurrency trading because they make it easy.
The thing is that a lot of crypto bots are not reliable and it is very dangerous to link your account.
Today we will talk about Wunderbit Trading, its features, offers, pricing, advantages, and disadvantages.
What Is Wunderbit Trading?
As I told you before, this is a cryptocurrency trading bot that allows you to trade on different exchanges.
This bot was developed in 2018 by the team of Estonian professionals with past experience. Among the crypto bot, they have opened the licensed cryptocurrency exchange - Wunderbit Exchange, and the service that allows users to pay for goods and services with the help of Bitcoin - Wunderbit Merchant.
But let's come back to our crypto bot and discuss it more properly.
The first thing that is important is that you can register as the trader and the investor.
I have never seen such a feature before so let's talk about it properly.
If you want to register as a "Trader", you will be able to trade for other people who want to register as "Investor".
Simply speaking, if you can't trade but want to earn money, you can give your money to the trader who will trade for you for commissions from profit.
This offer is really good but you need to be sure that the bot is trusted and you can give your money safely.
Is It Safe to Be the "Investor"?
I think you want to have the answer to this question.
If you invested the money in the service called "Trust Management", you know that when traders receive your money, they can't withdraw it because of the limitation.
Here is the same situation. They are able to manage your money, but not deposit or withdraw it.
Wunderbit Trading Features
Every modern crypto bot has almost the same features but still, it is important to go through each of them.
This bot works with Binance, Bittrex, Deribit, and Kraken if you want to do spot trading.
Also, you can trade cryptocurrency futures using the FTX exchange. This is the new feature that gives the opportunity to trade derivatives.
Soon you will see more popular exchanges!
When you visit the Dashboard, you will see the section "Marketplace".
This feature will help you to use the predictions of professional traders and earn profit with them.
You can simply press "Copy Trade".
This offer is very good and useful for newcomers.
Wunderbit Trading Dashboard will show you your Portfolio Value, Profit, and Loss, Traders You Follow, and all the orders you opened.
The interface is very understandable so I don't think you will have any problem with it.
Bots
Wunderbit Trading gives the opportunity to add different bots for every cryptocurrency pair.
Just press "Add New" and you will see the form for creating your own bot. You will need to enter the bot name, to choose the exchange and API, select the important crypto pair, how much capital you want to invest in this trade, etc.
Pricing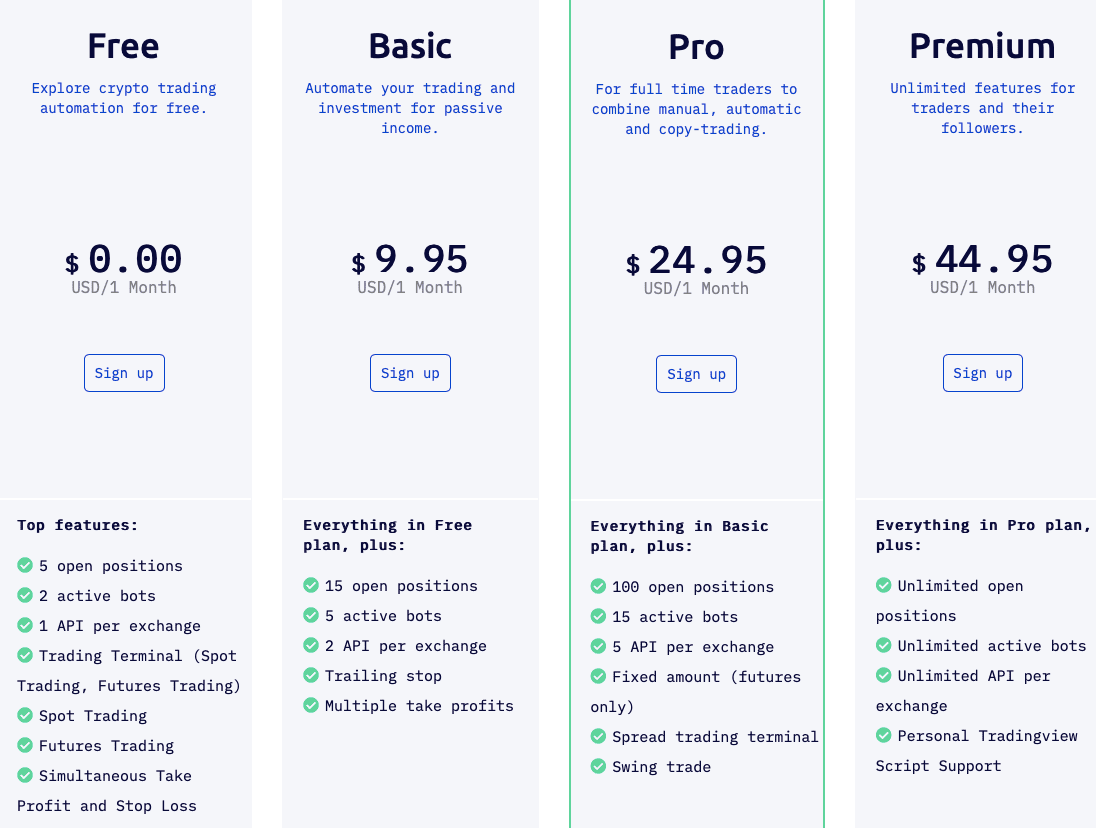 Final Thoughts
Today we discussed the cryptocurrency bot Wunderbit Trading.
It has a lot of interesting and new features for me like the possibility to give the money to the professional trader so he will trade for you.
Also, their dashboard is very easy to use for newcomers.
That is why I can tell that this bot is one of those which are suitable for professionals and newcomers both.
By the way, this bot supports Russian and English languages, so they have one more advantage for Russian-speaking traders.
So, if you are a newcomer or a professional trader, this bot will be very helpful to you.