Trustee: The Best Bitcoin and Other Solid Cryptocurrencies Wallet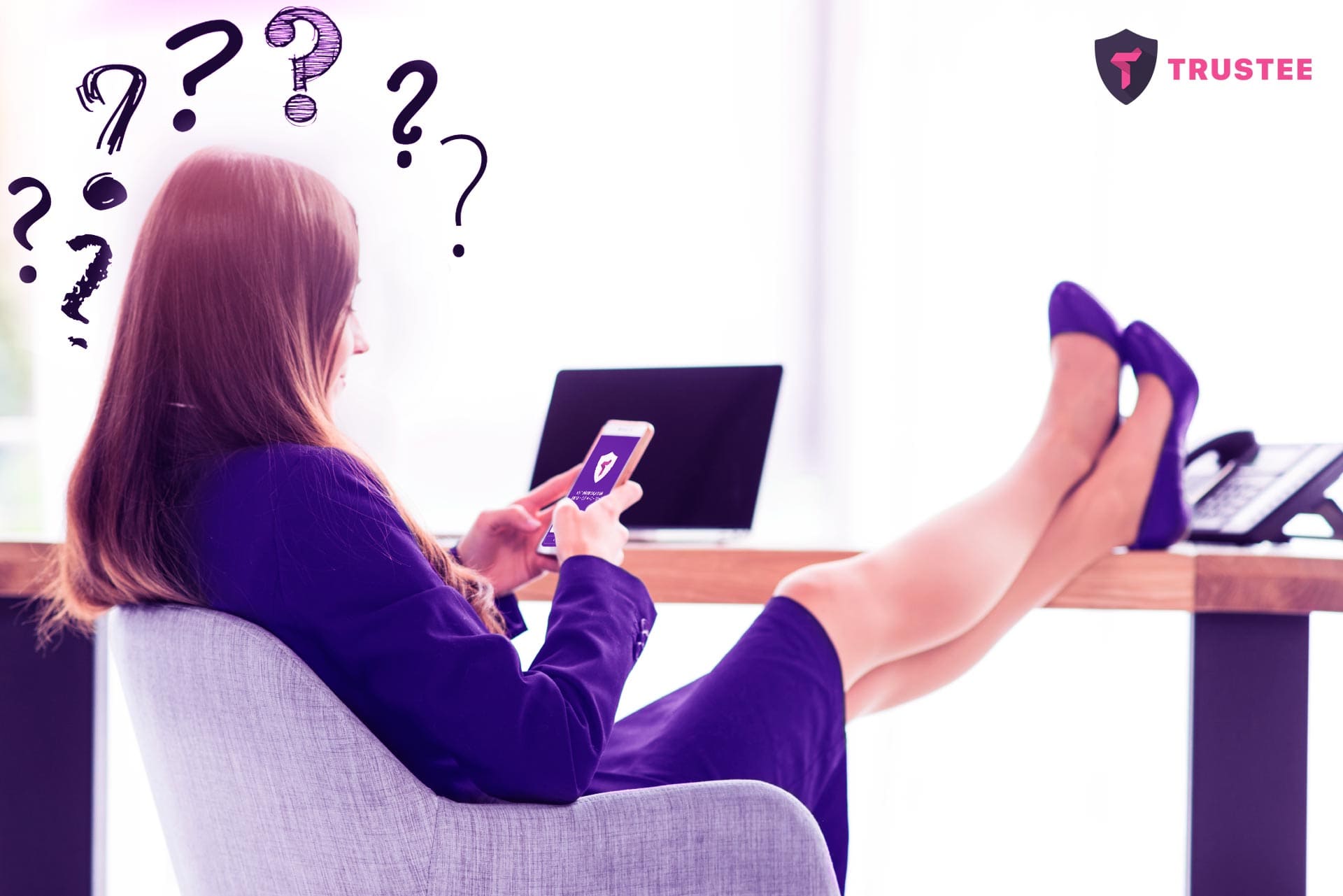 We are happy to introduce you to Trustee, a powerful start-up based in Ukraine. This wallet has already conquered the minds and hearts of users across the world. A former unknown application, Trustee turned into a full-fledged bitcoin wallet. And our readers will be among the first to know about Trustee: one of the best bitcoin wallets on the market!
These guys occupy a special place among our reviews because our team visited their office and discussed not only their Bitcoin wallet but learned about their business philosophy and plans for the future. It is really surprising that such a small team managed to create the best bitcoin wallet. Trustee was created by three developers, who now lead the company and strive to make Trustee wallet better!
So if you want to thank someone for creating such a great tool, you need to turn to these guys! They did everything possible (and even impossible) to make sure that their bitcoin wallet is safe and secure, and day by day they continue to work on the smallest details.
They also support core architectural modules and modules that concern security, making sure that their virtual wallet can be trusted. That's why they are called Trustee. What wordplay!
Are you excited to learn what they offer? Then go on reading and we guarantee that you will not regret spending a few minutes of your time.
Trustee and Its Core Characteristics
If you are a crypto enthusiast (even a new one), you surely know what a bitcoin wallet is. It is an essential part of the trading process, so any time you somehow interact with cryptocurrency (store, receive or withdraw it), you need a wallet. That is why any trader needs to choose a wallet for operations. These bitcoin wallets differ in characteristics, features and security levels, so it becomes a real challenge for traders to decide which wallet to use.
Luckily, we took care of everything and are ready to give you a detailed overview of the best bitcoin wallets.
Let's start with the basics. The first thing you need to know is that the Trustee virtual wallet is non-custodial. What does it mean? It means that your personal data will remain only yours. No one else will have access to it no matter how hard they try! On the first steps, you will be given a certain seed-phrase, with which you will get access to your account.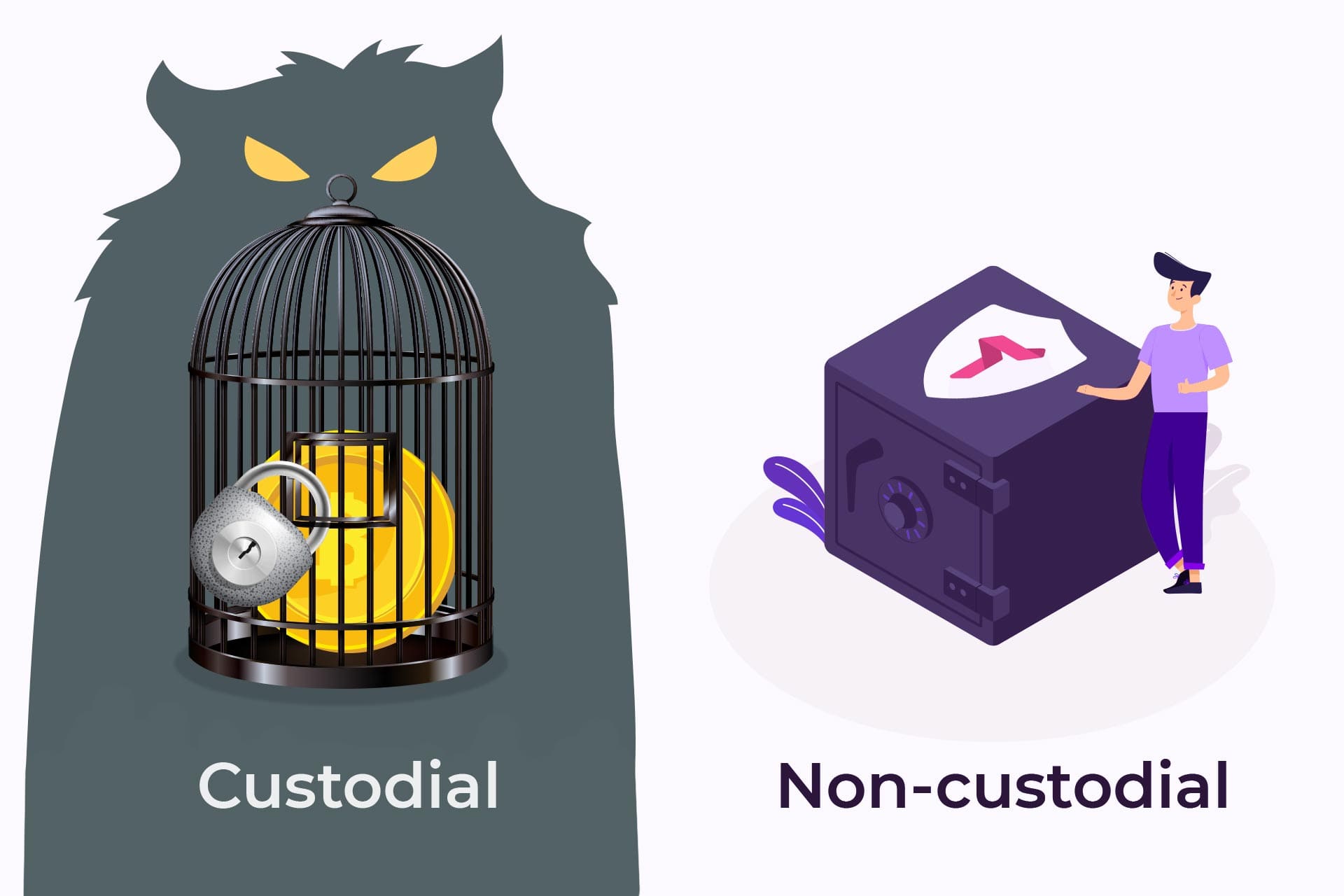 Don't see the difference? Well, if your cryptocurrency wallet is custodial, its private keys are stored by a third party. You may think that it is a plus because you will never lose the key. But it's like living in a college dorm room. On one hand, someone else always has the keys but you never know whether your belongings will be in place when you return after classes. With Trustee bitcoin wallet you won't need to worry that hackers will get access to your money, because the server doesn't store any information.
This wallet is flexible, which is a great advantage considering how mobile modern technologies are. You have access to your account anywhere you are: in a car, in a subway or while running on a treadmill! By the way, Trustee has a very convenient interface that allows the user to spend minimal time on transactions and other services.
Another important feature is that it is a thin wallet. It means that Trustee doesn't store all the blockchain, only its certain part. And it is definitely a feature that all the best bitcoin wallets can boast! A thin wallet on the user's device is a client, which works with blockchain that is stored on the wallet's server. You simply don't need gigabytes of space.
One could think that the above features are more than enough to call Trustee the best bitcoin wallet. Hell no! They have lots of other bargaining chips!
Trustee is a bitcoin wallet with a built-in exchange feature and it is rather simple to use.
The whole point is that you no longer need to wait for hours to withdraw money to a bank account. In addition, you won't have to register on exchanges and the only thing that is necessary is to indicate your card's number and to receive money in less than 30 minutes!
Are you shocked that a transaction from a bitcoin wallet to a bank account can take from three minutes to half an hour? Well, that is what a best bitcoin wallet does: it saves your time and nerves because you don't need to wonder whether you will see your money or not!
On top of it, you can withdraw money in UAH and in RUB. You can also buy or sell cryptocurrencies using any bank of the CIS countries.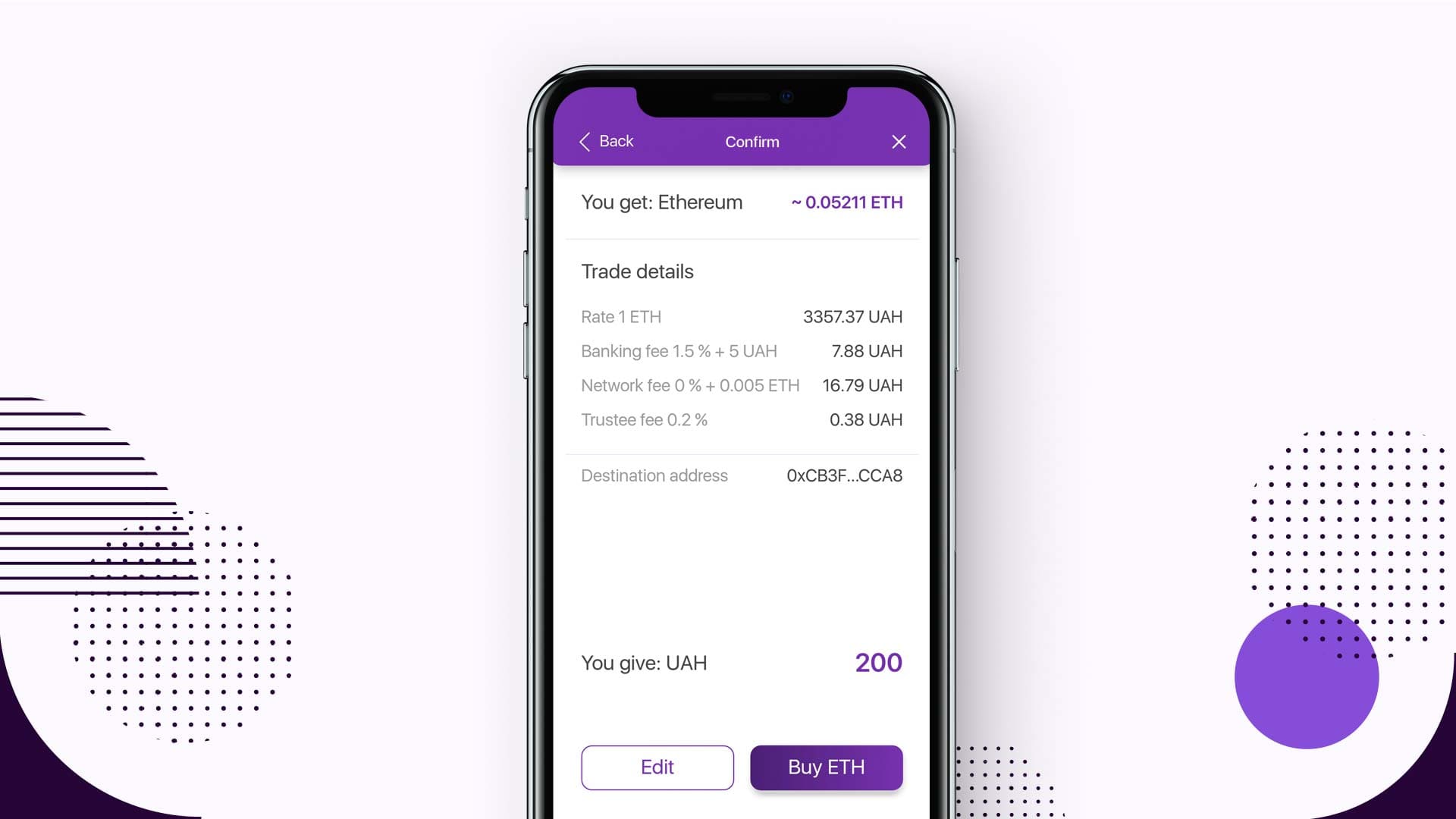 The main thing that bothers us, when choosing a virtual wallet is the exchange rate and we are always looking for the most profitable one. Trustee team took care of everything! Their smart algorithm selects the provider with the best exchange rate depending on the market situation, so you will always spend less and will make the best deals!
You may think that there should be at least something negative about this blockchain wallet. But I should say this wallet doesn't have a registration process, which makes using even more simple. All you need to do is to remember the seed phrase: make a screenshot, write it down, save in notes or make a tattoo with that phrase (not recommended). However, if you keep the seed phrase on your phone, it may be lost or stolen together with the phone and you won't be able to access your virtual wallet.
We have conducted an application security assessment of Hacken.io to evaluate whether Trustee is safe and whether users can entrust it with their money. To get familiar with results just press the following link.
By now you are probably head over heels in love with Trustee and are waiting impatiently when our review will be over and you will be able to create an account. Be patient, because we are about to tell you about additional features that Trustee are ready to offer.
Special Features
An additional perk of this bitcoin wallet for programmers is that app's codes are in open access on github.com. This means that anyone can read the code, evaluate it, generate ideas and offer improvements. To make history together with the best bitcoin wallet! We have personally reviewed their codes on GitHub, and we can ensure this wallet is definitely non-custodial, and they don't keep data of the users on their servers.
Traders, who use Trustee virtual wallet, can also get a cashback.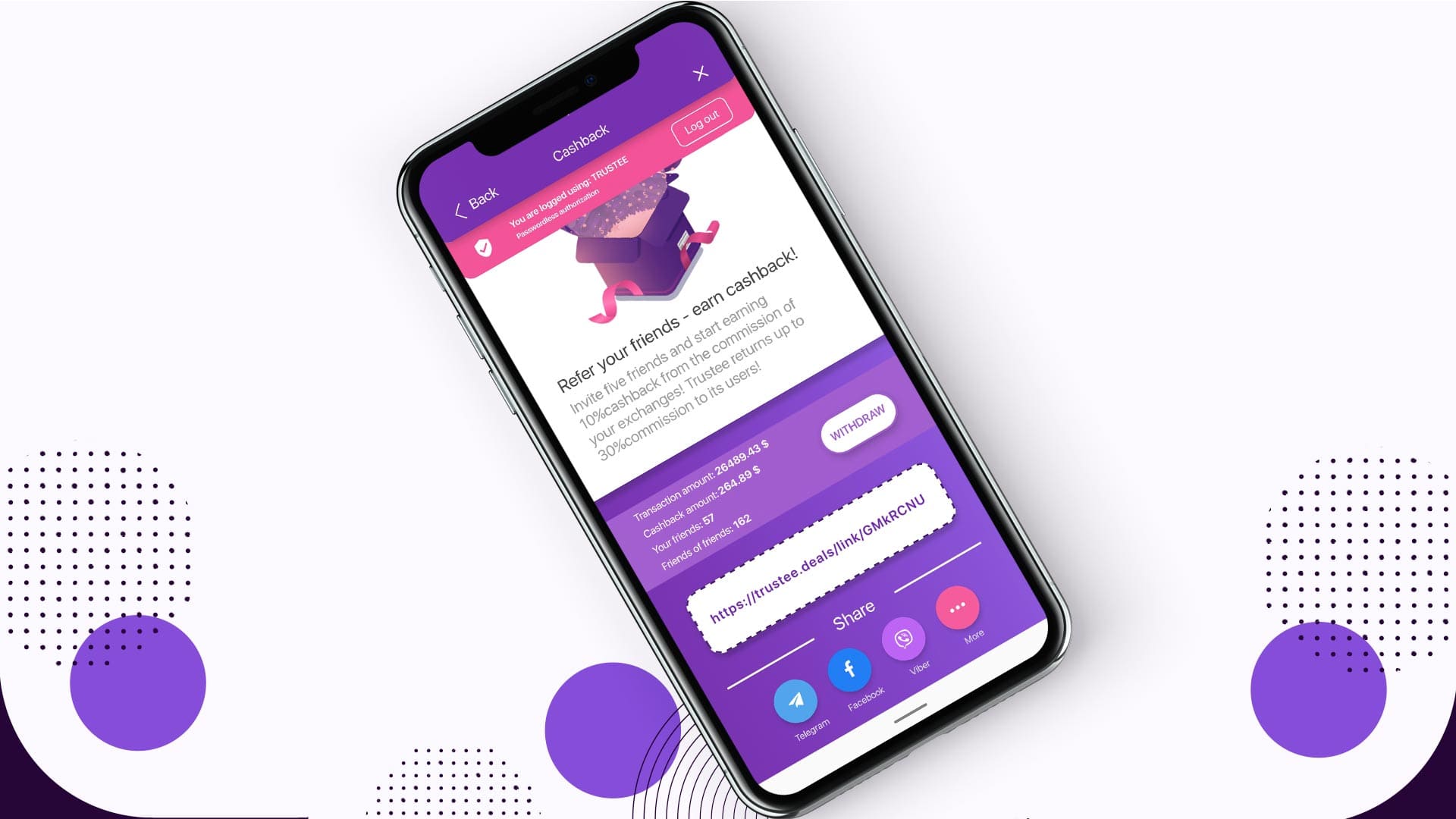 You just need to invite friends and to earn money. Trustee returns up to 30% of the commission to all of its users, which is an additional (and a super-easy) way of making profits.
Their team has created a two-level motivation system. Intrigued? Invite five friends to Trustee and get a 10% cashback from your exchange commission. You can also earn 10% of the exchange commission of your friends. Moreover, if the total volume of your exchanges and exchanges of the friends you have invited exceeds $8 000 per week, you will earn 10% from the exchange commission of users that were invited by your friends.
That's what we call a great referral-system!
Referral payments are calculated based on the results of the following billing week. To gain systematic profit inside this virtual wallet weekly turnover should be around $8000.
Trustee bitcoin wallet also offers the following operations:
You can import another crypto wallet.
To do this, you only need to name the wallet you want to import and to name the seed phrase of that particular wallet. That is another great feature of non-custodial virtual wallets!
You can create another wallet.
The procedure is the same as if you create the first wallet. Assign it with a name and remember the seed phrase! You don't need to spend hours on registration. What a convenient solution for those who want to own several wallets to hide their transactions and don't want to waste their precious time!
It is possible to add a pin code, as an additional security measure.
You won't need to use Face ID or a fingerprint. Pin code is a great option for those who want to protect their bitcoin wallets to the maximum.
You can also configure assets that you would like to use in the future and later they will be displayed on the main screen of your bitcoin wallet. Trustee works with Ethereum, Bitcoin, Tether, Ethereum Ropsten, Bitcoin (Testnet), TrueUSD, BNB, USD Coin, Paxos Standard and so on.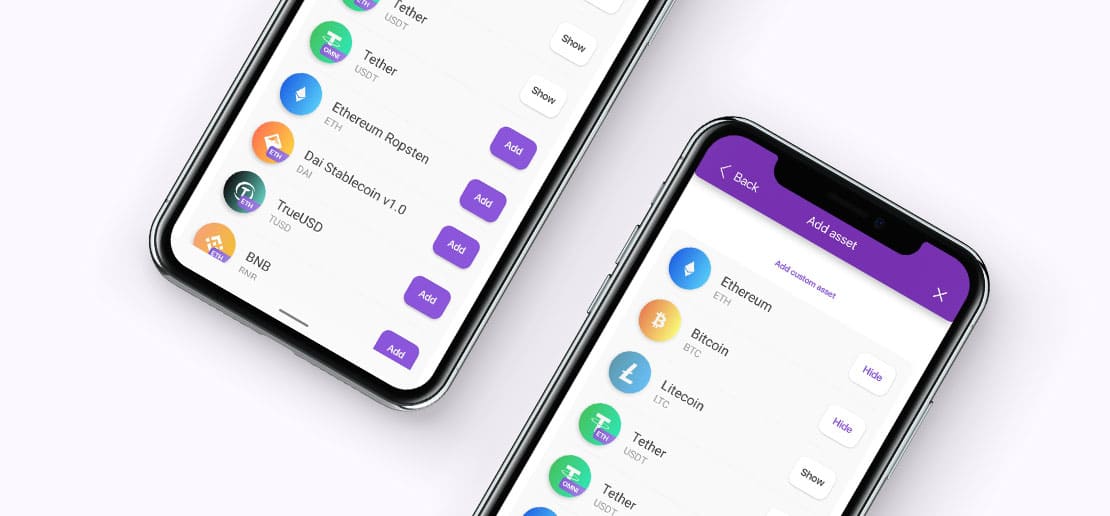 Trustee is a comprehensive solution for those who want to have all the features in one place. It is surely the best bitcoin wallet for traders, who appreciate their time and comfort.
Conclusion
Today we have discussed Trustee, one of the leading bitcoin wallets, in the slightest detail. Even though they have been a simple application not so long ago, now they are one of the best bitcoin wallets that competitors find hard to keep up with. We met Trustee's founders in person and were really happy to see that they are not only experienced developers but specialists who put the safety of their users first and control every aspect of the wallet's activity on their own.
This bitcoin wallet can boast a wide range of features, which means that you won't have to tolerate any imperfections and will be able to enjoy safe and speedy transactions without any worries and stress. As a bonus, you won't have to worry about hacker attacks or losing data, because Trustee is a non-custodial wallet that only requires remembering (or writing down) a seed phrase. You can log in to your wallet any time and any place you are, and there won't be a need to have gigabytes of space. In addition, users that value extras can participate in a referral program and get significant bonuses. Moreover, you can create additional wallets or import them any time you want.
Follow our news and you will always be updated!