Blockchain Wallet Was Never Hacked - Is It True? [Review 2020]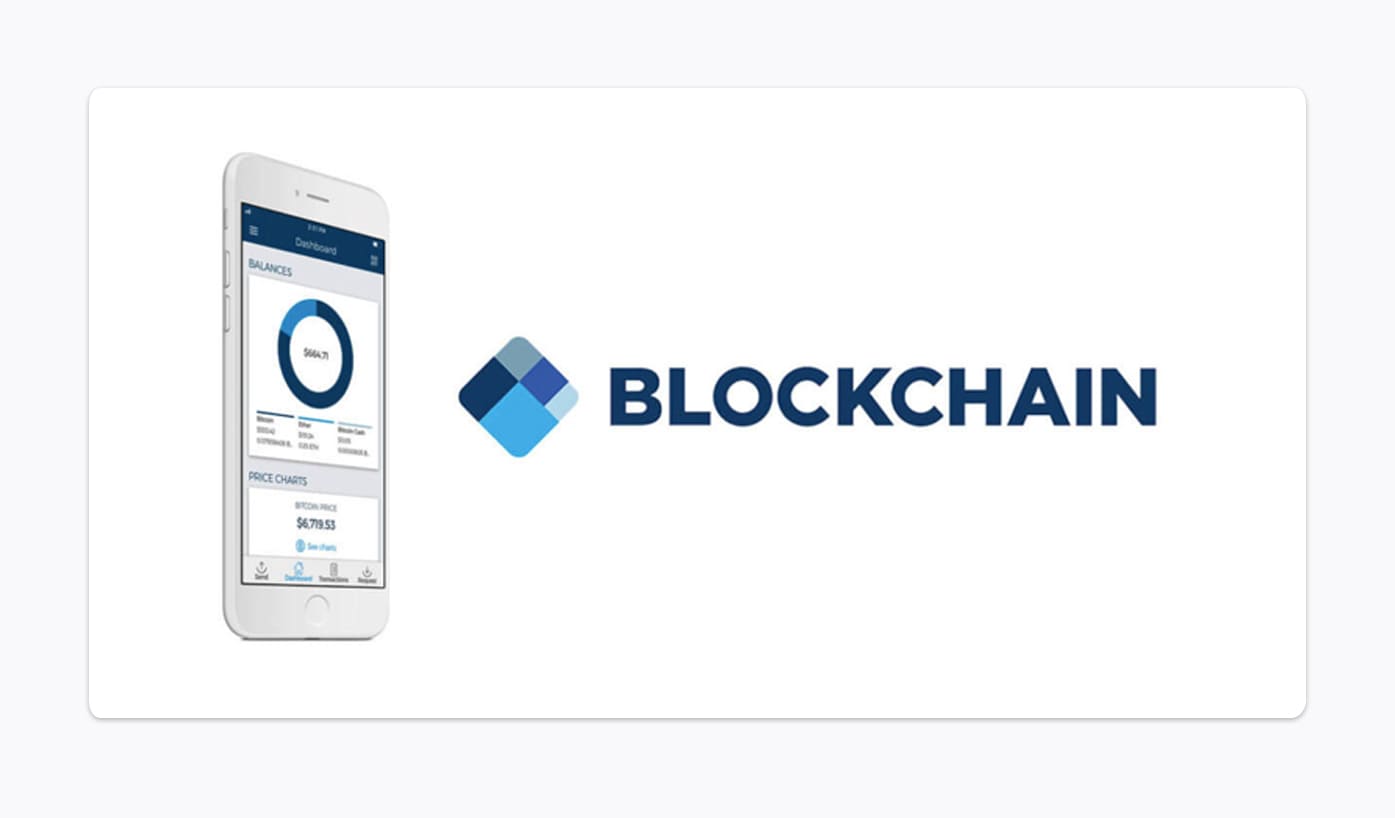 Blockchain wallet is one of the first and the most popular online wallets for cryptocurrency storing, sending, and receiving.
That is why you need to be aware - no one wants to lose the money only after sending it to the "unknown wallet."
In this Blockchain wallet review, we will tell you about one of the most popular wallets for Bitcoin and Ethereum and discuss if this wallet is really the best.
What Is a Blockchain Wallet?
This wallet was launched in 2011, so it is really the first wallet.
Now this online Bitcoin wallet is the main, but not the only one product of Blockchain.
This wallet supports five crypto coins - Bitcoin (BTC), Ethereum (ETH), Bitcoin Cash (BCH), Stellar (XML), and Paxos Standard (PAX).
History
As I told you before in the Blockchain wallet review, it was launched in 2011 as "Bitcoin Wallet Blockchain," so it supported only BTC.
And only in August 2017, when this wallet was already trendy, it became a multi-currency wallet and added Ethereum to its supported coins.
And in December one more coin - Bitcoin Cash - was added.
Half a year later, this wallet started to work with Stellar as well.
And in May 2019, Paxos Standard was added, so users got an opportunity to store their funds in USD.
Features
Mobile App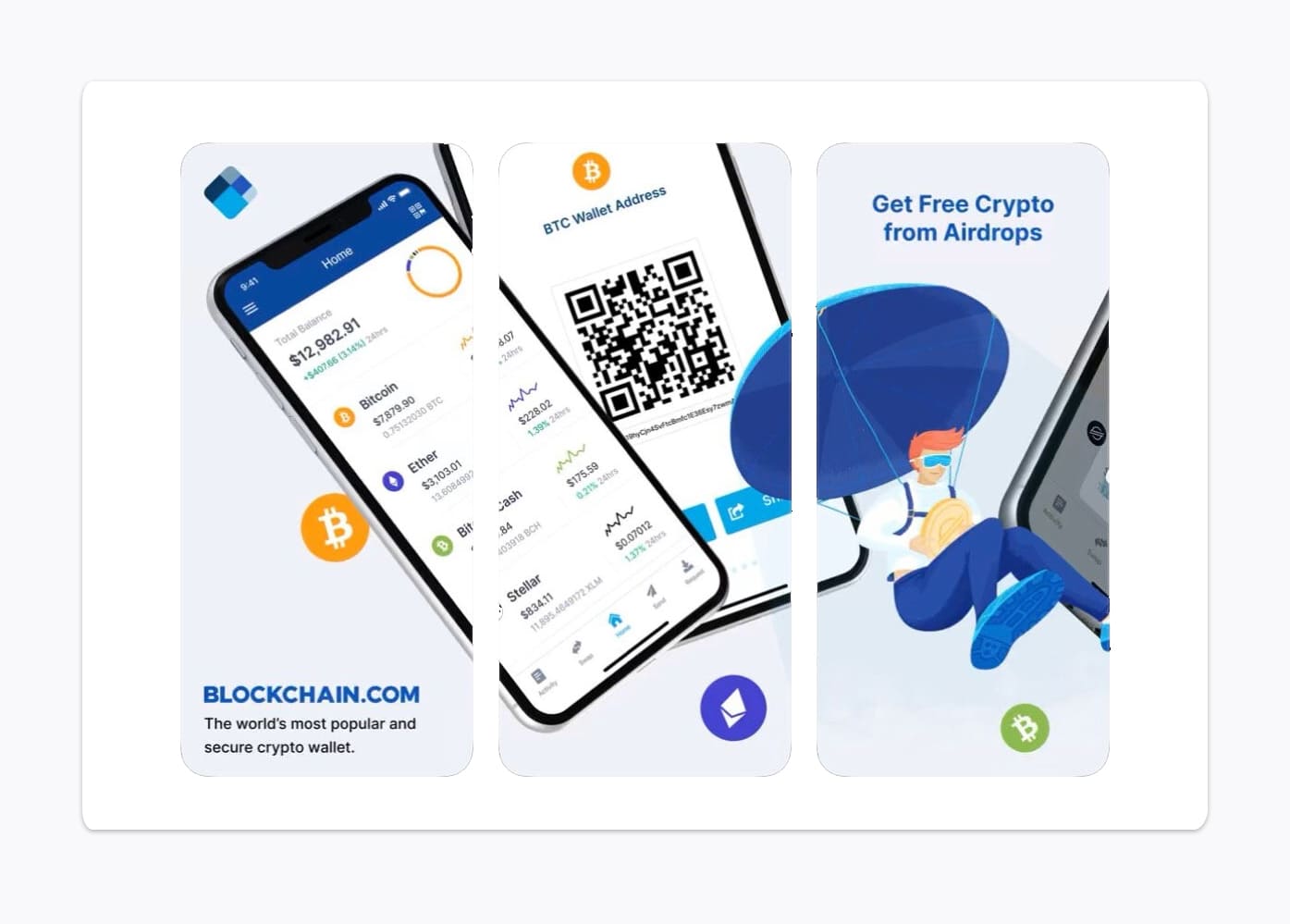 The first and most convenient feature is the Blockchain Wallet app. To get a wallet, you can download it not only for your computer or laptop but for mobile phones as well.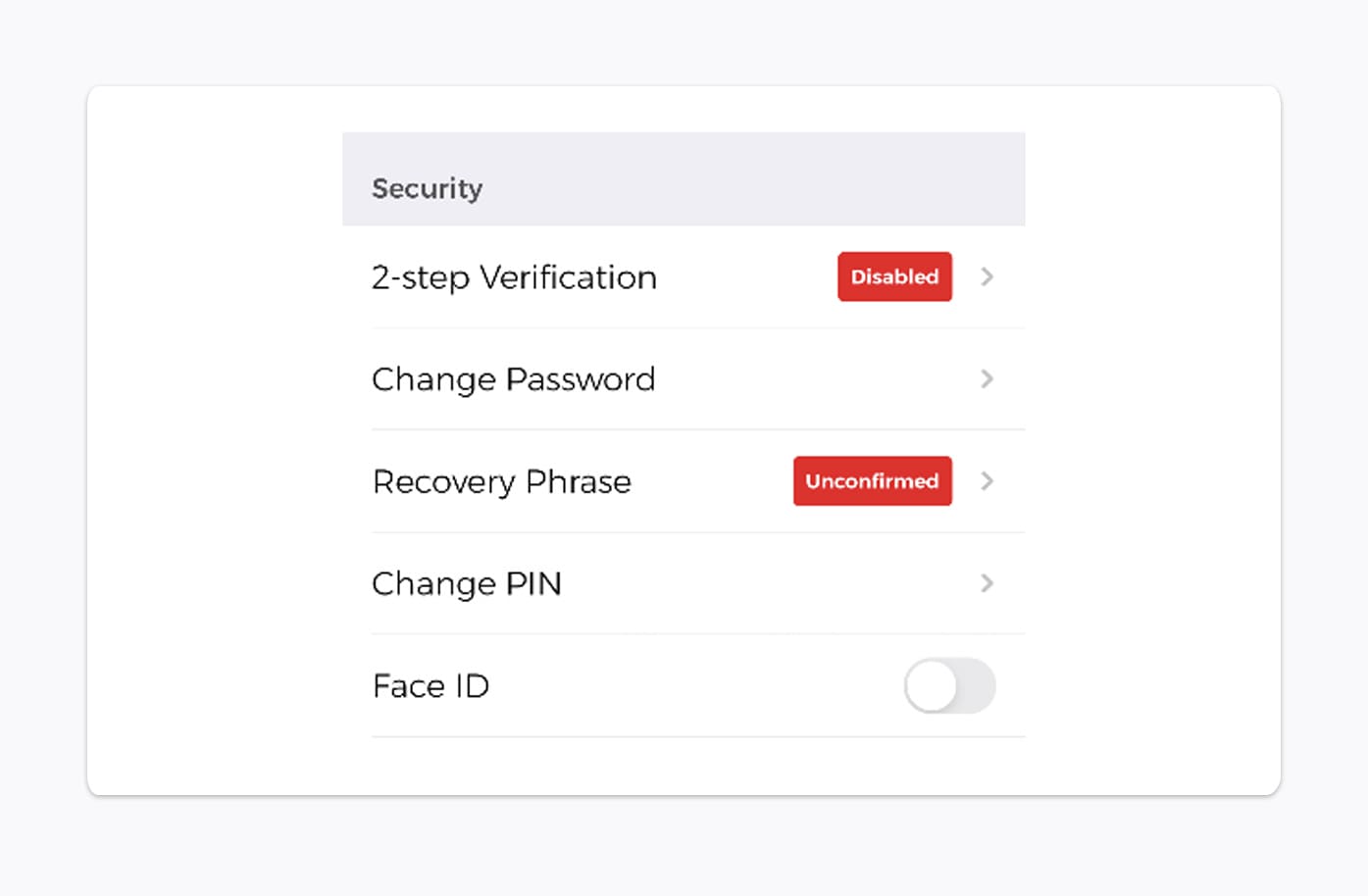 This center will help you to undertake all the possible actions to protect your account.
With its help, you can make a backup and prevent your wallet hack.
Partners
Partnership with reliable exchanges lets sell and buy cryptocurrencies from your Blockchain wallet app.
Interface and Opportunity of the Wallet
In our Blockchain wallet review we need to say that the interface is very, very easy even for a newcomer. You can find the menu on the left side, and with its help, you can navigate through the wallet functions:
Dashboard with a graphics of Bitcoin price (but you can choose other crypto coins) and your account balance.
Buy and Sell
I think it is not very hard to understand - with this option, you can buy and sell Bitcoin for fiat currencies.
This option can only use citizens from the EU, India, Island, Liechtenstein, Norway, Switzerland, Monaco, San-Marino, and some states in the USA.
Swap
This instrument will help you to exchange supported coins according to the current rate.
To access it, a user needs to provide his necessary data - e-mail, name, birth date, and residential address.
Your yearly limit to exchange funds will be $1000.
To increase the limit to $25,000 per day, you need to complete the full verification.
Hardware Wallets
Here you can connect your Blockchain wallet app to a hardware wallet to manage your capital.
Now, among hardware wallets, there are Ledger Nano S and Blockchain Lockbox.
Other Functions
Below the menu, you can find a list of supported cryptocurrencies.
(If something is added, you will be one the first people to know!)
You can manage your orders there as well - choose "Request," "Send," or "Swap" to see your recent blockchain transactions. All the private keys to all the cryptocurrencies you work with you can find there as well.
And some other functions: "What's new?", FAQ, Support - are also available.
Security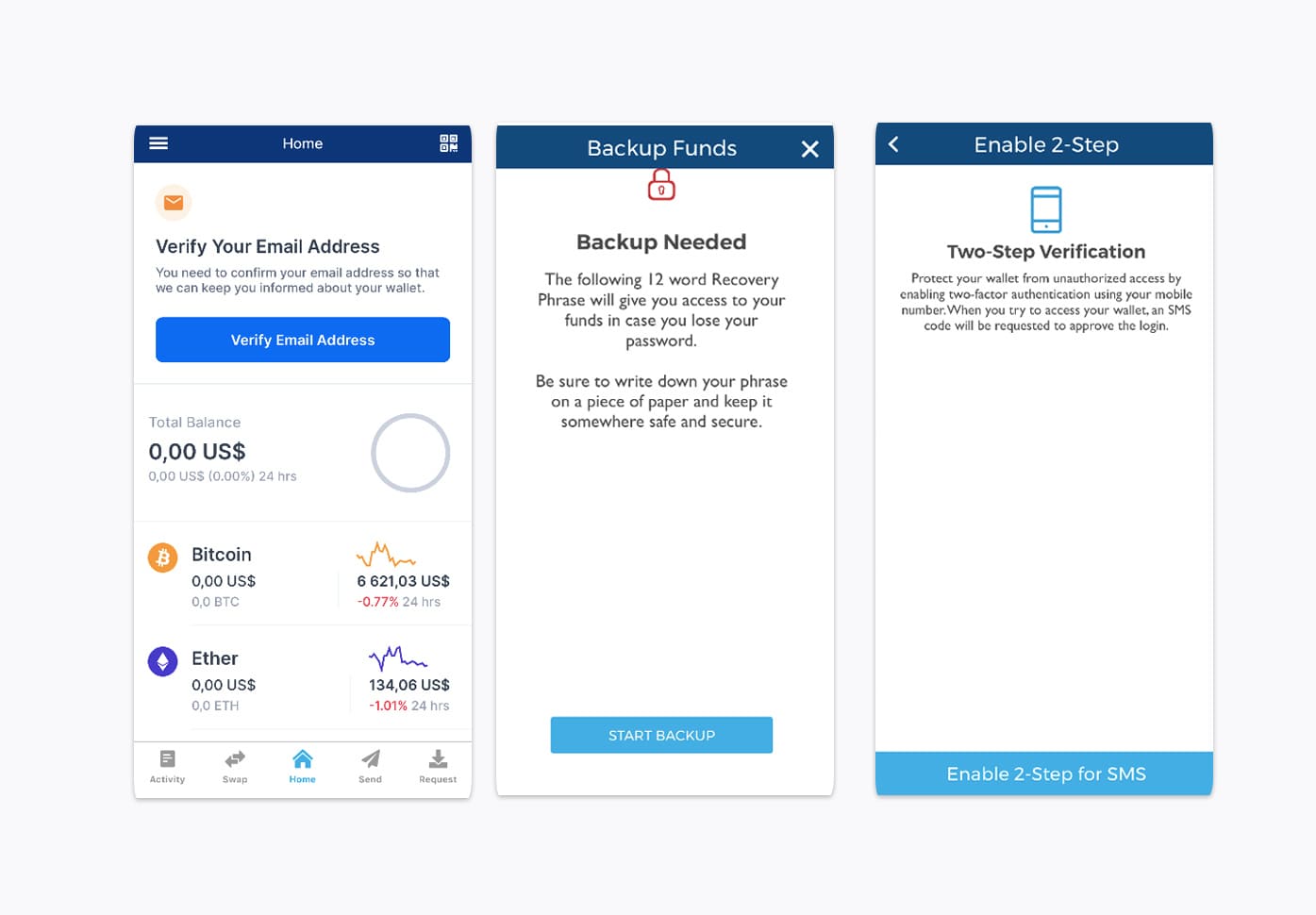 Blockchain wallet offers three levels of security:
Level 1
Here everything is simple - the verification of your e-mail allows the Bitcoin wallet app to send you different codes for entering, confirmation of blockchain transactions, etc. Some of the security functions are not mandatory, but you need to complete this level to complete the configuration process.
This secret phrase is used to restore your account if you lose your password. Developers can't access your password, so they can't help you to restore it as well. More about the seed phrase you can read here.
Level 2
Two-Factor Authentication
To activate this function, you need to enter a one-time access code, which will be sent to your mobile phone by Blockchain Wallet app every time you (or someone else) try to open your account.
If you confirm your phone number, you can receive a one-time login to enter the wallet app through the phone, if someone tries to enter using the wrong password.
Level 3
This option will block Tor IP addresses that try to enter your account.
Pros and Cons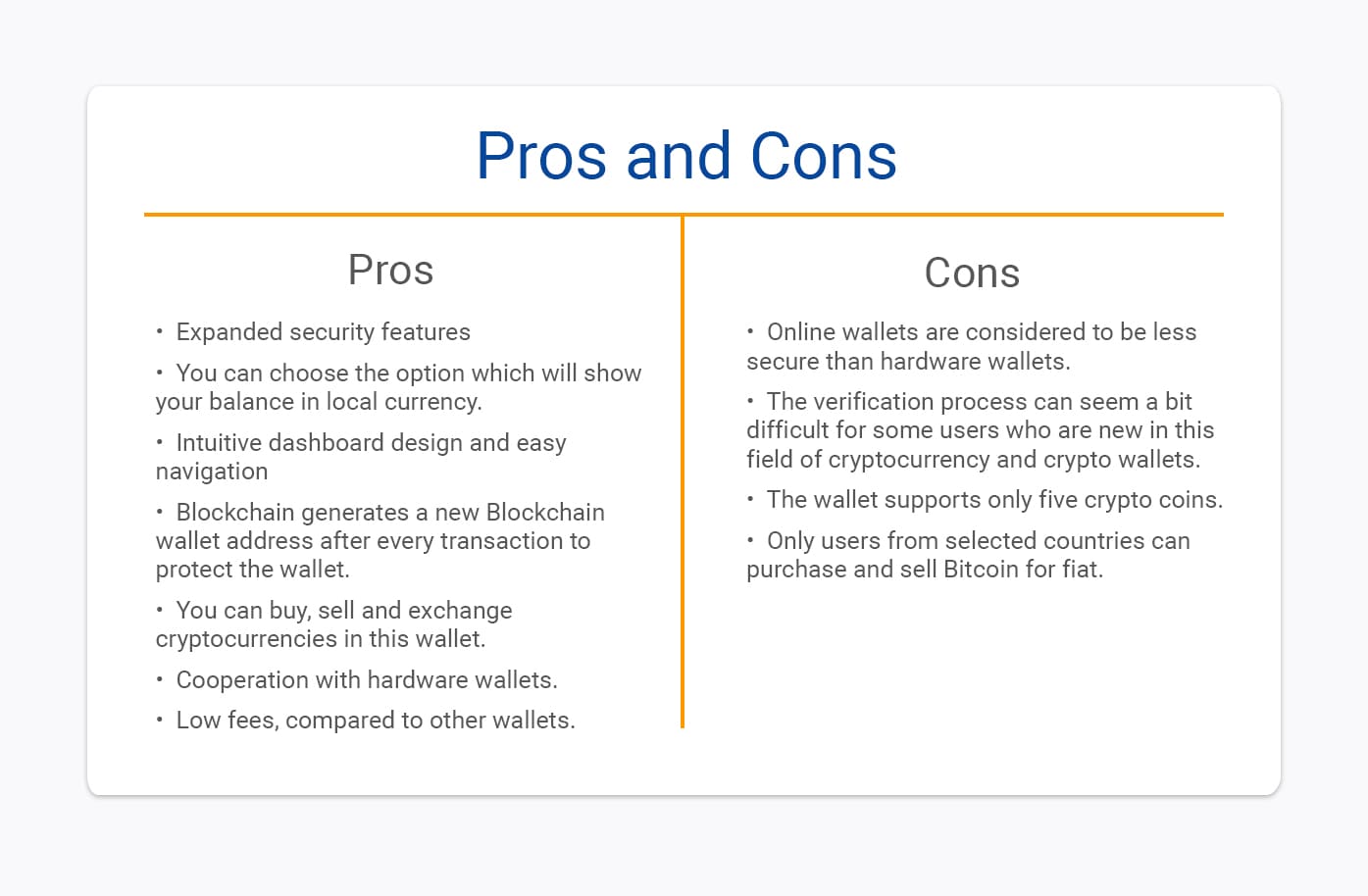 Final Thoughts
Today we discussed the Blockchain wallet and its primary functions.
I want to say that this wallet has never been hacked!
And it is very convenient for beginners!
I can make the following conclusion: if you are a beginner and want to store Ethereum or Bitcoin, download this wallet, follow all the security instructions, and your money will be safe.
If you still want to compare this wallet to other ones, visit this page, where you will find the Ledger, Trezor or Coinbase review.