Guarda Wallet - Features, Security and Ease of Use [Safetrading 2020 Review]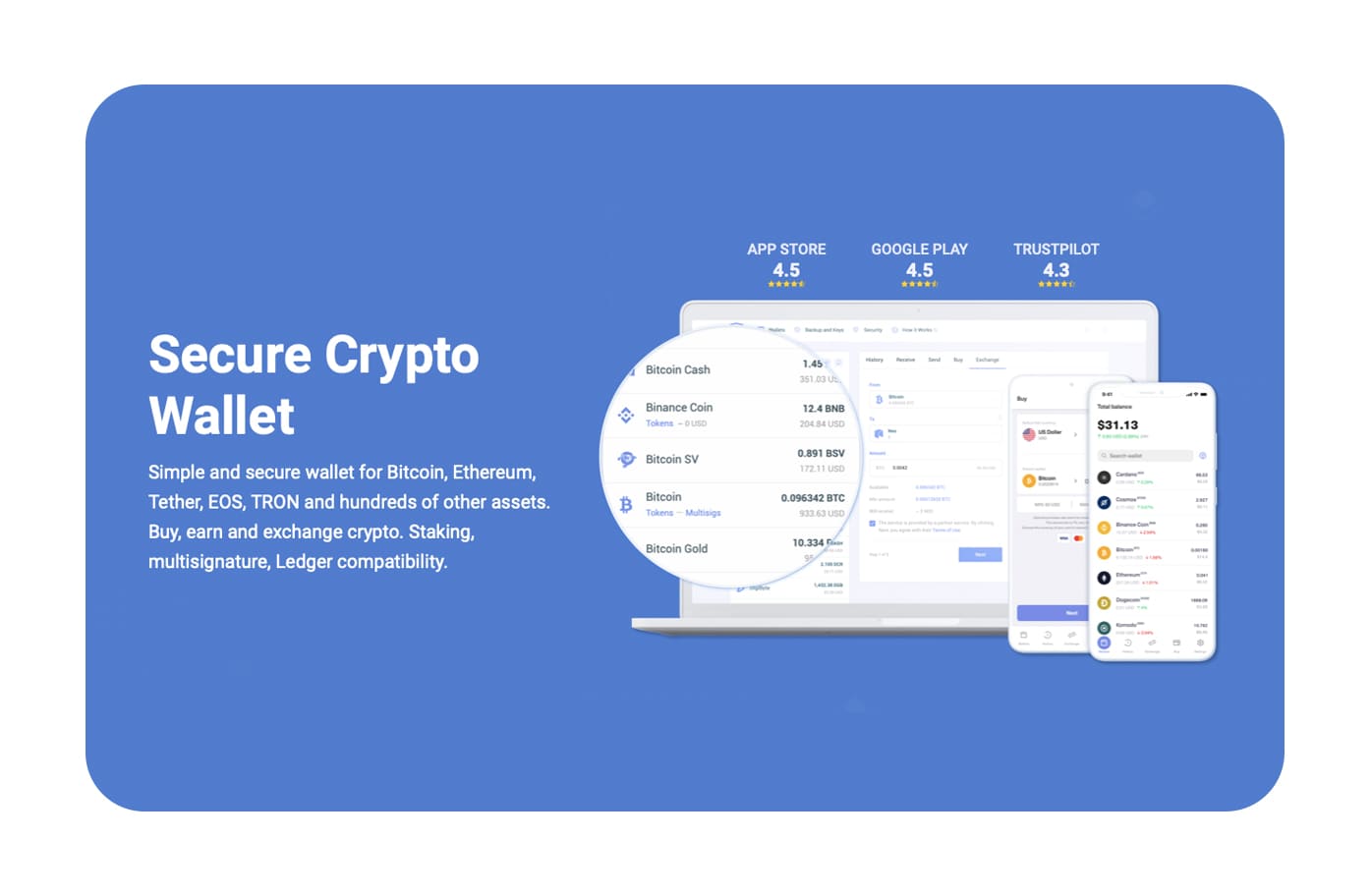 Guarda Wallet founded in 2017 by a team of experienced developers including Paul Sokolov and Artem Kirilov is a non-custodial wallet, which means it doesn't store your personal info and transaction info on the servers, so this is a good security feature.
With the rising popularity of cryptocurrency, more and more people start trading or HODLing crypto coins.
Every time we mention, that finding a good crypto wallet is one of the most important steps for newcomers. We understand that can create some difficulties, that is why Safetrading is here to help you with this hard choice.
Today we are going to audit the Guarda Wallet app and all of the important features - supported coins security, founders, etc.
What Is Guarda?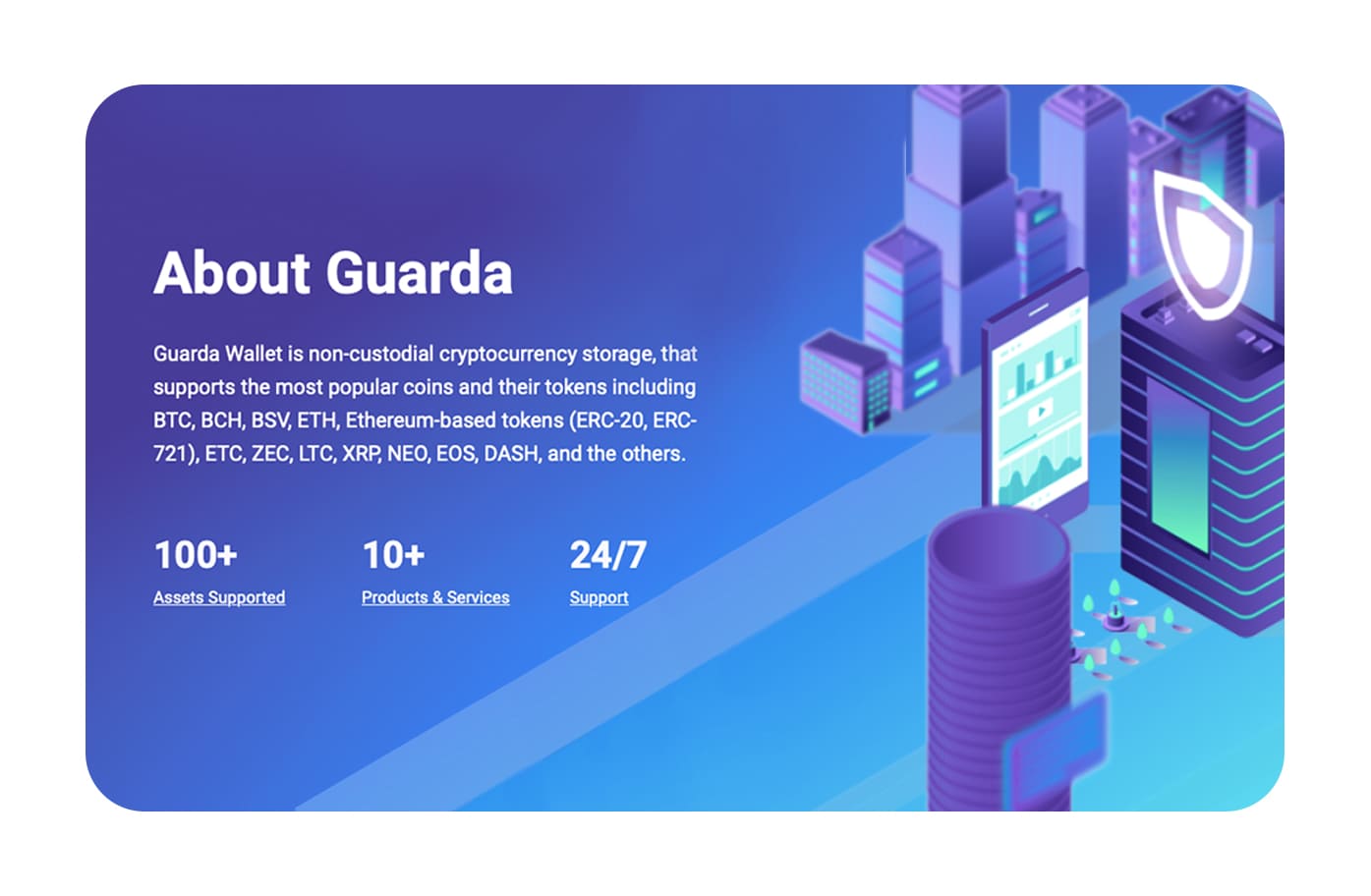 Yes, now you know that this is a cryptocurrency wallet, but the Guarda company is ready to offer you more interesting things.
First things first - the company is legally registered in Estonia, having a Financial Intelligence Unit license.
With Guarda Wallet exchange fiat to crypto using your credit or debit card is available, you can also store, send, and receive crypto, stake, etc.
Now it's time to talk more about the wallet itself. Guarda Wallet founded in 2017 by a team of experienced developers including Paul Sokolov and Artem Kirilov is a non-custodial wallet, which means it doesn't store your personal info and transaction info on the servers, so this is a good security feature.
Guarda Wallet fees are… not exist. You can use this wallet absolutely for free but still, there are transaction fees.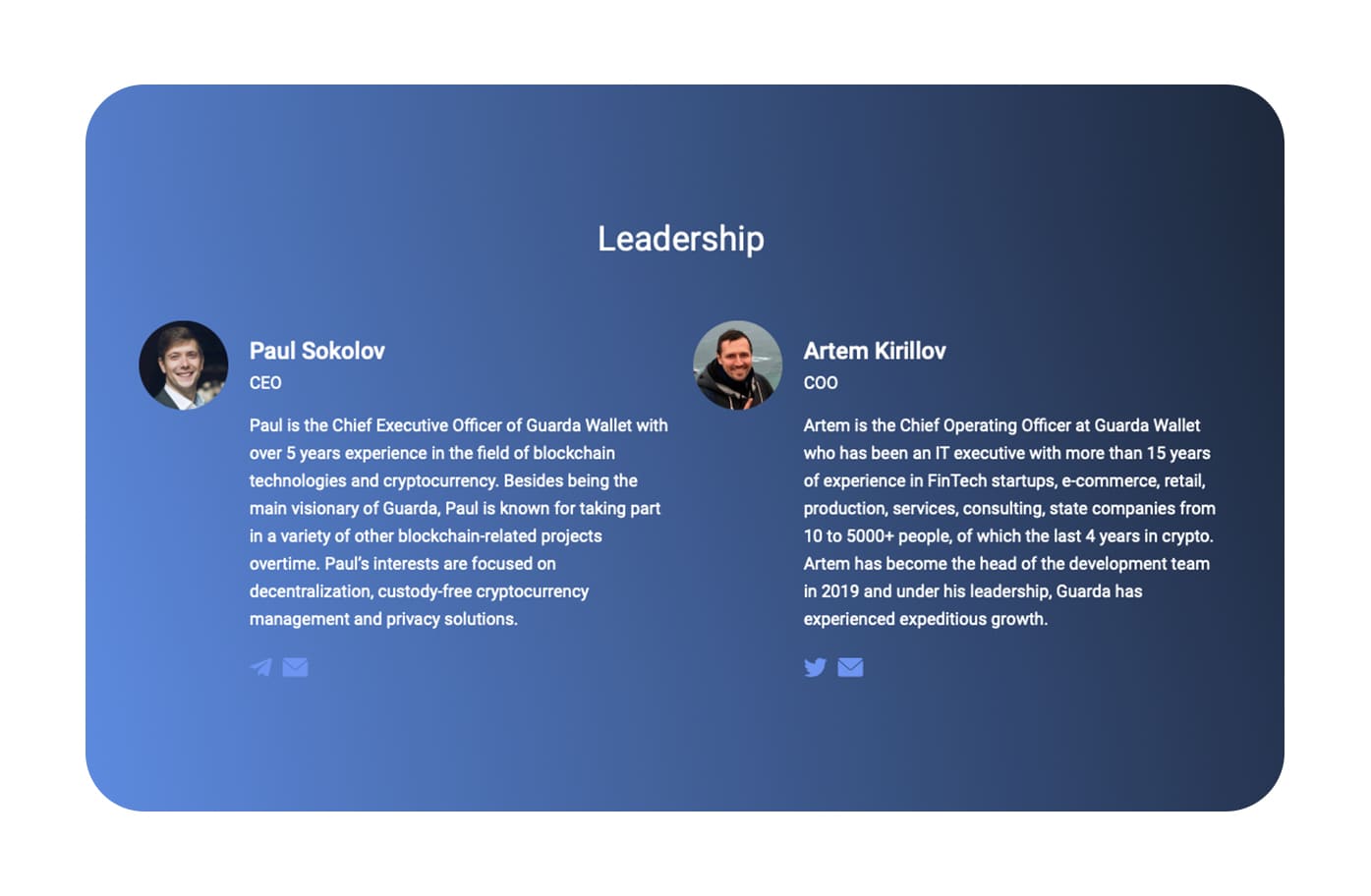 You can download the wallet to your mobile phone on iOS or Android, to your PC or laptop. Also, if you are a fan of hardware wallets, you will have an opportunity to use one more good feature - the compatibility of the Guarda Wallet app with Trezor.
Let's download (it is absolutely free of charge) this wallet and see what it is going to offer!

Design
The first thing you see is, of course, the very simple but bright design. The wallet itself is very user-friendly, so it is good not only for professional users but for newcomers as well, because everything is well explained.
Registration Process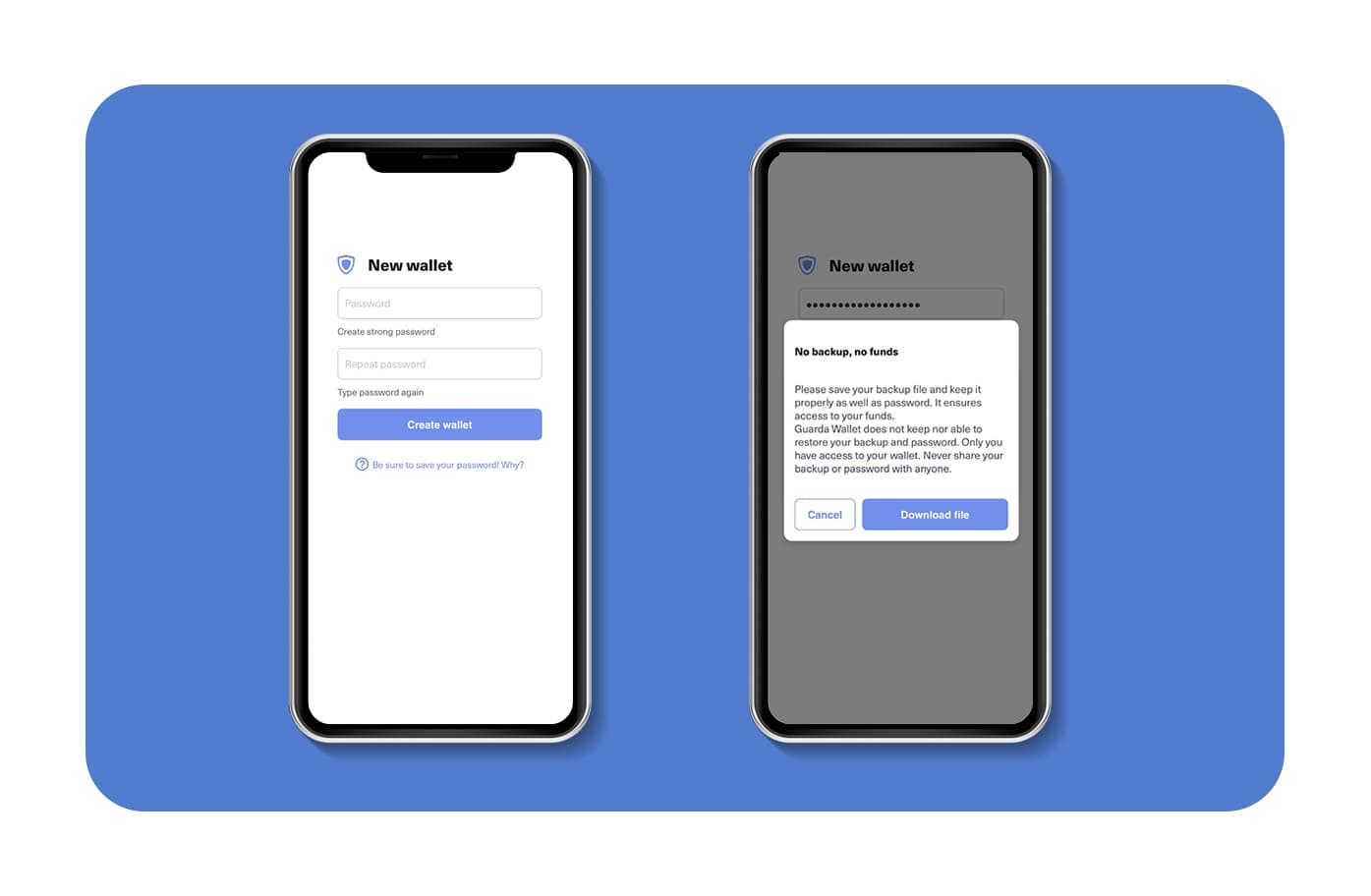 To create a new wallet, you need to write your password and repeat it one more time. That's it.
What about the seed phrase?
As soon as your password is okay, you will be asked to download the backup file, keeping it in a safe place with the password.
Guarda Wallet Supported Coins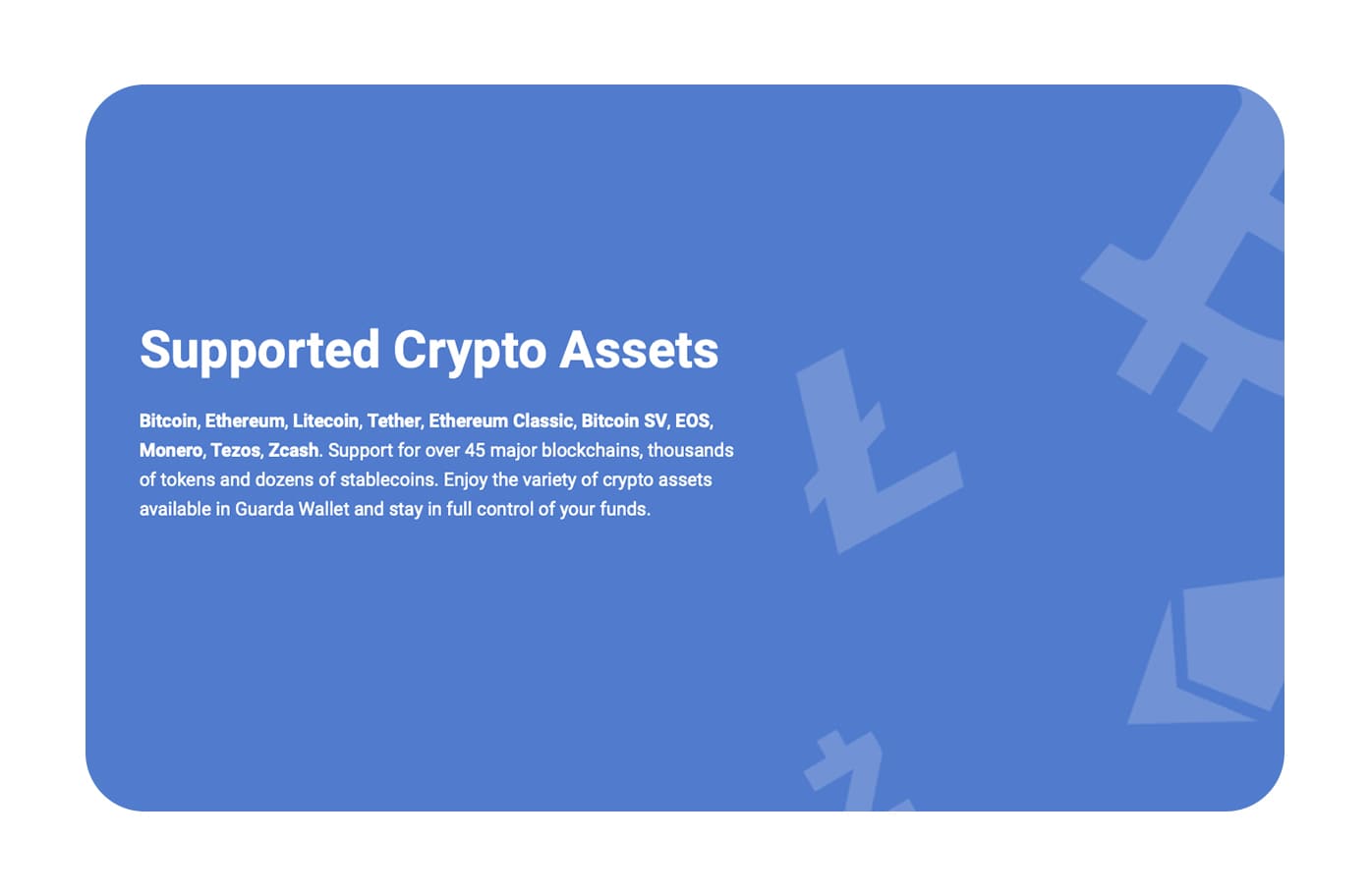 The first thing you see in your new wallet is a big number of different crypto assets - the wallet supports around 45 crypto coins and thousands of tokens.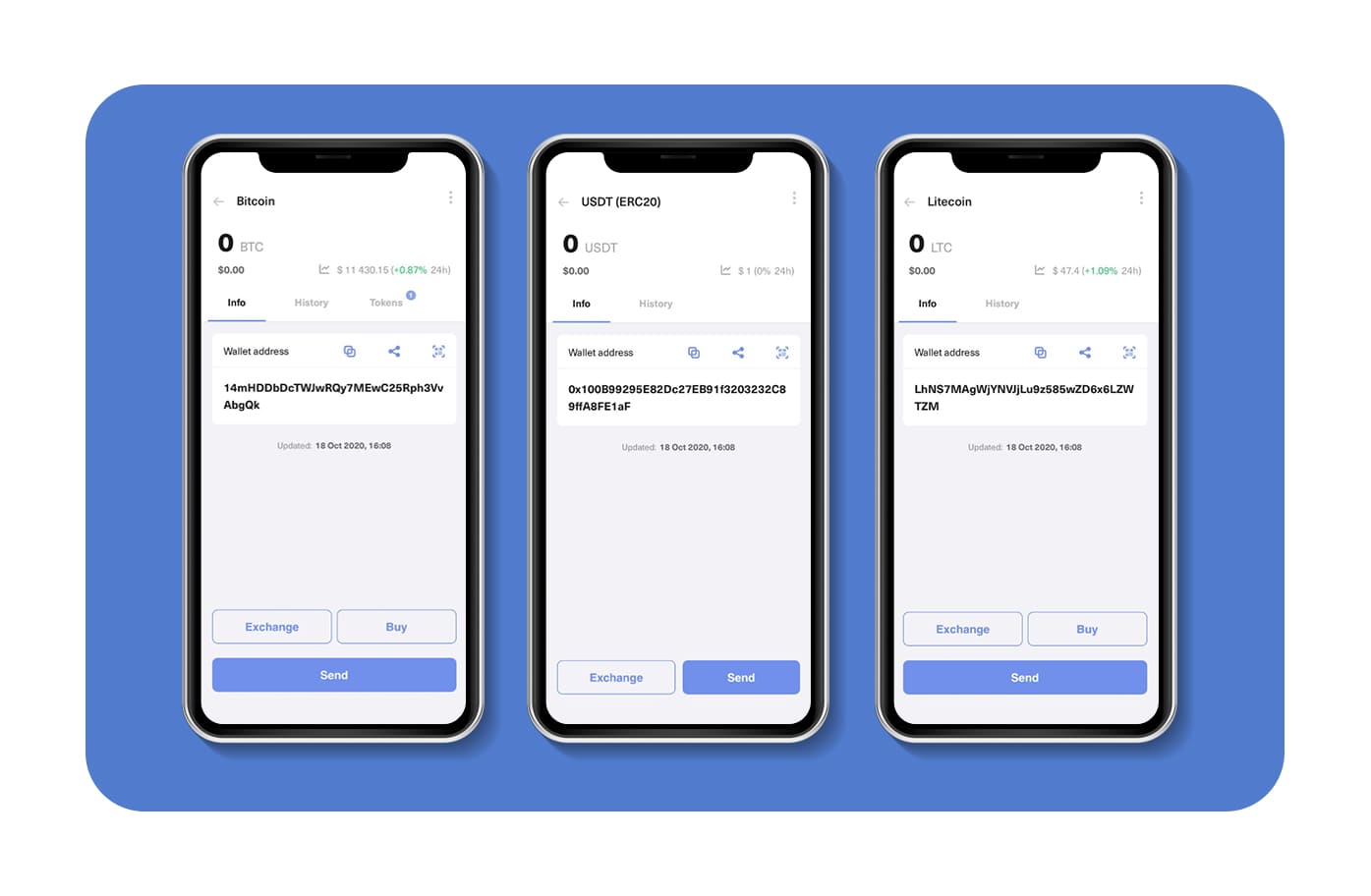 When you press the asset you need, you will see the address of this wallet and some other options - exchange, buy, and send. Also, here you will be able to see how the price of this or that asset changed during the last 24h. The transaction history is also available there.
Buy Crypto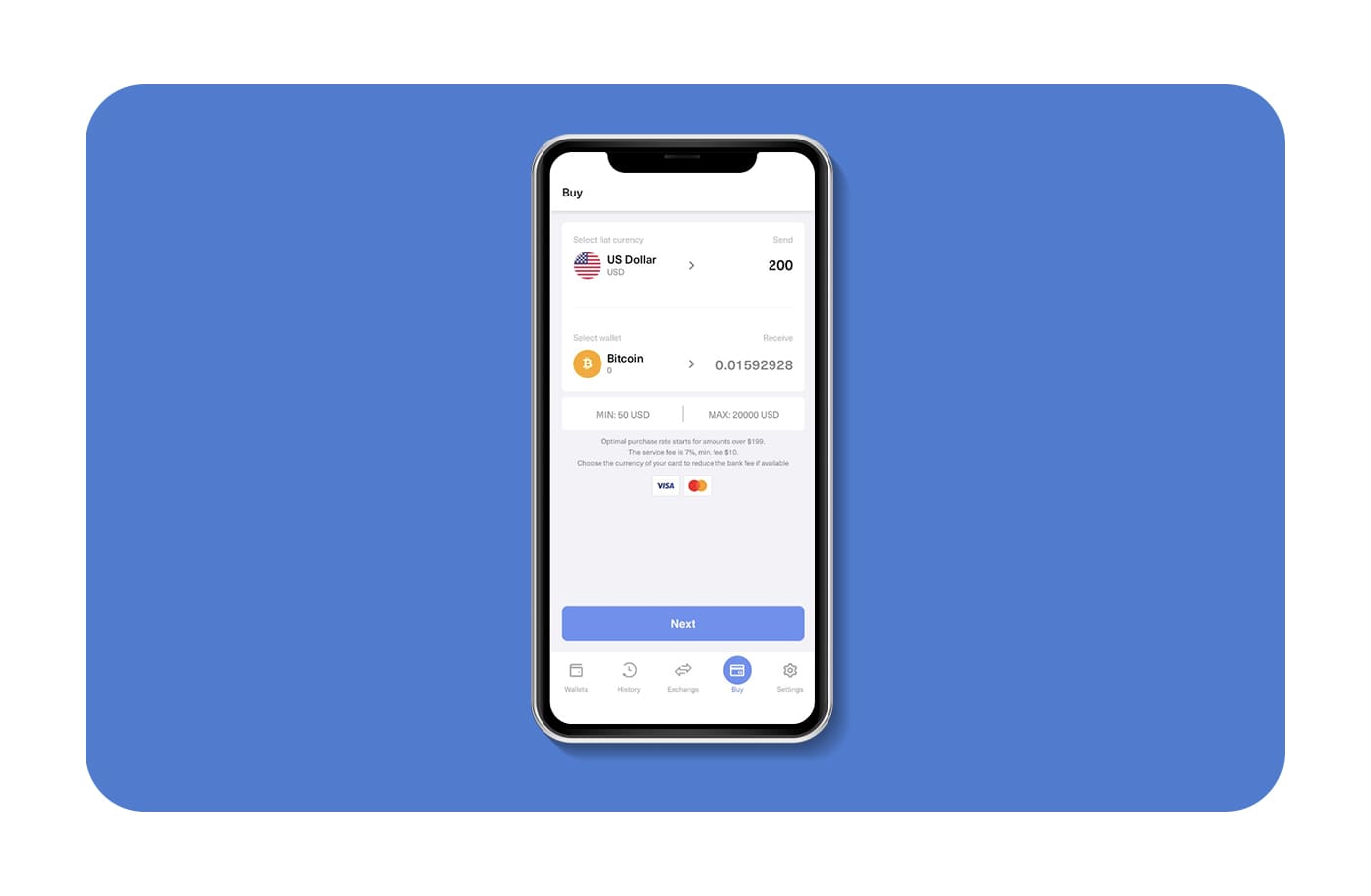 We decided to talk a bit more about this feature in the Guarda Wallet review because not every wallet offers it.
Now you can buy 16 crypto assets using your card - all the most popular like BTC, ETH, and LTC are present. There is no option to buy USDT but you can always exchange BTC or ETH to get it.
The minimal amount of, let's say, USD to exchange to crypto is $50, the maximum - $20,000. The service fee is 7% but the minimum fee is $10.
So, if you want to exchange $5,000 for BTC, you will pay $350 as a fee. Not bad, I should say.
Security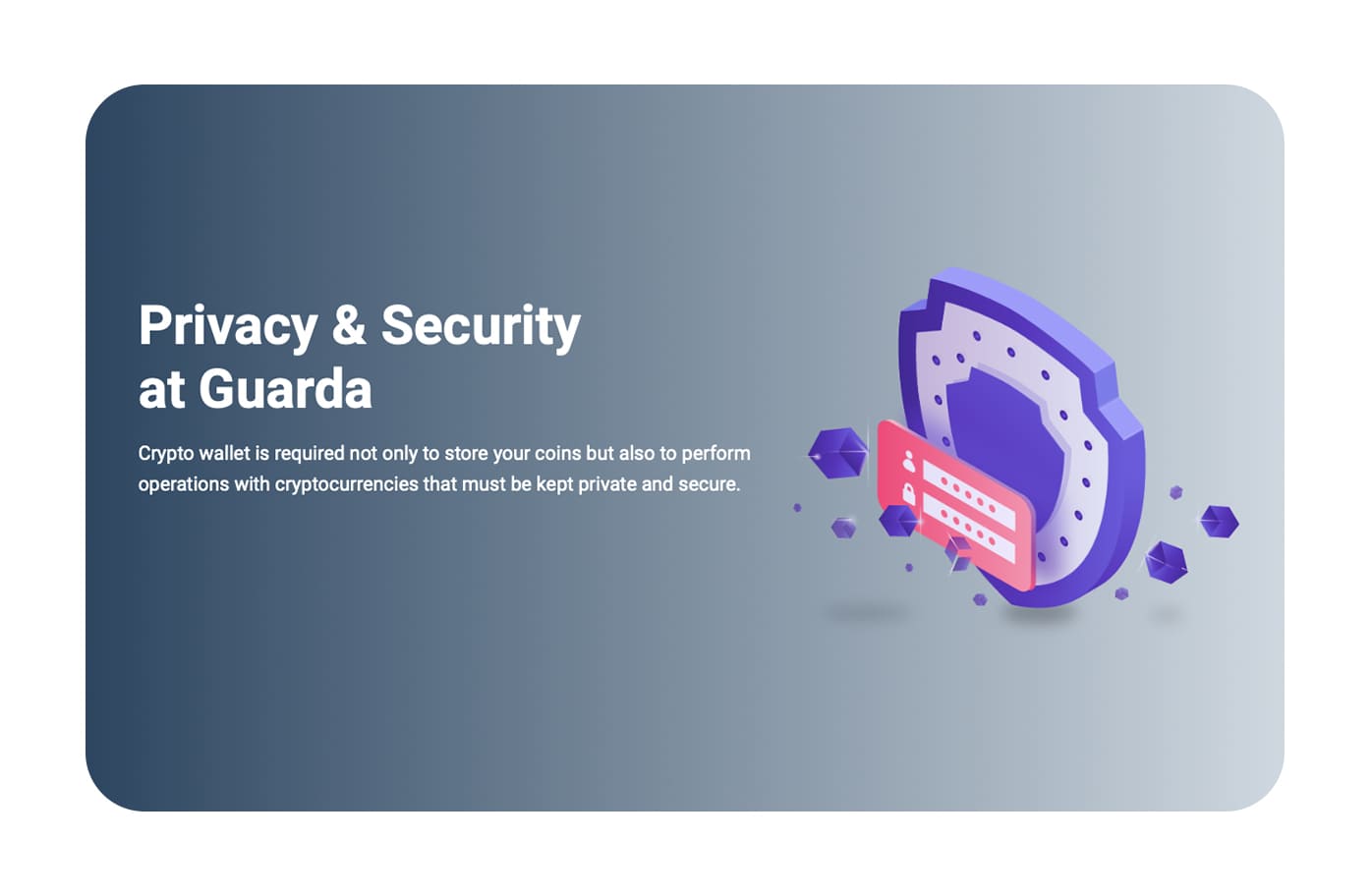 Design, supported currencies are, of course, important but the security measures are at the TOP because if your coins can be stolen, other features won't be valuable for you.
Despite being available only with the connection to the Internet, Guarda Wallet is safe because:
As I told you before in the Guarda Wallet review, this wallet is non-custodial, and this is a very good feature of modern wallets.

You download the backup file and if it and the password is inaccessible for other people, you can sleep tight - your coins are safe;

If you still worry about the password, you can activate the Face ID or Touch ID so no one except for you will be able to pass the verification;

Multisignature function is available here, and it is very convenient for families or companies who have a common wallet.
Can This Wallet Be Hacked?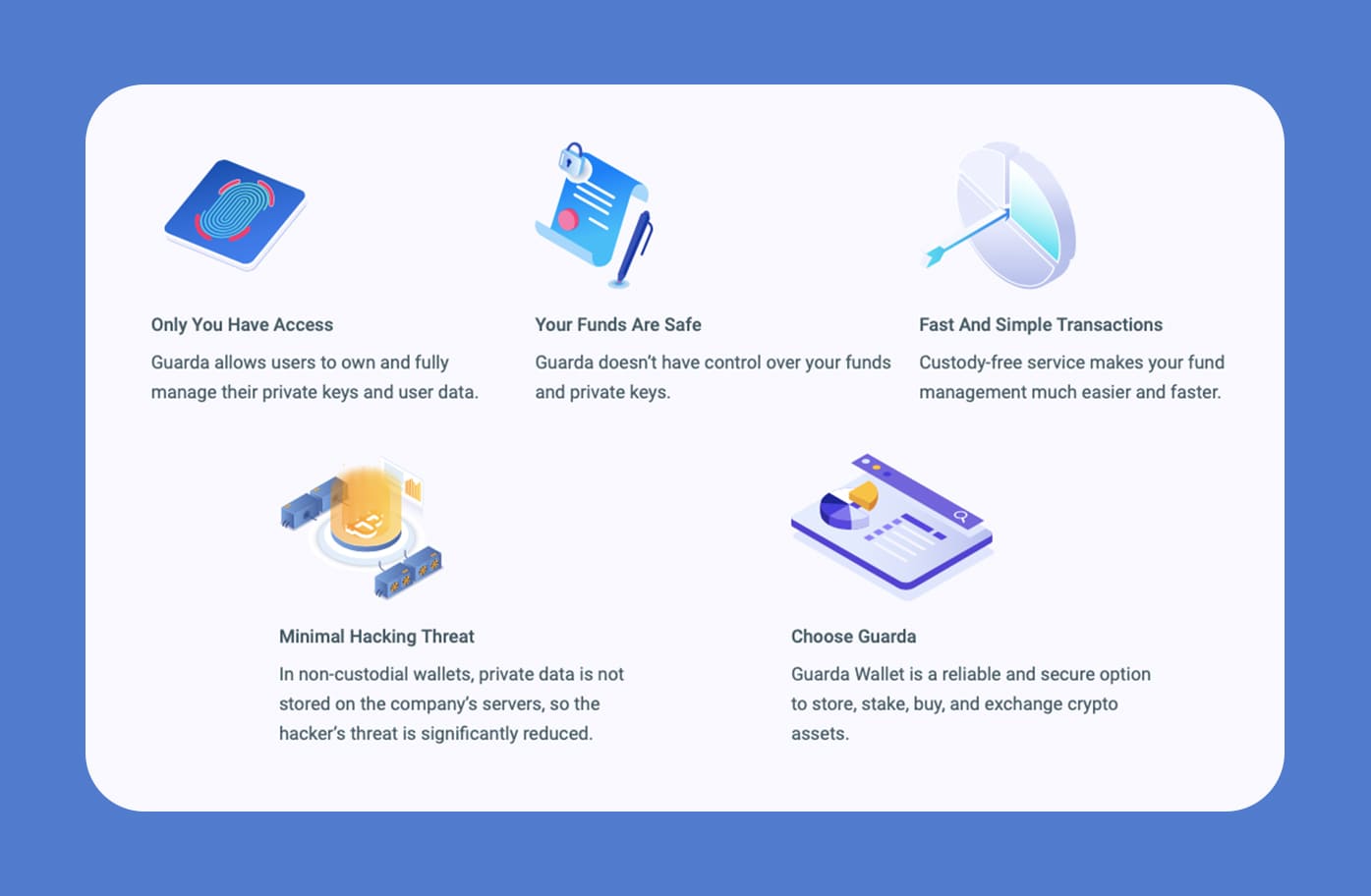 This question is, actually, very popular when people are looking for a good crypto wallet.
And this is understandable - you are going to entrust it your own money!
The possibility of hack attacks is present for every wallet, frankly speaking.
Okay, let's imagine the servers of the Guarda app were hacked.
Can the hackers steal your money?
Because this wallet is non-custodial, well done!
The only situation that is going to be harmful to your wallet is when the password or/and a backup file is lost. Remember that you can't change them later because the wallet doesn't store your information.
So, if your password or backup file was lost, you can:
Just lose access to your wallet and your assets too;

Lose your assets because someone stole them.
In any way, you will not be the owner of your assets anymore.
So, as you see, if you keep everything in a safe place, your coins will be safe - this is the most important in the wallet.
Advantages and Disadvantages
As you may guess, I like this wallet, and, jumping ahead, I can say that it is approved by Safetrading.
But every service has its own pros and cons, and the Guarda app is not an exception.
Advantages:
An understandable website with all the necessary information;

The wallet can be downloaded to the phone, laptop, and PC;

The compatibility with Trezor for higher security measures;

Bright and user-friendly design;

A lot of supported assets

The opportunity to exchange fiat for crypto.
Disadvantages:
High fees comparing with its competitors like Trustee;

The wallet supports only the English language.
Final Verdict
Today we reviewed the Guarda Wallet - the non-custodial mobile and desktop wallet that allows not only to store, send and receive crypto but also to exchange it from fiat money.
I need to say that I like everything in this wallet - it is very modern and good for newcomers, so we know it will be perfect for professionals.
Yes, the security level is high as well because of non-custodiality, password, and multisig features.
We welcome you to use this wallet!
Hope the Guarda Wallet review was useful for you. Still, feel free to check Guarda Wallet TrustPilot and Guarda Wallet Reddit discussions to know the users' feedback!
Remember that Guarda Wallet Support is ready to help you 24/7, so if you have any questions, you will better ask them to understand everything.