BitPay Wallet - Is It Scam or Safe for Your Coins?
[2020 Safetrading Review]
BitPay Wallet is a popular wallet for cryptocurrency storing, sending, and receiving that was developed in 2016. The wallet is available for Windows, Linux, macOS, and iOS, Android, Windows Phone mobile operating systems.
As you know, there are a lot of crypto wallets now and they are very useful for those who work with crypto.
But how will you know that your assets are safe? Now, when technologies are developing, there are more and more possibilities the wallet with a low level of security can be hacked. That is why
Safetrading is here to help you choose the best crypto wallet for your coins!
And, step by step, we are here to discuss the BitPay Ethereum wallet and BitPay card details that you won't find in other BitPay reviews.
So let's start our BitPay review!
What Is BitPay?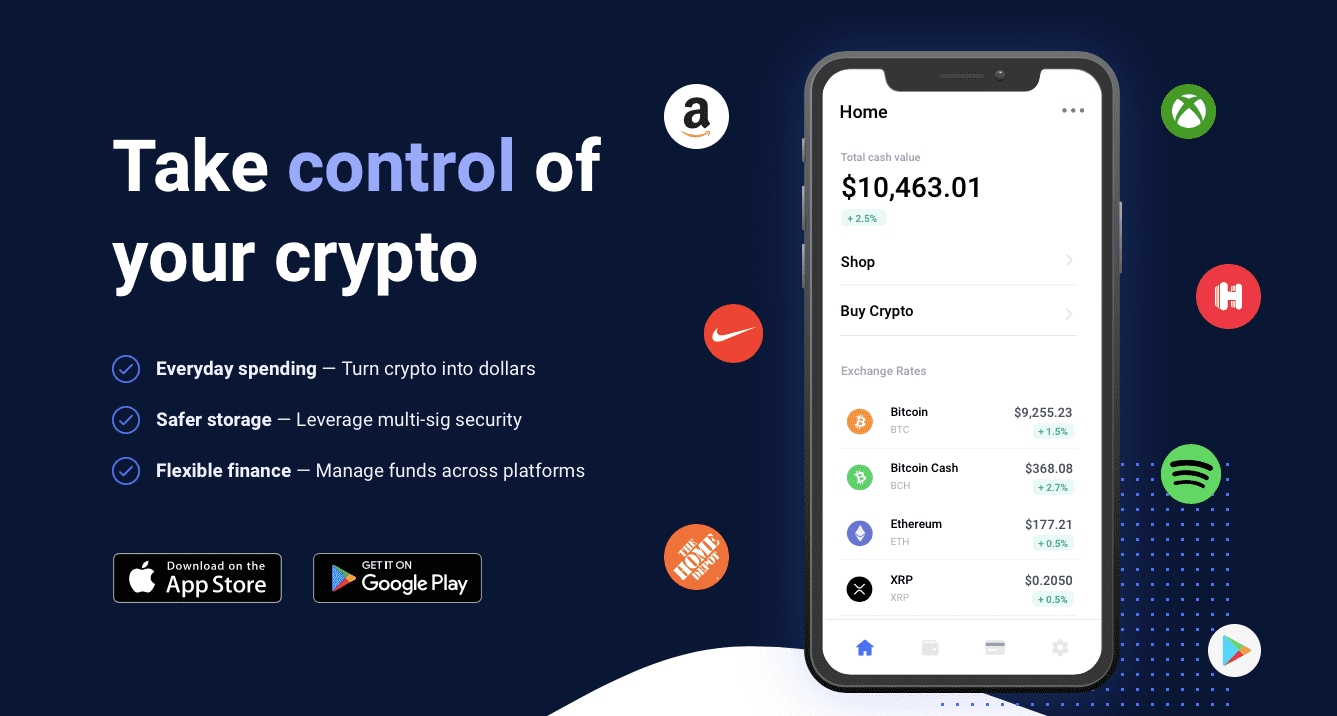 Actually, BitPay is a very experienced crypto company that started its activity in 2011 and presented the Copay wallet. In 2016 it released the first beta version of the wallet.
The BitPay works in the following way:
The open-source Bitpay wallet supports multi-signature and two-factor authentication for improved security, allows you to exchange cryptocurrencies for fiat, and manage crypto assets across platforms. Users can create multiple crypto wallets, pay for goods with a BitPay card, or buy gift cards from Amazon, Uber, Spotify, Google Play, and many other companies with cryptocurrency.
BitPay provides crypto payment solutions for businesses that enable companies to accept payments in cryptocurrencies. Among the merchant partners, there are such large companies as Microsoft, Neteller, Twitch, and Shopify.
In this wallet, you are able to store Bitcoin (BTC), Ethereum (ETH), XRP, and Bitcoin Cash (BCH).
We like this wallet because it acts as a desktop wallet and mobile wallet. So, it supports Windows, macOS, Linux, but you can download it on your Android or iPhone.
As more and more people like having their wallets on their mobile phone, today we will go through the mobile version.
BitPay Wallet Security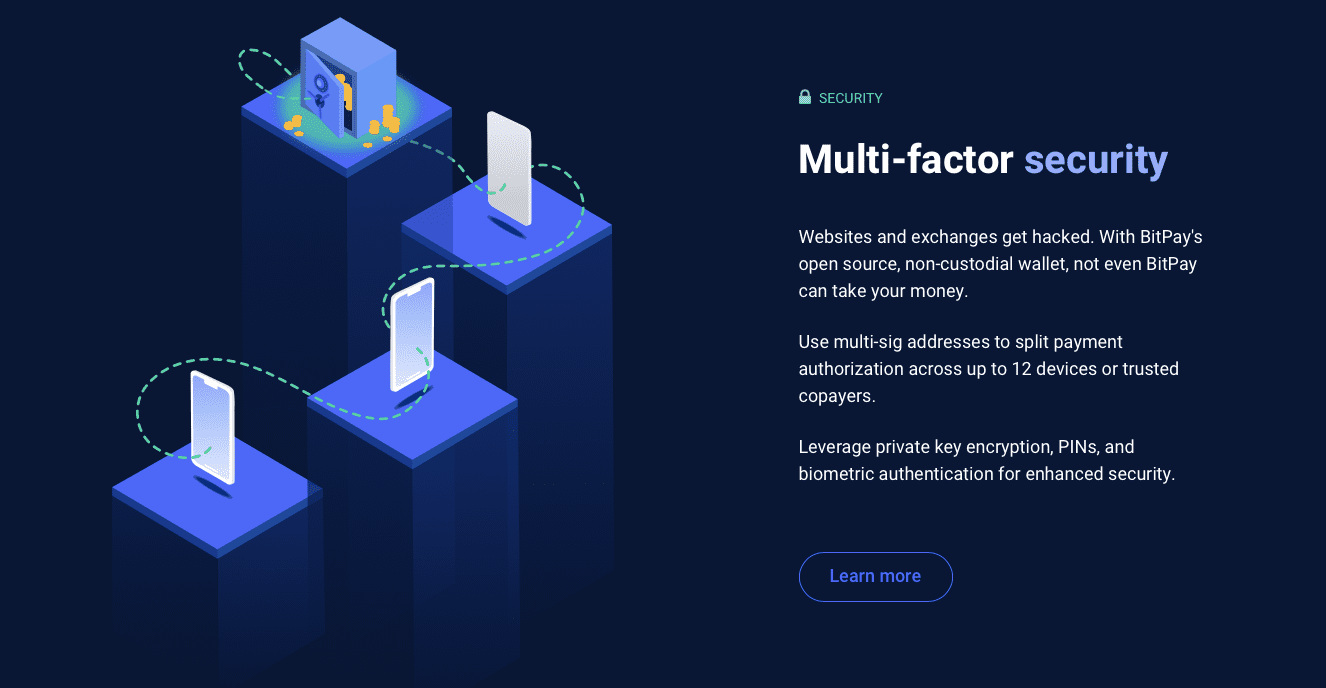 All the BitPay wallet security measures start when you decide to create your new wallet.
The first message is about a passcode that you can create to secure your assets. And we advise you to do it because the more steps you make, the more secure your crypto is. You enter your password and… the wallet is created!
The next step you HAVE TO make is write down (yes, don't take screenshots, don't copy it) your seed-phrase.
You will have 12 words to write down.
This phrase will help you to recover the wallet in case your mobile phone is lost or stolen.
The most important security feature of this wallet is multi-signature. In order to confirm the sending of the transaction, you need to provide several private keys. You can distribute them across several of your own devices, or use a common account with your family or business partners. This feature will protect you if any of your devices are hacked.
A separate topic is the BitPay card review. In order to receive it, you will need to provide your personal information, but this does not apply to the installation of the wallet.
Opportunities
Here, in our BitPay wallet review, we will talk about what you can do with this wallet.
Home
Here you can view your total cash value, exchange rates, shops, services supported by BitPay and you can buy crypto with the help of a credit card.
Wallets
Here you will see all the wallets you created with the amount of money you have in each of them.
Also, here you can scan a unique QR-code to send crypto.
Cards
Here you can pair your BitPay Card and, in the future, we can do something more that is in the process of development now.
You can join the waitlist and the company will notify you when the new service is ready.
Settings
Typical section for all the wallets.
Here you can form your own BitPay Bitcoin address book. Yes, you save people's addresses with their name and email. The last component is optional.
Here you can manage your home menu by adding the services you want to be displayed.
BitPay - Security and Privacy Certification Audit
In a September 30, 2019 Press Release, Aprio, a business consulting firm, confirmed BitPay's SOC2 compliance, technology audit, and a requirement for technology companies to ensure the security and privacy of customers' personal data.
Passing a SOC2 review means that the company has met the criteria set by the American Institute of Certified Public Accountants for confidentiality, security, processing integrity, and availability.
Commenting on the assessment, Dan Schroeder, Head of Information Provisioning Partnerships at Aprio, said:
"After careful analysis, we have confirmed that the design and application of BitPay are in line with SOC2 standards for protecting customer data. SOC2 reporting is an industry standard of best practice that assesses a company's controls on issues such as protecting transactions and other sensitive customer data."
BitPay Wallet Support & Customer Reviews
Let's start with the most popular feedback website - TrustPilot and check the presence of negative reviews. There are 70 reviews about the wallet, 76% of which are negative.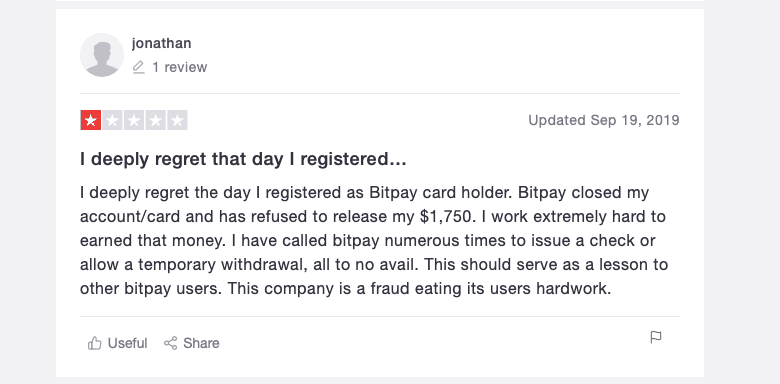 Of course, competition is a hard thing, and we know a lot of examples when your competitors try to "kill" you with the help of negative reviews. Nevertheless, the BitPay support didn't reply to feedback, and we can't evaluate the reason. Still, we believe in the above-mentioned SOC2 audit more.
Let's come back to positive reviews.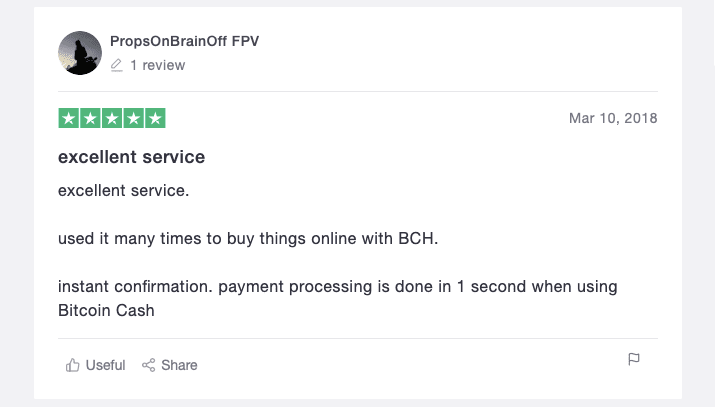 People also mention the ease of use, average BitPay fees (not low though), etc.
Pros and Cons
Let's go through the advantages and disadvantages of this wallet.
It supports around 50 languages, and that is why it is very popular and convenient in a lot of countries.

GitHub! Yes, this is an open-source wallet and everyone can see all info about this wallet to offer or change something.

This wallet can be integrated with such hardware wallets as Ledger and Trezor.

Multi-signature! Yes, this is +1 to the BitPay wallet security measures, you can create a multi-signature wallet with your business partners, family, etc.

Simplex - the official partner of the BitPay will help you to exchange fiat to crypto and vice versa.

You can add your BitPay VISA card to send and receive your crypto.

It has a very convenient mobile version and an easy-to-use interface.
Cons
Actually, this wallet reminds me of Bitcoin Core.
BitPay is very convenient, safe, but works with a minimum amount of crypto coins.
And I think this is the most significant disadvantage of this wallet. There are hundreds of crypto coins now, but you are able to work only with 4 of them.
Final Thoughts
Today in our audit we discussed one of the most famous Bitcoin wallets - BitPay, and conducted a small BitPay card review.
BitPay is very good, convenient, and has an intuitive interface.
It supports a lot of different languages, and this is one of the reasons it is popular in many countries.
Sure, it has a lot of useful features like multi-signature, cards, opportunity to pay with crypto in some stores, exchange fiat to crypto, and vise versa.
But, frankly speaking, such features are present in many modern wallets.
The thing that modern wallets don't have is respect and experience, and here the BitPay wallet definitely wins.
I really hope that you will find our BitPay wallet review useful and helpful, and now you know how does BitPay work.
If you still want to find the best and safest Bitcoin wallet, visit this page and read reviews on the most famous wallets!