Jaxx Wallet Review – Why Is It So Controversial? [Safetrading 2020]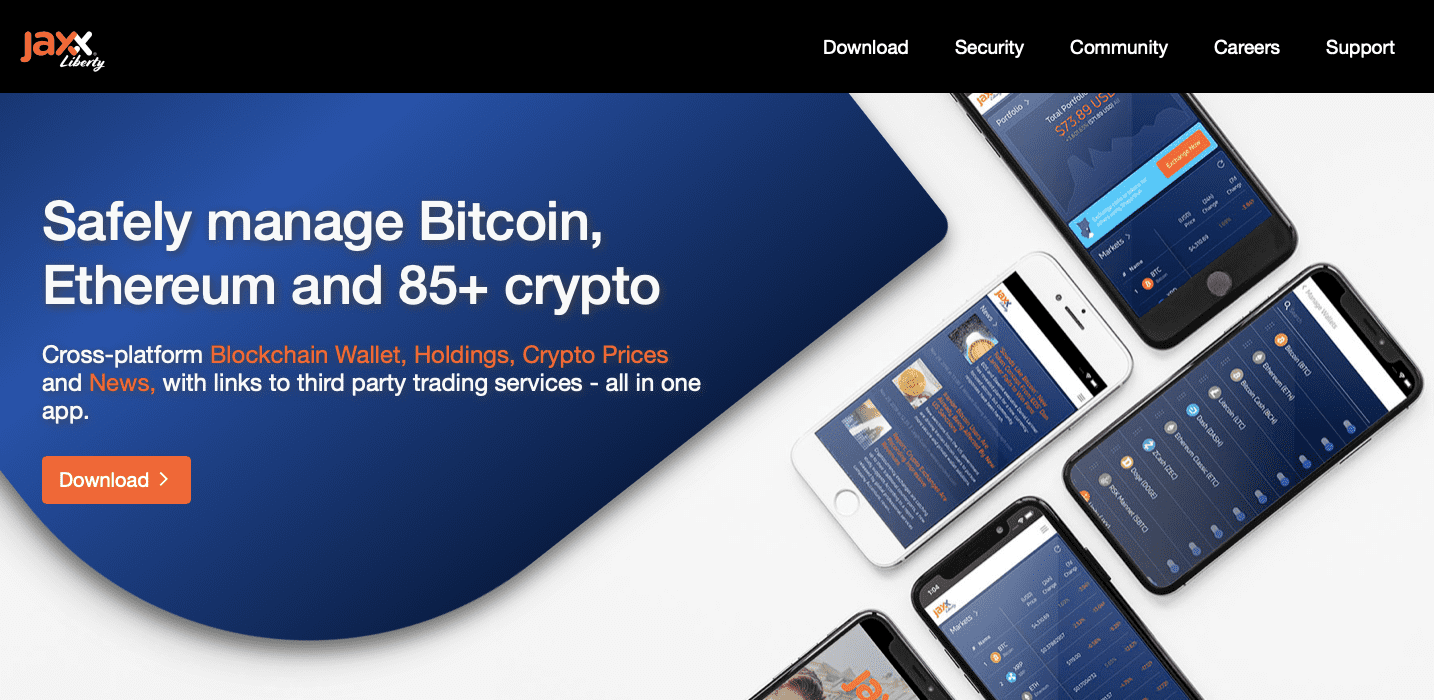 Jaxx Bitcoin wallet is a program that allows sending, receiving, storing, and even exchanging different types of cryptocurrencies. This wallet was founded by Decentral, a decentralized cryptocurrency business project. It is registered in Toronto and the most interesting part is that Decentral was created by one of Ethereum's founders.
Every cryptocurrency trader and enthusiast wonders what the safest way of storing assets is.
There are tens of different wallets but it is rather challenging to find a convenient and secure one. Only after exploring the benefits and drawbacks of every wallet, it is possible to pick the right one. But you need to remember that at the moment it is impossible to find a wallet that would satisfy all the needs at once.
Today we will discuss one of the most controversial wallets – BTC wallet Jaxx, even though it is rather popular and millions of users entrust it with their assets.
Anthony Di Iorio sounds rather familiar, right?
The Jaxx itself was founded in 2013 by Decentral subsidiaries – Kryptokit. And since then it is erasing crypto borders in all parts of the world!
If you are not completely new to the crypto market, you probably remember the news about this wallet, because its founders and developers were generous enough to share results with common users. And finally, in 2016, a beta-version of a cross-platform Jaxx Bitcoin Cash wallet was released.
So now let us put the intros aside and start our Jaxx wallet review.
Even if you feel puzzled whether this wallet is the right choice, after reading our article all of your questions will be answered, so you won't need to google for other Jaxx wallet reviews!
Jaxx Wallet Supported Coins

Jaxx wallet coins are rather diverse and it is definitely one of the things that we love about this wallet!
At the beginning of February 2018, there were 57 supported coins, including Bitcoin and BitcoinCash Jaxx, Quantum, Ethereum, and EthereumClassic, Dash, Zcash, Litecoin, BlockchainCapital, Golem, Doge, Bancor, Testnet, Iconomi, Eos, Augur, Gnosis.
It also deals with rare cryptocurrencies like Polymath, Zap, DentaCoin, Ucash, Presearch, UnicornGold, Worldcore, Aion, Fuel, Blockmason, Melon, Match Pool, Token Card, Civic, Salt, Status, Santiment, iExec, Wax, Cofoindit, Maecenas, Storm, and Swarm.
Just imagine: you don't need to have different wallets for various cryptocurrencies even if you deal with the rarest ones!
Jaxx Hardware Wallet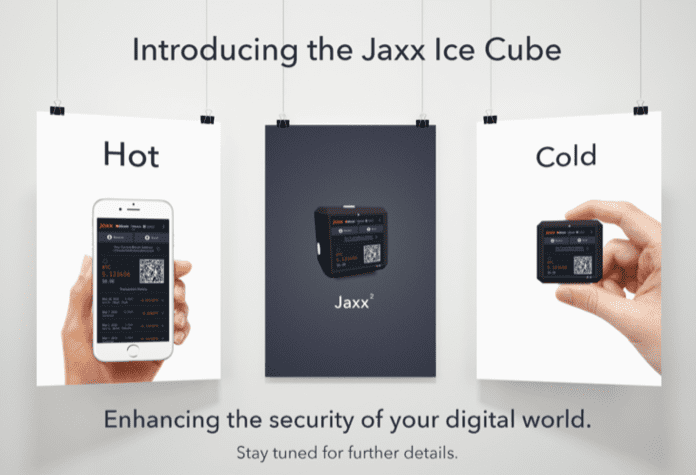 The company was supposed to launch a hardware version of Jaxx back in 2016.
Decentral said that they would release Cube Ice, a hardware wallet that would be paired with the Cube, a bigger hardware device. Developers announced that this Jaxx blockchain wallet would become a part of the entertainment system and contain blockchain nodes.
Jaxx hardware wallet (or Ice Cube) would be offline storage, resistant to water, and fire. In addition, it would be free from cables and connections and would synchronize with other Jaxx devices.
However, four years have passed and there haven't been any updates on the Ice Cube wallet.
Did the company forget about its promises? Or they are too busy with the success of other products?
We don't know whether Ice Cube will be eventually launched but we couldn't omit this important detail in our Jaxx wallet review!
Cross-platform

Cross-platform wallets are always in high demand. We all love flexibility and versatility. Luckily, Jaxx can be used on different devices with various operating systems.
At the moment, the Jaxx Bitcoin wallet comes in three versions:
As a desktop version for computers and laptops. It supports Windows, Mac OS X, and Linux;

As a mobile version for smartphones. It runs both on iOS and Android;

As a browser extension - Jaxx wallet for Chrome.
In addition, Jaxx can boast an integrated ShapeShift – a service from the same name exchange for wallets and other applications, which allows exchanging cryptocurrencies inside the wallet. For example, if you have a regular wallet and received assets in Zcash but want to store crypto in Bitcoin, you will have to withdraw money, upload it on any crypto exchange, transform Zcash into Bitcoin, and only then return funds to your wallet.
But you can do everything automatically if you are a happy owner of a wallet with ShapeShift!
That is one of the things we like about this service and wanted to highlight in our Jaxx wallet review.
Jaxx Paper Wallet
Jaxx Liberty can view and copy the private keys of wallet owners, which means that you may create a paper wallet based on those keys if you prefer one.
The company also offers the reverse process: to import keys from paper wallets for maximum freedom of its users!
In case you want to have a paper wallet, all your assets will be kept in cold storage. One of the biggest advantages is that your keys are stored offline, so no one will be able to hack your account and steal your money.
This is one of the safest ways of storing crypto and the Jaxx Bitcoin Cash wallet has such an option!
However, you should think carefully about where you will keep your private keys, because anyone, who gets access to them, will automatically get access to all of the funds on your wallet. Choose a secure place that no one else knows about. In such a way you will keep your Jaxx safe and won't have to worry about losing money.
Are you ready to move on to the most interesting part?
Our Jaxx wallet review is ready to introduce you to the wallet's benefits and drawbacks!
The Main Advantages of Using Jaxx
You already have a clear image of Jaxx and the services it offers. But let us dive deeper and discuss additional options that it has in store:
Secure Storage of Data

Private keys and codes are stored by the user, not on central servers, which can be hacked at any time. This means that your keys are kept on a smartphone or a laptop in a program file. This makes it harder to hack your Jaxx Bitcoin wallet.
Additional Protection

When you are setting up an account, you are asked to install a PIN code. You will need to enter it every time you want to use Jaxx and at any time when you want to get access to secret data. For example, when attempting to see a seed phrase to restore access.
Regaining Access
with a mnemonic 12-word phrase

The seed phrase is generated, when the wallet is set up and allows restoring access to funds in case of losing the key. Actually, the seed phrase is available in most of the wallets but we still couldn't omit this feature in our Jaxx wallet review.
Can Be Used on Different Devices
Users can combine Jaxx on a smartphone and on a personal computer (or on any available device). Data is synchronized automatically.
Customer Support
If you read our previous reviews you probably know how important this criterion is for us. That is why we were pleasantly surprised when working on this Jaxx wallet review. Their customer support is rather speedy and the majority of users get quick feedback (from several hours to a few days).
In addition, you can contact a particular developer.
Open-source
In case you want to check whether the wallet is secure, you can get familiar with its code in open access.
Intuitive Interface
The main features are insight. Features that users don't need on a daily basis are hidden in tabs.
If you are a complete newbie, you may not find a certain feature or option but it is surely not Jaxx's fault.
The design is modern and laconic, just the way we like it!
Are you ready to find out the wallet's main flaws?
Then continue reading our Jaxx wallet review!
The Main Disadvantages of Using Jaxx
Unfortunately, Jaxx has a variety of drawbacks and they even outweigh the advantages that we have discussed above.
First things first we should name certain gaps in security. A safe wallet is a wallet, which not only keeps but also protects assets. In addition, it doesn't lose money during transactions. And if the Jaxx Bitcoin Cash wallet performs storage and protection quite decently, it has problems with delays and even losing funds.

Active users of this wallet claim that there have been issues with transactions, namely with withdrawing particular cryptocurrencies. As a rule, leading currencies like Bitcoin and Ethereum worked well enough but less popular (for example, Zcash) was rather slow and it was impossible to send assets even at the tenth attempt.
Moreover, sometimes money left the account but never landed on the recipient's wallet.
The good news is that the Jaxx Bitcoin wallet customer support always returned the funds (even though not within hours).
At the moment this question is still open and the problem isn't solved.
Also, when you google "Jaxx wallet hacked", you may find some interesting feedback from users: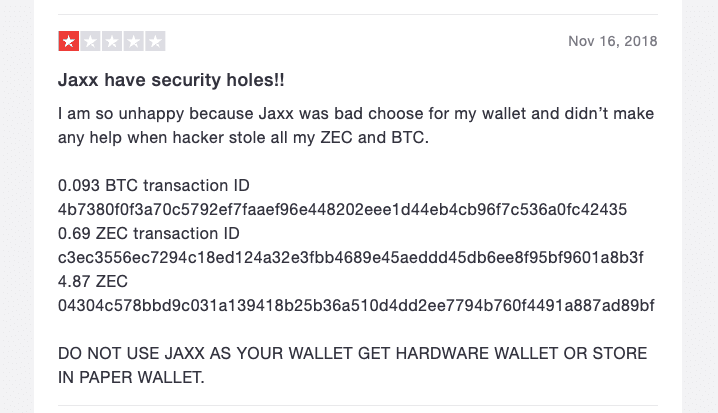 The second drawback of the Jaxx Bitcoin Cash wallet is the Jaxx fees when conducting exchanges via ShapeShift. On one hand, the internal exchange is rather convenient and there are no risks of bad performance during multiple operations from wallet to wallet or exchange to exchange. But very often it is cheaper to exchange assets on side service.
Jaxx Shapeshift fee differs but they are always rather high, so we recommend getting familiar with all of the terms and conditions before using their exchange.
This may save you tens or even hundreds of dollars!
Another drawback that we wanted to discuss in this Jaxx wallet review is its technical aspects. As you already know, they are an open-source service but if you study the wallet's code in detail, you will see that there are only certain parts in free access. Yes, these parts are quite secure and don't indicate that hidden parts have something to let us put on our guard. But still, there is a chance that they have a hidden system's vulnerability or any other imperfection.
We can't say that the support team quickly solves arising problems even though they provide timely answers.
For example, issues concerning withdrawals may take weeks!
Here are also a few minor BTC wallet Jaxx disadvantages:
It is rather slow. After conducting a certain operation, data is updated with delays. Moreover, operations themselves may take too much time;

Absence of fiat currencies;

English is the only language the system understands.
Conclusion
In case you didn't want to read the whole article and simply scrolled down to the final section, let us once again enumerate the main features of Jaxx.
First of all, it is non-custodial and supports a variety of currencies. This means that you don't need to own several wallets and a single Jaxx Bitcoin wallet can deal with multiple currencies and operations (thanks to ShapeShift).
Users can also choose whether to have a desktop, hardware or a paper wallet. Everything depends on your expectations from Jaxx and the type of services you use.
However, it doesn't offer a variety of languages to choose from, so it may be challenging for users, who don't know English.
We can't say that this wallet has the best level of safety - we have questions about security and the code itself.
As you see, our Jaxx wallet review revealed both the strong and weak sides of the wallet. Hopefully, now you can make up your own mind whether to stop your search on Jaxx or to look further for Exodus wallet review!
If you still don't know what types of wallets exist and which one to choose, you can read the following article.
Remember, we are in the same boat, so you can always expect the most truthful and up-to-date reviews.