WHAT IS CRYPTO VIP SIGNAL?
This is a group of channels in Telegram, which provides crypto signals. The admin of this channel claims they provide the best crypto signals and says the following words (I do not want to write them, I will just show you the screenshot):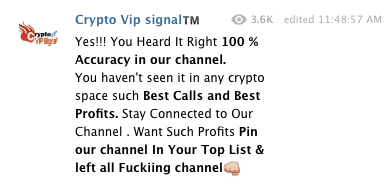 WHO IS ON THE TEAM?
Actually we know that there are 4 people on the team, but we chat only with one of them - James. Also we know, that this team is from India, but they speak English - good or bad, but still it is interesting that in our chat this James makes a lot of mistakes - pupils do not do such mistakes - but in their Telegram channel "his" posts sometimes are very good, sometimes with huge amount of mistakes, so this is another strange fact for me.
WHY SHOULD YOU TRUST THEM?
As you see, our platform can not guarantee their signals will help you to make profit and we don't want you to work with those guys, really. James asked me to check his channel 3 or 4 times, I told him he should give me an access to his paid channel. And..he just sent me some posts from his channel with TA and said I could check his accuracy using that info. Okay, I don't buy it.
WHAT DOES THIS PROVIDER OFFER?
Crypto VIP Signal has no website, that's why we use what we see in Crypto VIP Signal Telegram channel. There you can find signals, TA and a lot of posts about they are the best in crypto and s.o. So, nothing special. And here I found another strange fact - when they write a profit you will gain after this or that coin gets its targets, they use very accurate numbers - 35%, 50%, 65% - so I guess and I know that our trusted providers so not do such stupid things, because you can not be so sure when we speak about crypto calls.

WHAT IS ABOUT SUBSCRIPTION PLANS?
When we added this provider to our platform, he had 2 types of subscription - monthly for 0.02 BTC and lifetime for 0.05 BTC. Now he has ONLY lifetime one for 0.04 BTC. Don't you think it's strange? 0.04 BTC it's approximately 310$ now. If we compare this price to our trusted providers' prices, we will see they have such a price for 6 months at least, but not for a lifetime subscription. So this is a huge red flag of scamming. And, by the way, i will put a screenshot here for you to see his manner of chatting. How can this person consult someone, I am sorry?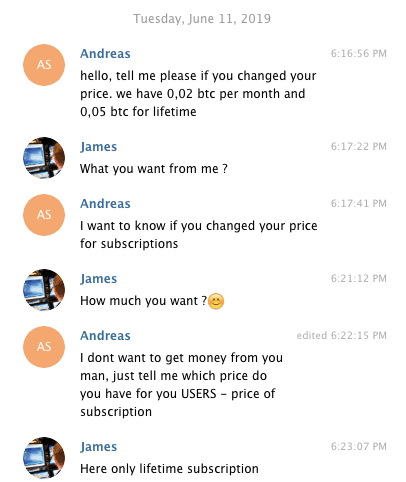 That's why we want to remind you one more time - check every provider before buying a subscription. If you are new in crypto, you can read our article, especially about crypto signals and scammers. We want to save your money, that's why we have a list of our trusted providers - their signals are checked and we can guarantee they will bring you profit.