Dear users, this trader provided all the important info and we checked him. He is approved and recommended.
What Is Crypto Classics?
Do you know who make the best crypto signals and the most accurate prognosis? Former traders, of course! In today's Crypto Classics review we will discuss a new player on the market: quality of their communication, advantages and flaws, services and of course trading signals they regularly give out.
Crypto Classics is a team of traders, who started their way over 10 years ago, working on the New York Stock exchange and other worldwide platforms. At that time they have earned over 12,000% of initial deposits profit! In 2017 their attention was caught by the market of crypto trading and that is how everything started! Going forward, they already have a Crypto Classics Telegram channel and they have completely devoted their time to virtual world, leaving financial markets behind. So what do Crypto Classics say about themselves? They think that everything lies on the surface: you need to understand that volatility is the main and the most important aspect of any market. The higher the volatility is, the more fluctuations appear. Consequently, more profits can be made. That is why their interest in trading Bitcoin and other altcoins emerged and continues to bloom.
We feel them: how can someone stay indifferent, when crypto trading has so many things to offer?! Lucky for us, these guys are ready to share their skills with the world, so they are giving out cryptocurrency signals and crypto calls to teach anyone how to trade! Are you as intrigued and excited as we are? Then immediately stop what you are doing and read about the crypto signals and other services they offer!
Is It Easy To Communicate With The Admin?
As you have probably figured it out, Crypto Classics differ from our TOP 10 providers. If not, let us explain: they are really experienced even though they have been trading cryptocurrency literary for a few months. It may alert traders, because every day tens of crypto telegram groups emerge and there is no guarantee that all of them will be reliable and trustworthy. Luckily, everything looks fine and their crypto signals seem to be solid and thoughtful. We will return to them later in this Crypto Classics review to give you a better understanding of the services they offer.
So don't stop reading to go and watch a new episode of your favorite TV-series! (Unless it is the final episode of TBBT)
Do you know what gives me confidence? A phone call. A simple phone call? Yes! In the world of digitalization everyone prefers messaging. However, we have appointed a call with Crypto Classics and they didn't miss it. During our conversation we got acquainted with their team members, learned about their history and background, and even got to see their office. Even providers with the best crypto signals often prefer virtual communication, so you sometimes feel like you are talking to a machine, not to a real person. Actually, we don't have any complaints about the Crypto Classics Telegram channel or support. They are above all praise and it was a real pleasure talking to them!
However, is communication enough to give out outstanding trading signals? Let's find that out!
Which Services Do These Guys Provide?
What is the main thing that most of crypto signals providers lack? Simplicity and understandability by regular users. Yes, you may have prior trading experience but most of the users are novice and don't understand a word those dudes are talking about! Everything is different with Crypto Classics, because they seem to be able to explain all the strategies and market mechanisms in a simple and clear language, so that you don't feel yourself the main hero of Dumb and Dumber. All trading signals are covered thoroughly and in the slightest details. Moreover, every number and every advice can be explained, so you don't have to wonder whether the signal is based on real facts or intuition.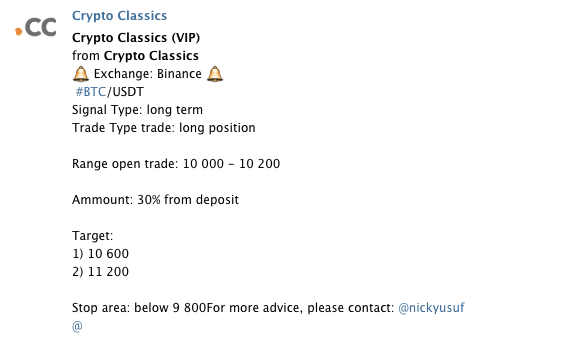 Crypto Classics say that often they are asked why they chose a new and a complex path if they are already successful at stock trading. They say they are crypto enthusiasts and believe that cryptocurrencies are the market of the future, because it opens a new world of opportunities and each year it will only grow. They hope that with the help of their crypto trading signals and Crypto Classics Telegram channel new enterprises will emerge. They believe that they can help new Google or Facebook to develop!
When we asked them what their main task was, the answer was rather simple: helping newcomers and investors to find the best crypto signals and to use their money wisely, gaining financial independence and stability, while making as little mistakes as possible. The way they give out relevant information is very convenient and rather simple, and as a bonus you will get recommendations and useful tips. Their main services include recommendations on trading, advice on investments, educational information, help with compilation of an investment portfolio, psychological help, risk management, management of finances and much more.
As you will see further, our Crypto Classics review didn't miss a single detail out!
How To Work With Crypto Signals Provided By Crypto Classics?
Probably you already know that we think the best crypto signals are those, which appear once a day and not every hour. Crypto Classics are one of those providers, which shows that they take their work responsibly and place their users first, not their own profits. At the moment they work with two markets: Binance and BitMEX. You can read fresh information in their Binance telegram channel and even get some tips and recommendations on trading.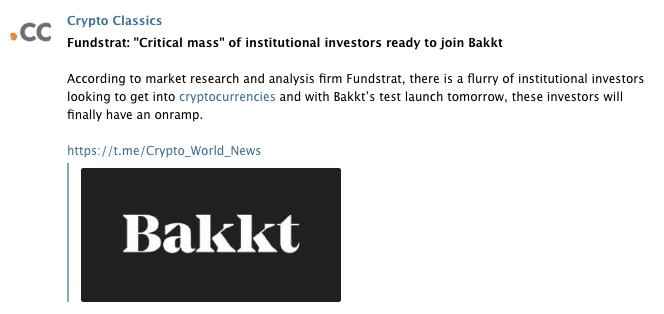 Although it was challenging to write a Crypto Classics review because they are operating only for a few months, we managed to check the signals that they have been sending out to their users.
We will continue analyzing their trading signals to give you results of a final profit for a three months period. You can get information on Crypto Classics signals by pressing the following link. In case you already want to check their crypto signals, you can join Crypto Classics Telegram channel and be among the first to use their services.
Which Are The Best Signals For The Last Period Of Review?
As you remember, Crypto Classics are only getting started, so we can't name the total sum of earned profits for a standard period. However, we regularly check their crypto signals and update information to publish the final percentage, when we will have Bitcoin signals (and signals for other currencies) for three months.
By the time of writing this Crypto Classics review the biggest BTC profit was gained when selling the LINK coin, which revenue equals approximately 26%.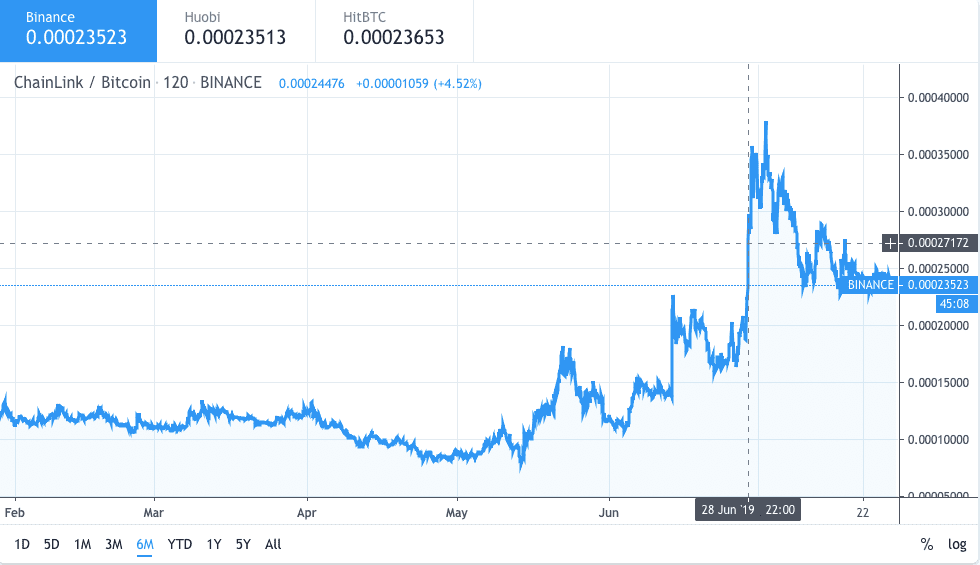 Bitcoin sale also showed solid results with 18% of profits.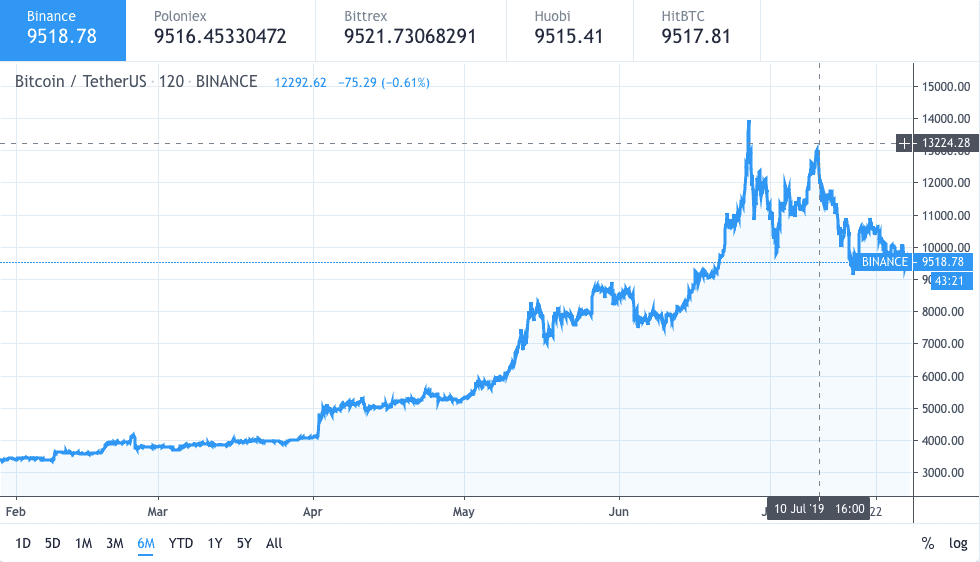 We are happy to confirm that Crypto Classics are responsible, when it comes to detecting the best crypto signals, which is proven by the fact that there hasn't been a single coin that didn't bring any profits. We give them a big credit for that and continue to follow Crypto Classics Telegram channel to give you the most recent information!




Which Are Disadvantages In Crypto Classics Work?
We are always happy to admit the fact that a certain provider doesn't have any flaws. This also happens with Crypto Classics even though they don't have much experience and there is still room for development. Crypto Classics Telegram channel is convenient, contains relevant and useful information and you can contact their admins any time you need. Actually, they are available 24/7, so if you have questions on crypto signals or trading, you can contact them even after midnight. They analyze markets and publish only best crypto signals, so you won't be bombarded with tens of trading signals a day: only the most relevant and profitable ones! Every signal that Crypto Classics publish, comes along with a technical analysis, so even if you are a complete newcomer, you'll understand what is what.
If you think that our Crypto Classics review is too refined, we can't do a thing about it! Their services are really good. In case you need additional proofs, just visit their Telegram, read descriptions, talk to admins and follow their news to see that they are aspiring experts, who want to help as many traders as possible to find their way and to enjoy all of the benefits crypto world has in store!
Conclusions
Safetrading.today always checks providers from all sides. That is why, after a detailed analysis of Crypto Classics and their trading signals we can guarantee that they take care of their users and we can light-heartedly recommend them to traders worldwide. They publish only the best crypto signals, so they appear approximately once a day and contain clear and understandable information for traders of all levels. Apart from crypto signals these guys offer regular bonuses and improvements to let anyone start trading with ease. Crypto Classics constantly update their software and their prices are market average, so you won't have to spend all of your savings. To get fresh information on their subscription just visit their website or regularly follow Crypto Classics Telegram news.
Safetrading.today uses all the possible tools and calculations to check different providers. What does it mean? It means that companies can't influence the result and we can guarantee unbiased opinion, which may differ from expectations of providers.
We also publish regular audits with latest updates. So if you are a trading novice, you will only need to surf our website and find the necessary information on providers, platforms and trading itself. If you want to get a clearer picture of how everything works on the market and on our platform, you can read the following article. Here we have gathered all the basic data you may need to start cryptocurrency trading even with limited knowledge and funds.
Hope our Crypto Classics review was useful and you drew plenty of information from it. Have a nice day!