Whaletank is a team of twelve European and Israeli-based traders, who strive to enrich their clients through safe trading on a crypto market.
There are plenty of crypto providers now, but how to choose the best crypto Telegram trader?
How to choose that trader who will provide you with crypto signals, consult on every important trading question, and the most important - will now steal your money?
In today's Whaletank crypto review we will talk about their customer support, the services they offer will give information on the crypto signals, and, of course, will tell you about the disadvantages of the trader.
So, make yourself comfortable, pour some coffee, and let's get started!
Communication
For most traders, Telegram crypto groups have become the main source of communication with an audience.
Whaletank Telegram is not an exception, and their crypto trading Telegram group is a great example of how admins and managers should work.
At the moment, it takes admins about 2 hours to process any request and answer questions.
There are two main levels of support on the Whaletank Telegram channel:
Consultation with a trader, when you need information or have questions on daily signals or other specific issues;

Consultation with administration, which concerns any organizational questions.
During our cooperation with this provider, we never faced any difficulties and always received timely and clear responses.
Services
As mentioned in our Whaletank crypto review, the company has created a completely viable system apart from its Telegram channel.
Below we will talk about the features they are ready to offer.
Dashboard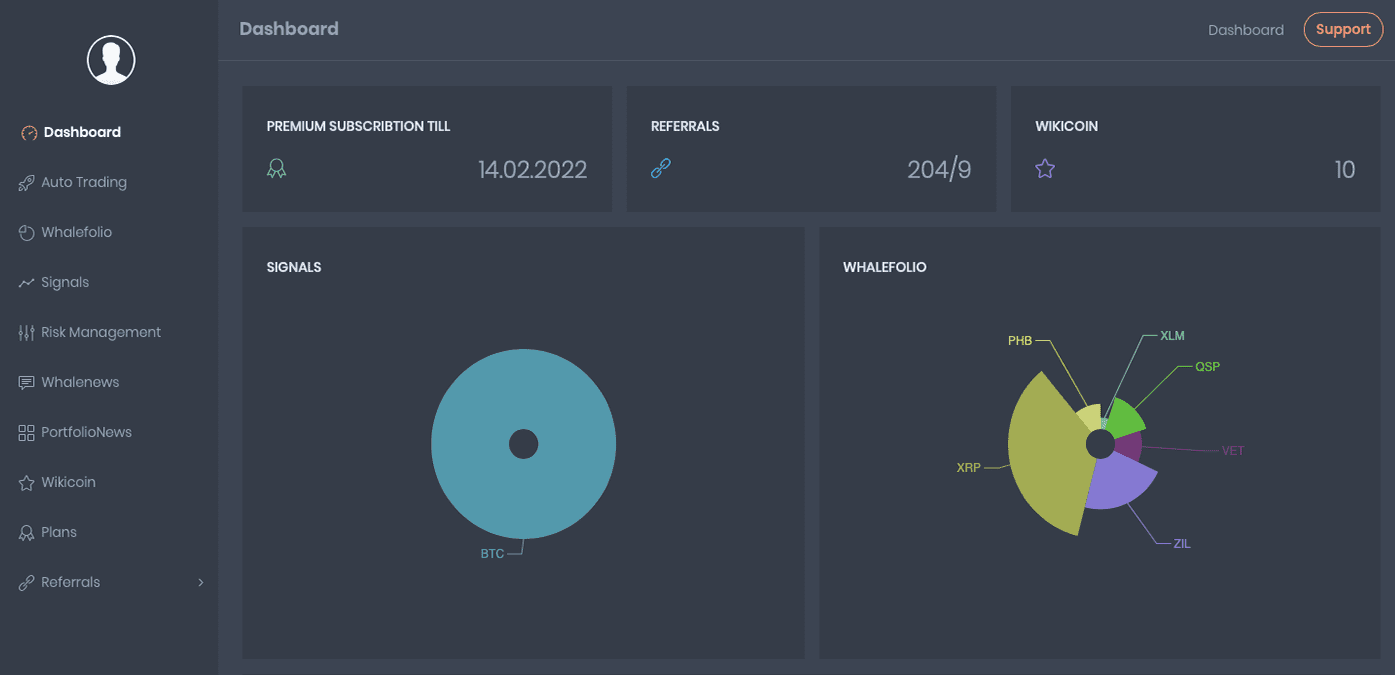 You will probably agree that it is annoying when essential data is hidden in different parts of the website as if you are Dora the Explorer!
Whaletank doesn't have this problem; its dashboard is very convenient and simple to use.
The dashboard can be utilized even by beginners and their grandmothers, which is a great advantage of the platform.
On the dashboard, you can find information on the service, its benefits, and pricing. You can also read testimonials and a blog to educate yourself and get more information on crypto trading signals, strategies, and other issues.
Whalefolio
It is a well-known saying that 'a picture is worth a thousand words,' so if you want to know what makes a great portfolio, you can get familiar with Whalefolio. It is an image that contains coins and their breakdown percentages.
Thus, you will always know what results to reach when using the best crypto signals.
Risk Calculator
If you don't mind, our Whaletank crypto review will dwell on this point with more attention.
This is a tool that calculates how the sum of all the coins should be distributed considering the portfolio's size in BTC.
If you want to stick to a recommended risk percentage, developed for Bitmex, then you definitely need to use this calculator.
Just type the necessary parameters into the calculator and you'll get the number of contracts that you should buy to avoid risks.
Here are the parameters you need to indicate:
Quantity of BTC in your account;

Risk percentage that Whaletank recommends;
You won't have to do anything because the risk calculator is very simple and convenient, and is definitely one of the most useful tools for crypto traders who do not want to rely solely on cryptocurrency predictions!
Crypto Signals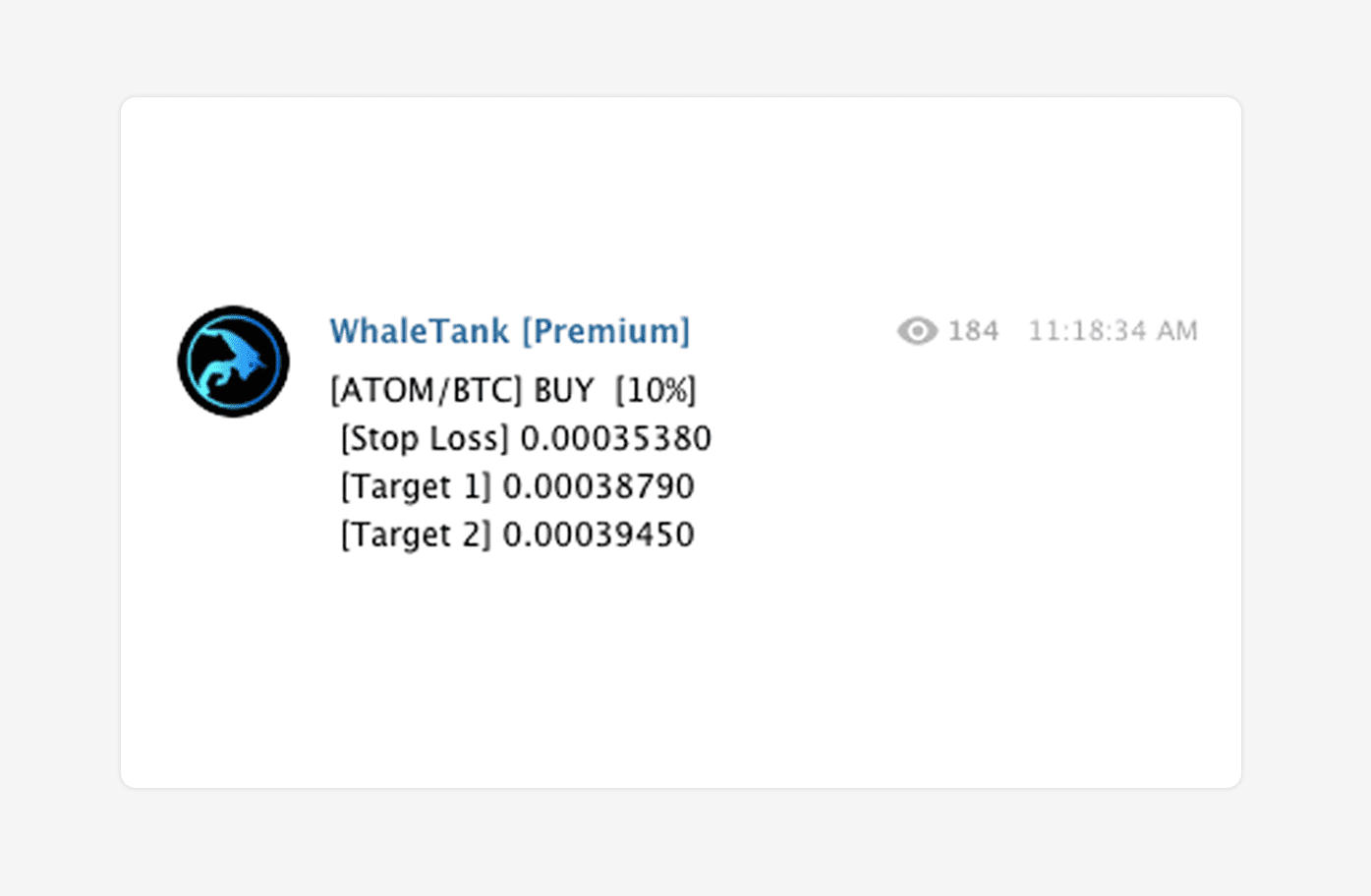 There are not many telegram groups that send out crypto signals along with technical analysis.
Luckily, Whaletank Telegram is one of these groups and this is definitely one of the biggest advantages of the platform, especially for users that don't have much experience in trading and can't distinguish the best crypto signals.
Cryptocurrency signals are published approximately once every 24 hours, which is okay compared to the top traders.
Our platform analyzed Whaletank Telegram signals for November 2019 – January 2020 using our own methods and calculations. Click the link to find the necessary information on their trading signals.
The Best Signals for the Last Period of Review
In the above section of our Whaletank crypto review, you can find a link to our own report on Whaletank crypto signals for November 2019 – January 2020.
The biggest BTC profit was made when selling ENG coins, which earned a profit of around 34%.
FUN coin has also shown good results and has improved 29%.
Disadvantages
Even though you know that they are one of the groups that provide good crypto signals, you are probably wondering whether there are drawbacks to the platform.
Actually, there is only one disadvantage: their managers and admins provide assistance and support around the clock, so due to an increasing amount of requests, sometimes you have to wait a few hours for a reply.
Final Thoughts
In today's audit, we have discussed Whaletank Telegram and are ready to share our thoughts with you!
The Safetrading platform checked the provider throughout three months (November 2019 – January 2020) and paid careful attention to their activity during the biggest market fluctuations and instability, so we can make a recommendation based on objective observation.
They regularly publish crypto signals along with technical analysis, so you will get the most information regarding whether to trade or not, even if you are a complete novice.
When it comes to prices, this provider is also on top because they have the average market prices, which are quite affordable.
Our Whaletank crypto review is unbiased and is based on a thorough collection of data. The Safetrading crypto platform carefully checks all the providers and searches for the best crypto signals with the help of unique calculation methods.
This means that the results cannot be influenced by the expectations and desires of reviewed providers. We constantly work on creating regular audits and update them to give you the most relevant information on a variety of trading platforms and providers.
If you are new to the world of cryptocurrency trading, we recommend that you read this article.
It contains information on Safetrading, crypto signals and groups, scam channels, crypto pump and dump Telegram groups, leaked crypto signals, and much more. It will definitely help you get started!
Subscribe to our Telegram channel or contact our support team if you have any questions left.
Let us conquer the world of crypto trading together!