Transparent FX Review | Are Their Trading Strategies Legit? [Safetrading 2020]
Transparent FX is the full educational program for traders that consist of learning to trade their rule-based strategies, daily Q&A sessions to have your questions answered every day (including the weekend), VIP daily market breakdowns with signals to trade the strategies correctly, account funding scholarships after you have learned the strategies.
When I give you recommendations about trading - free Forex signals or crypto, I tell you that those markets are not for newcomers and you need to learn the aspects of trading before entering the market.
There are not so many Forex signals providers that offer education, really, especially when we talk about detailed and proper education.
This team is one of those rare traders who starts with education.
Today in this Transparent FX review I will tell you about their activity, experience, offers, and pricing.
What Is Transparent FX?
As I told you before, this is the trading program that is suitable even for beginner traders.
Those guys are registered in Italy under the name Transparent Fx Srl.
On the main website page you can find all the contacts - address, mobile phone, and email.
The best thing I like about Transparent Fx review details is that they insist on their education.
Because when you buy the subscription, you will get 4 months for free to learn. And your subscription will start as soon as you are ready to enter the market.
And now let's talk about the services you are going to pay for.
Transparent FX Review | Student Dashboard
This is the thing you will start with - education.
As soon as you get access to this dashboard, you will see the first introductory video about what you are going to do, how long, etc.
The next video is about how to use the Student Dashboard which I find extremely useful because everything is described very easily.
As soon as you start, you will get access to the Telegram group, daily market breakdowns with signals (every day), Q&A sessions (every day), and all the learning materials including their custom COT application and their Skype calls (1 time per week - on Sundays).
The dashboard is quite easy to use, and even if you don't understand something, you will be able to ask for support.
If we talk about the Q&A Section, I need to tell you that it is not just frequently asked questions - it is better. You will be able to ask your question and the main trader Niccolò will answer you. He mentions that he answers every day, so you will be able to get the answers very fast.
Free Content
When it comes to free content, they provide information using YouTube, Telegram, WhatsApp, Twitter, Instagram, and TradingView. There is the public Youtube Channel of Transparent FX, Telegram channel of Transparent FX, Twitter, Instagram, TradingView profile.
VIP Market Breakdowns
As I told you before in our Transparent FX review, their services can be used even by the complete newcomers.
You have access to Market Breakdowns starting from the beginning but Transparent FX advises you to complete the education at first, and then to start using breakdowns.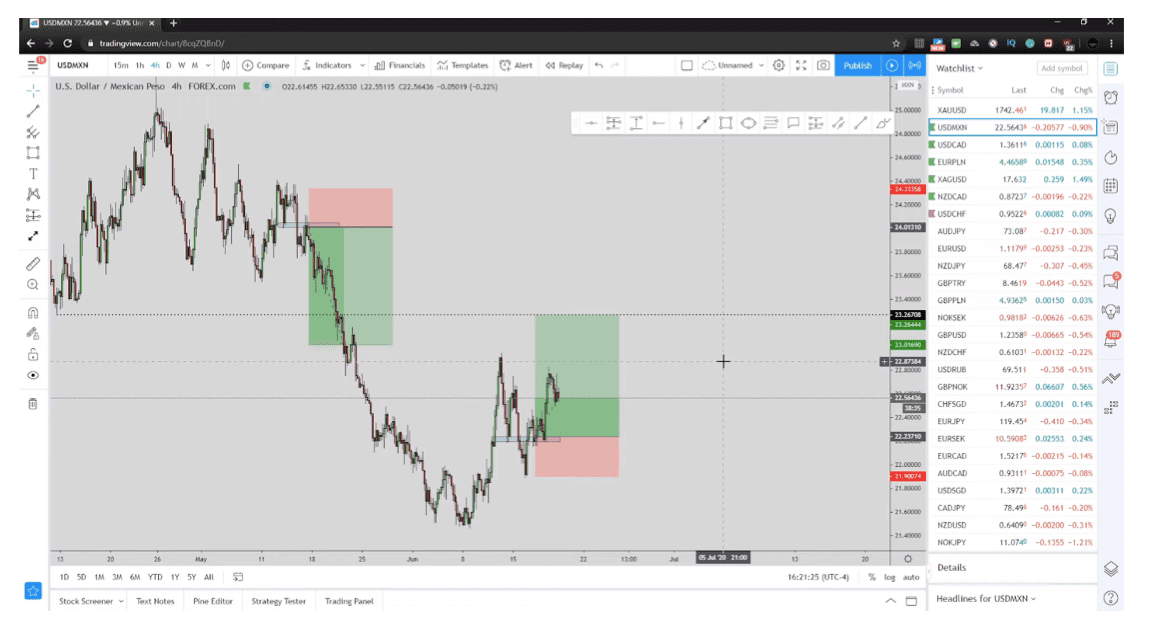 This is a wise decision, I suppose.
Account Funding
This is a very good feature you can see not very often.
You spent 4 months on education learning about I.C.I. strategy, W.M. strategy, T.L.C.T.L. strategy, etc., started to use Market Breakdowns and you feel that you can trade, that you are successful.
Transparent FX will give you the opportunity to trade with their money.
To send the application form, you need to go to your Student Dashboard and find the section "Account Funding" that is going to help you to request up to $250K.
Of course, it is not easy and not everyone will get such an opportunity. The team of Transparent FX will go through your trading performance, experience, etc., and then will make the final conclusion.
Transparent FX Testimonials & Results
There are a lot of reviews from the students, you also go through Transparent FX Trustpilot reviews.
They are given for the public access, so you can visit this section and go through every feedback provided.
If we talk about Myfxbook results - the most important part of the Transparent FX review, they are offered publicly as well.
The main trader Nicollò trades with IC Markets. It is a reliable broker, so it is worth trying :)
So yes, he uses IC Markets and trades on MT4, using the same strategies he offers to his students.
We checked all the strategies and breakdowns and we are ready to say that Transparent FX provides legit services - they made 54.6R in 2019 and 50.2R (to 22.06.2020) in 2020.
Final Thoughts
Today we talked about Transparent FX that offers detailed education and market breakdowns that can be understandable even by the complete newbies.
You can purchase the above-mentioned services for 680 EUR and enjoy all the benefits on a lifetime basis.
Transparent FX review showed that this team of trades has a lot of satisfied users and good trading results.
Remember about the most important fact: you won't pay for education. These 4 months are free for you, and your subscription will start afterward.
Those traders don't offer 100% free Forex signals software - they offer quality!
I wish you good luck with Forex trading!