Audit for 01/07/19
What existed before Infocrypto was created?
When we talk about the most prominent crypto signal providers, Infocrypto stays at the top of the game. This provider secured its place on the market a few years ago and since that time their reputation and trustworthiness have not wavered a bit. This is why they gained our attention and motivated us to create an in-depth Infocrypto review.
Infocrypto was founded in October 2017 by a crypto enthusiast from Brazil who had worked for a famous Brazilian crypto channel. There he gained extensive knowledge of crypto and the necessary experience he went on to implement in his own project. A huge number of messages that the founder received on social media from people asking for tips and help encouraged him to start a new channel. He wanted to share his knowledge with a broader audience and this helped him turn Infocrypto into a very popular platform with the best crypto signals. Here is our full Infocrypto review, made with data we gathered during our own audit.
How has Inforcypto "survived" in recent bad times?
It is logically sound to start our Infocrypto review by mentioning the most recent times. The recent unstable situation in the market clearly showed that Inforcrypto is a provider that cares about its users. Its main goal is to help users, and you can see this clearly in how operations are built. As Infocrypto did not want its clients to lose money because of the rapidly changing trading signals and sharp spikes in the Bitcoin price, they stopped sending crypto trading signals via the Infocrypto Telegram group for a few days.

After the storm in the market passed, Infocrypto resumed daily signals. Now, users can enjoy the best crypto signals once again.
Is it easy to communicate with the admin?
The ease of communication with the admin is one of the most prominent features of Infocrypto that is worth mentioning in Infocrypto review. The Infocrypto Telegram channel is the first stop for communication with the administrator. Users can get high-quality and highly qualified support. The speed of responses is another positive factor worth mentioning. It doesn't matter whether a question is asked during the day or at night, the Infocrypto Telegram administrators always answer any request within ten minutes.
Another interesting fact about the InfoCrypto team is that they can provide support in two different languages. The founder and team come from Brazil. All of them are proficient in English and in Portuguese, as the latter is their native language. This is a huge advantage for Portuguese-speaking users.
What services do these guys provide?
The Infocrypto review would not be complete without mentioning the services the Infocrypto guys provide. Here is an extensive overview of each of them.
1) InfoCrypto is a free channel through which the provider shares the most important news in the cryptocurrency market and free crypto signals. The InfoCrypto guys also publish data about discounts and promotions on the Infocrypto Telegram. The best part about the Infocrypto Telegram channel is that all posts are up-to-date and useful both for those who trade cryptocurrency or just want to keep up to speed with the cryptocurrency market.
2) Infocrypto Signals Bot – is another unique feature of the crypto signal provider. It is worth mentioning this undisputable advantage. The Infocrypto Signals Bot is an innovative bot that is beyond compare. The bot can send crypto signals to users in private messages so that they can stay updated and not miss important information amongst the other messages.
Another benefit that we need to mention in our Infocrypto review is posting of profit results for the previous twenty-four hours, which allows users to make cryptocurrency predictions. The bot also sends information to the Infocrypto Telegram channel about the top-100 coins with the highest growth over that same period of time. This information helps users to determine whether a coin is worth buying at the time or whether they should choose another one.
The Signals Bot sends cryptocurrency signals 3-4 times within a twenty-four hour period. It is also possible to make trading operations with the bot, a bot that automatically manages your trades 24/7. All you need to do is send a command and put in all the necessary data.
So, how can you use the bot? Here are the main commands:
/buylist – allows you to see up-to-date signals, i.e. the ones you can use to make decisions in trading operations

/stats – this command shows the statistics on all signals over any period of time

/longterm – shows long-term signals

/best – displays signals with the highest profit

/worst – you can use this to see the signals with the lowest profit, i.e. unfeasible signals

/register – this feature was created to streamline the sign-up process, it is where you can choose a subscription plan.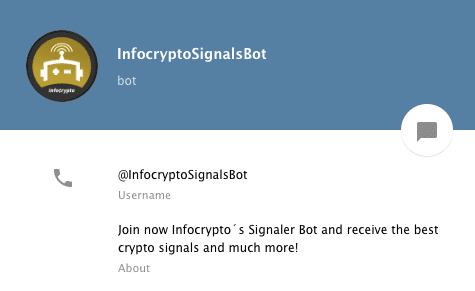 3) Bitcoin Analysis is another important Infocrypto Telegram channel among popular crypto Telegram groups. This paid Infocrypto channel is dedicated exclusively to Bitcoin signals and very qualitative ones, we must add. This is where you can find Bitcoin signals even with the slightest price fluctuations. The information is published in real time, which means users get only the most up-to-date information, making this channel a valuable source for crypto traders.
4) Chat VIP Infocrypto is another Infocrypto Telegram group created by the Brazilian project that must be mentioned in this Infocrypto review. The main benefit of this project is instant and extensive user support. You can ask any question regarding crypto calls or what coin is worth investing in. After a user sends a question into the chat, the admin provides a qualified consultation. Even more, the administrators of the group share insight about what they invest personally and what profit brings them one or another coin. Everyone feels free to ask any questions regarding trading, which makes this channel special.
5) Infocrypto Alerts is another feature of the paid Infocrypto Telegram channel that we need to inform you about. What makes this feature special is the fact that the predictions are based on data gathered by Infocrypto. Two types of signals are sent, namely #bullish and #bearish. If you are a newbie in the crypto world, these two types of signals might be confusing, however, as they are used often, you need to know what they mean. Bearish and Bullish are two terms used to describe the market's current state. In dark times, when the market is losing value, it is referred to as Bearish. When the market is reviving and its value is increasing, it is referred to as Bullish. The Infocrypto Alerts service sends timely crypto calls, which allow users to easily find out how many times a day a particular coin was called #bullish or #bearish. Infocrypro advises its clients to study all the previous examples of such signals on the Infocrypto Telegram before you start trading based on them in order to understand how everything works and to avoid making mistakes when trading in the future.
How to work with crypto signals provided by Infocrypto?
As you likely already understand from our Infocrypto review, the Infocrypto team dedicates a lot of time and effort to developing and supporting unique solutions designed to help users make data-driven decisions. There is no doubt that the Infocrypto guys have done a nice job creating a special bot in the Infocrypto Telegram group that sends cryptocalls directly to users.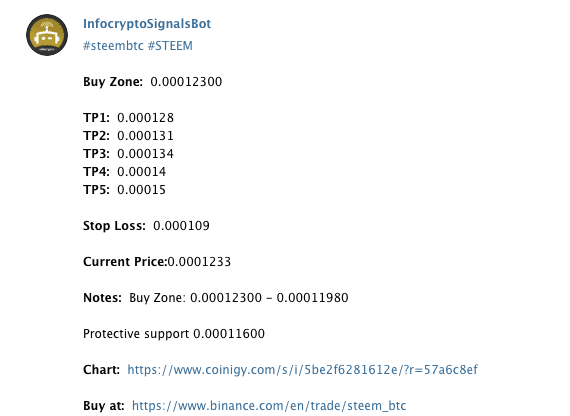 This project provides its users with many benefits and the most prominent of them are the following:
There is little to no chance that a signal will be lost among market news and other information regularly published on an Infocrypro Telegram channel.

The bot can provide results for any period of trading regarding both an individual user or all of the cryptocurrency signals.

For those who do not want to spend time studying the market, the bot gives recommendations regarding which coins are worth investing in. As well, users can easily see the list of the top-100 coins over the past 24 hours.

Automatic trading is another outstanding feature that streamlines the trading process.

The bot publishes signals 3-4 times a day, which is enough to make data-driven and safe trading decisions.
Safetrading.today used our own methods of calculation to create an extensive report on the provided crypto signals for January-March of 2019. You are welcome to examine the results of the audit yourself.
Which were the best signals during the review period?
Via the link provided above, you can study our report that was conducted during January-March of 2019. We have investigated the Infocrypto Telegram channels and found out the trading of ENJ coin brought Infocrypto users the highest profit - about 127%.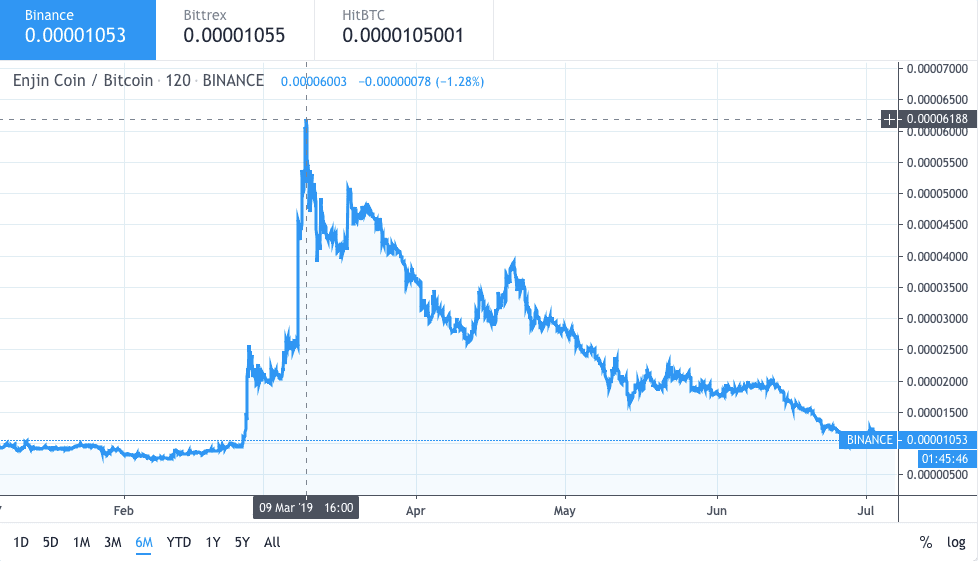 RVN also showed good results with a growth of 72%.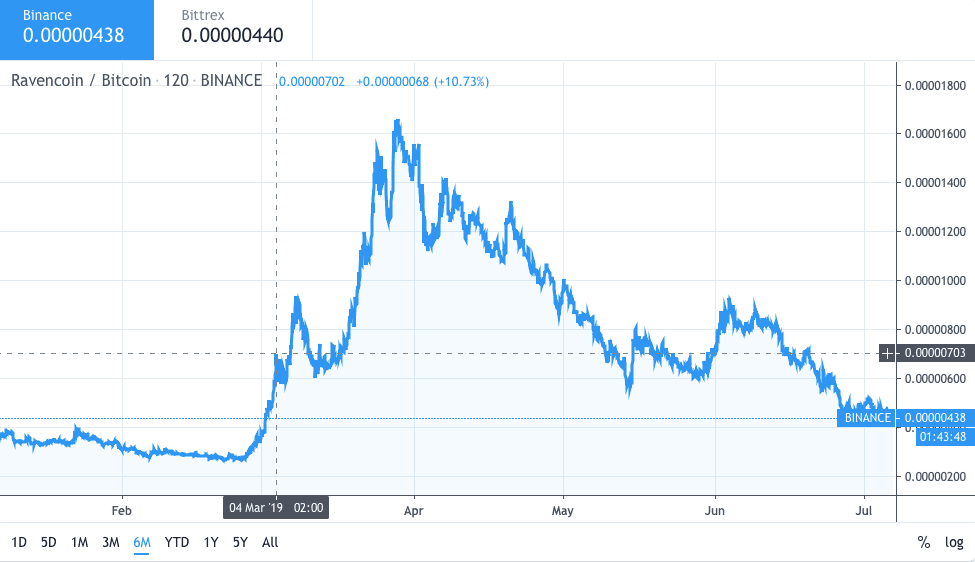 However, not all coins helped users make some money. The value of the HOT dropped by almost 17%. The MFT coin also could not show any growth, with its value falling almost 13%.
What are the disadvantages of Infocrypto's work?
Without exaggeration, Infocrypto is a role model for other providers of cryptocalls. We have listed all the benefits they provide in our Infocrypto review. However, we noticed one strange thing that may become a problem for users who do not know Portuguese. Posts in this language pop up in the free Infocrypro Telegram channel from time to time. So, users who do not know Portuguese (and these users abound in the Infocrypto Telegram channel) will not be able to understand the information and decide whether it is useful for them or not.
Does Infocrypto have unique features?
Infocrypto provides a few features that not all other providers can offer. It was impossible to not include them in our Infocrypto review.
Infocrypto Trading Bot in Infocrypto Telegram group is one of them, which helps both the users and admins of the channel.

The admins of the Infocrypto Telegram groups know English and Portuguese and can consult users in either language.

Infocrypto Exchange is a service for cryptocurrency exchange. You only need to provide your email address.
These features provide Infocrypto and the Infocrypto Telegram channels with a few unique points that make it stand out among their counterparts.

What is Safetrading.today's final "judgment?"
The Safetrading.today platform monitored Infocrypto and the Infocrypto Telegram channel's activities throughout January-March of 2019, which was the period of significant market fluctuation. Based on the data we obtained and our own analysis, we can recommend Infocrypto as the guys that clearly put their users first. We included the most important data in this Infocrypto review. All crypto signals in the Infocrypto Telegram chats are sent regularly and the data is described in great detail. Infocrypto often posts updates and provides promotions so that users can find something new and useful for themselves. This provider always forges ahead, updates the mechanisms behind their operations, and offers reasonable pricing.
Safetrading.today has devised our own unique approaches and techniques to examine the work of crypto signal providers and put them to use in composing this Infocrypto review. Providers cannot influence our decisions and recommendations. We provide our users with up-to-date info and constantly update audit data. The Infocrypto review was based only on the data that we obtained from available resources. No other factors influenced our final decision. This Infocrypto review represents a real picture of the project, without sugar coating or undermining any operations.
If you are taking the first steps into cryptocurrency trading and want to dive even deeper, you can read our article explaining the main concepts that make up the main operations of the crypto world.