Easy And Simple | How Crypto Snake Conquers The Trading World?
What Is Crypto Snake?
Hey fellows,
Did you miss our trading signals reviews as much as we missed writing them? Today we will talk about Crypto Snake – a group of channels, which specializes in crypto signals. Just imagine! It's not a single channel, not even two channels. So you get more for the same price! Our Crypto Snake review will give you all the information you crave about their services, benefits and bonus features. Are you ready? Then fasten your seat belts, because these guys will surely blow your mind!
Crypto Snake is a US-based team of traders, which means that you need to understand English (or know how to use Google Translate) if you want to understand what they are talking about. These guys are experienced and are surely not novice on the trading arena. Having 8 years of trading experience behind their backs, they decided to conquer new markets and started Crypto Snake Telegram channel on August 6th 2018. So if you want, you can order a cake with candles and congratulate them with the first anniversary! Hurray!
Even though one year may not seem enough, they have already learned how to distinguish best crypto signals and can easily balance between sending out latest information and helping users with learning how to trade. Below we will discuss how they prefer doing what they are doing, what benefits they have in store and how they get the maximum at Binance exchange and other markets!
Is It Easy To Communicate With The Admin?
Efficiency of crypto telegram groups can be evaluated not only by the quality of crypto signals they provide but also by the communication they are ready to offer. In this regard Crypto Snake doesn't have any drawbacks. Although we have been cooperating with them not for a long time, we can mark that their consulting is on a high level. We were not disappointed with their Crypto Snake Telegram channel and with the communication we have received. All the answers were given on time, were informative and accurate. All the data on best crypto signals comes regularly and doesn't contain any distracting information, which is really convenient for those who want to trade and not to get lots of meaningless notifications in the middle of the night.
Apart from telegram groups they also have a chat room for users. However, admins say that this chat often contains too much spam and meaningless messages, which is quite distracting and makes it difficult to give timely tips and support. It seems like some users still can't stop sharing funny videos with kittens or jokes about Spider Man (but who are we to blame them?!) Still Crypto Snake admins try to pay attention to every question and request (although it becomes a challenge trying to find those messages among spam), and to give timely support and answers. When we were writing this Crypto Snake review we have tested them several times and it seems that they know what they are doing! So even when you want to have more information on bitcoin signals or to improve your trading skills, you can contact their support team and they will surely help.
Which Services Do These Guys Provide?
We will not surprise anyone by saying that Crypto Snake provide trading signals, helping users to make up their mind quickly and to benefit from market situations. However, they also give information on crypto news, RSI indicators, share the best trading tips and strategies, which are able to make you a crypto guru. In addition, they also assist with managing portfolios and can help with analyzing the best crypto signals (although they come with a technical analysis, so it is rather simple to understand what is what). Crypto Snake also utilize Cornix Bot, an automated bot for Binance and BitMEX. With its help traders can auto trade through Crypto Snake Telegram channel without missing anything out!
Admins of the channel are very friendly and answer in a matter of minutes. This means that even if you have an urgent question you can expect quick assistance and support. It's definitely one of the biggest benefits that we can mark in our Crypto Snake Review. These guys are not greedy at all, so they have a free Telegram channel, where users can read about the latest news from the crypto world, get fresh technical analysis and have access to free crypto signals, promotions and benefits. Even though there are only 56 users on a free channel, almost all of them have bought a subscription and continue to enjoy signals from both paid and free channels. This shows that Crypto Snake put quality and not quantity first. A limited number of users gives admins a chance to devote proper attention to each and everyone, and to solve any arising issues without delays. So if you want to get VIP treatment, you better hurry up and subscribe to their channel, while there is still some space left!
How To Work With Crypto Signals Provided By Crypto Snake?
Finally we have come to the heart of our Crypto Snake review: trading signals. The first thing we would like to mark is that all of the signals they provide come with a technical analysis. It means that you will not only get a set of unknown words and numbers but will also be able to evaluate them! It is priceless for users, who can't boast much experience in trading and need someone to explain cryptocurrency signals. With the help of technical analysis users will be able to evaluate information on their own and not to waste time waiting for a response or trying to figure out what to do with cryptocalls in the middle of the night. Not all of the Telegram crypto groups can boast such options, especially their free versions. So grab this opportunity by the horns and take the maximum out of professional analysis these guys are ready to share.
We have checked Crypto Snake's signals for the period of April – June' 2019. There were almost no Binance crypto signals in April and beginning of May but admins explained that they did it on purpose because of market conditions. The situation was really unstable and they weren't sure whether at that time it was possible to get any profits. However, they continued publishing best crypto signals for BitMEX every day, so users of Crypto Snake Telegram could enjoy fresh information, spiced up with a technical analysis and personalized approach. Crypto Snake proved that they are very selective, when it comes to signals, so you won't have to worry that you'll find unnecessary or irrelevant data in the information they publish.
Which Are The Best Signals For The Last Period Of Review?
Craving for more numbers in our Crypto Snake review? Why not! We have conducted our own audit of Crypto Snake for April – June 2019, which you can get familiar with by pressing the following link. The results are really impressive, because the profit from published trading signals made up 51%. Well done, Crypto Snake! The biggest BTC profit was made when selling AION coin (with estimated profit around 39%).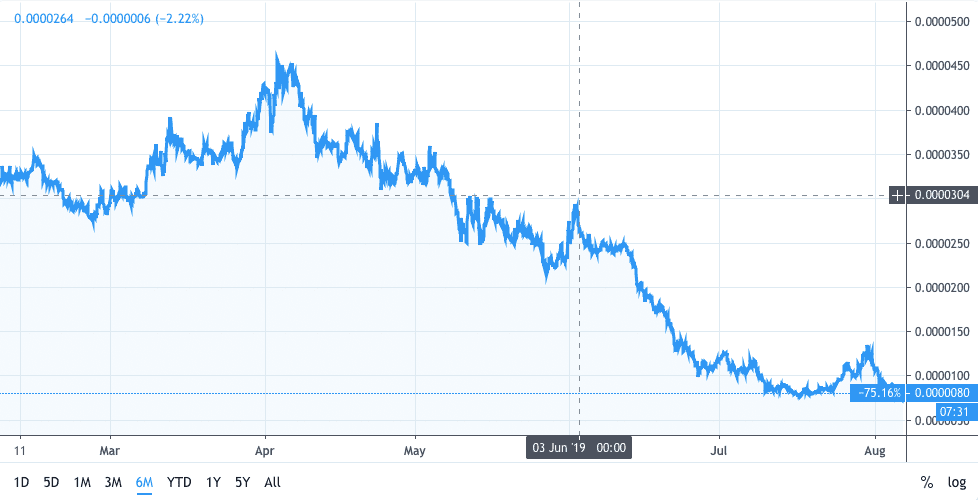 AST coin has also shown good results with 35% of profits.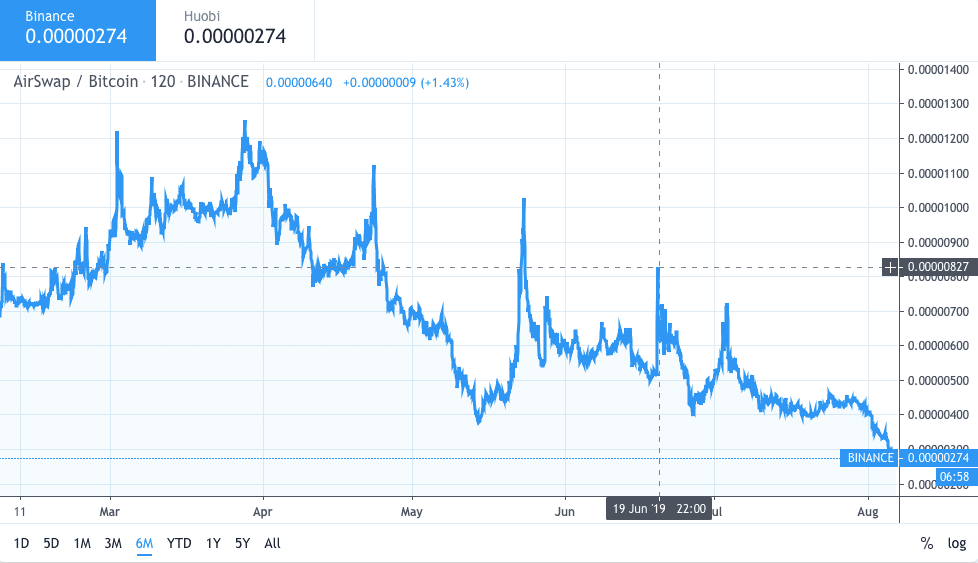 This proves that Crypto Snake Telegram channel publishes only the best crypto signals. We are happy to claim that these guys are responsible and pay careful attention to all of the crypto trading signals they publish. There haven't been any crypto signal, which failed to bring profits.
Loud applause and triple cheers for that!
Which Are Disadvantages In Crypto Snake's Work?
To make our Crypto Snake review unbiased let us discuss their drawbacks. Are you waiting impatiently to learn about all the skeletons in their closet? Luckily, Crypto Snake are almost sinless and they have all the chances of becoming providers of the best crypto signals in a year time! The only flaw that we have noticed (and which was also mentioned by the provider) is a big quantity of spam in users' Crypto Snake Telegram channel. This complicates the process of finding out requests that are related to trading and may slow down the response time.
However, this drawback has nothing to do with crypto signals and is easily solved with proper management. Light heartedly we can say that Crypto Snake is a provider with a big list of benefits and only one flaw, which can be managed with time and which doesn't influence the quality of their services!
Which Is The Final Opinion Of Safetrading.today?
Safetrading never sleeps, so we have checked Crypto Snake during April – June '2019 and are ready to share our opinion with the world! We are happy to recommend them to traders of all proficiency levels, because it is obvious that their team takes care of each and every user. Our analysis has coincided with market fluctuations, so we were able to see how accurate their cryptocurrency predictions were and how attentively they approached crypto signals that were published.
When writing our Crypto Snake review we noticed that they pay attention to every client and due to a low number of subscribers they manage to devote enough time to everyone. Their software is constantly improved and you can get access to a variety of updates and bonuses to learn about new features of Crypto Snake Telegram and its signals. Their prices are reasonable, which makes trading with Crypto Snake affordable. Add free features, mix them with a technical analysis and you will get a real treasury! We will continue following their news and will check their daily signals to provide you with the most relevant information.
We promise to give you only truthful information, which no one (including mentioned providers) is able to change. All the results are genuine and estimated using the best calculation rules and software. You can get familiar with our regular audits and best crypto signals on our website to take your trading skills to the next level. In case you are only a beginner, we have created a guideline to show how everything works. Open the link and you will get in-depth information on our activity and how we can help traders to protect their wallets and nerves.
Thank you for reading our review till the last word. Have a great day and don't forget to have fun!