4C Trading: A New Trading Giant On The Market
Less than a month ago, on June 15, 2019, two experienced providers, Crypto Addicts and CryptoMedics, merged and gave birth to 4C Trading, a group of channels with a variety of powerful services and instruments in store.
Do you know what happens when Pepsi and Mentos are blended? Just find the video on YouTube and you will see a real explosion! The same thing happened when the creation of 4C was announced. The market saw an appearance of a new star and it became evident that the trading world would never be the same.
Will 4C Trading and its cryptocurrency signals become the safest and the most accurate on the market? Will they create an up-to-date and responsive 4C Trading Telegram channel, where even newbies can understand what's going on? It seems like these guys have decided to provide the best crypto signals and teach even your grandmother how to trade. Their intentions are really serious and the steps they take are more than impressive.
Safetrading.today has been cooperating with Crypto Addicts for a long time, which is why we are able to confirm the quality of their crypto signals and the proficiency of their support team. Even though we are not as familiar with CryptoMedics and their activities, it is evident that they are also professional and experienced in the crypto field. (Based on the reviews and feedback we have collected)
We hope that their telegram crypto groups and educational courses will be on the same level and that all of the cryptocurrency predictions they make will enrich their users!
Continue reading our 4C Trading Review to get more juicy details.
What Is About The Team Of 4C Trading?
4C Trading consists of 15 experienced specialists, each of whom is a real expert in a particular field including marketing, sales, finances, information technologies, development, administration, trading and analysis, and many others.

They have multiple years of experience in tutoring, creating crypto signals, and providing users with the latest and most accurate crypto news. This division of tasks and clear fields of responsibility helps them to structure and prioritize the working process in order to manage everything accurately and on time. If Marvel wanted to create a bunch of superheroes in the world of trading, the 4C Trading experts would surely be the prototype!
Is It Easy To Communicate With This Provider?
You would probably agree that one of the most important features of crypto telegram groups is their ability to communicate and deliver information without any delays: working around the clock and answering questions in a matter of minutes. Guess what! This platform can offer both! As we have already mentioned in our 4C Trading Review, their team consists of 15 experts, each of whom is responsible for a particular field and question.
Even when we were cooperating with Crypto Addicts, we always received the necessary data on time. When any new information concerning crypto trading signals or the company's activity emerged, users were always the first to learn about it through the public chat. For example, the news about the merger came out the same day it happened. Receiving timely information for traders is crucial, right?
The 4C Trading Telegram channel administration is always there to provide timely and clear answers, whether they are sent during the day or after midnight. Their chats are really great and you will never find any spam or mistakes. This is why their crypto calls remain clear, up-to-date and never end up lost in a flow of irrelevant data or outdated information. Three cheers for 4C Trading!
Which Services Do These Guys Provide?
Our 4C Trading Review wouldn't mean a thing if we didn't tell readers about the services this company provides. So, let's stop postponing and get straight to the point!
Here are the services that 4C Trading boasts:
Bitcoin Mercantile Exchange (BitMEX) and sending out the most relevant crypto signals

Manageable automatic trader at Binance and BitMEX

Telegram groups with built-in trading tools for outright trading at BitMEX and Binance

Access to a variety of Binance telegram groups depending on the premium plan chosen (Basic, Silver, Gold, and Platinum). You can learn more about these plans at https://4c-trading.com/

The so-called Gem Report, where you can learn about emerging coins with maximum potential for future beneficial trade

Regular reports on the best crypto signals, RSI indicators, and market news

Secure dashboard for your portfolio, protected by the latest encryption technologies

The Trade Newsbot. Although this Binance twitter fellow is still on the development stage, it has the potential to become a real explosion. It analyzes Twitter dynamics and predicts future market moves

Subscribers of the highest Premium plan have access to Tresor or Ledger, free wallets where virtual currency can be stored without any fear

Webinars and streams with market leaders and experts

An automated bot, which can help you to use Binance exchange or any other platform to swap BTC with other currencies

Basic course for those that want to become rich and prosperous

Course for traders that want to know more about the company, the 4C Trading Telegram channel, and cryptocurrencies in general

Multi-level educational program for users that want to make trading their occupation

Bot that notices listings of completely new coins, even before they are actually listed. This bot surely has the gift of foresight!

Direct communication with traders and experts to get started without any delays
Do you think that these features are not adequate? Wait until you learn about their trading bots and the dashboard (A hint: it is a-w-e-s-o-m-e!).
4C Trading Bot Binance/BitMEX
To send out crypto signals, the company has developed specific bots called 4C Trading Bot BitMEX and 4C Trading Bot Binance. This is a really useful feature because users don't need to search for daily signals in a huge flow of news and information. All you need to do is turn on notifications and get cryptocalls and messages from a bot. Then you can get back to sleep or enjoy another margarita by the pool!
The best thing is that this process is automatic to the maximum - you will receive a message from the chosen bot whether you end up accepting the trade or not. Once you confirm through your device, it is replicated.

Voila! What a relief for those who don't want to miss anything and still need side assistance to be sure that they are doing everything right!
The Dashboard
The stylish and powerful dashboard was one of Crypto Addict's distinguishing features, but after the merger it became a real piece of art! 4C Trading created something really unique and we couldn't omit the features in our review.
Here are the features their dashboard can boast:
Efficient and automated trading with the help of bots

Ability to create personal trades via quick or custom trade

Define your own goals, trailing stops, stop loss, and much more!

Monitor and track the progress of your portfolio, and all in real time!

Observe, control, and edit live positions

Enable/disable the Auto-Trading Bot, as well as tailor its features according to your tastes and preferences

Use the Smart BTC and configure it based on your requirements

Define your personal goals and strategies
This is only a small part of what they have in store, and it seems that 4C Trading is working really hard to impress us. Well, they have achieved their goal!
The dashboard is still in the development stage, so it is likely that very soon we will witness the emergence of a variety of market trends and outstanding features.
Fundamental Analysis
This is another cool feature that we couldn't pass up in our 4C Trading Review. This analysis literally provides daily information on the cryptocurrency market, bitcoin signals, and all the latest news.
Here are the features that this option offers:
Day-by-day analysis
The most recent information on the market is delivered to users through blog and the 4C Trading telegram channel, and it is even translated into French and published at CanardCoinCoin!
Gem Report
With this outstanding feature, you will feel like a talent contest judge! You will get the latest information on projects and coins that are only just emerging - even before they hit the market!
Diamond Report
This is a weekly 4C Trading magazine that contains information on the crypto world, the latest news, reports on a variety of coins, analysis of trading activity, the latest trends, and much more.
Having the above tools in your arsenal will surely make trading much simpler. You will learn how to analyze news, evaluate new coins and trends, and will become a trading guru!
Courses
Apart from providing the best crypto signals, the company can also teach anyone more about the cryptocurrency world. The best part is that some of the courses are free of charge! You won't need to pay a dollar to learn the basic principles of crypto trading.

This shows that the company puts customers first and wants to help them improve their experience in order to become more skilled in trading. Moreover, these free courses can answer even the more complex questions that experienced traders face from time to time. For example, why has the profit flow stopped? What can I do to improve my trading strategy? And much more!
If you want to take it to the next level, you can buy courses and get access to video materials, streams, and direct consultations with 4C Trading experts.
Which Is Safetrading.today's Final "Judgment"?
There is no doubt that 4C Trading is a company you need to reckon with. Even though they only officially emerged on June 15, 2019, less than a month ago, they have already conquered us with their services and options. It is very appealing to know that they are planning growth in the long run, and we are sure that they will continue to improve the quality of the cryptocurrency signals and services provided.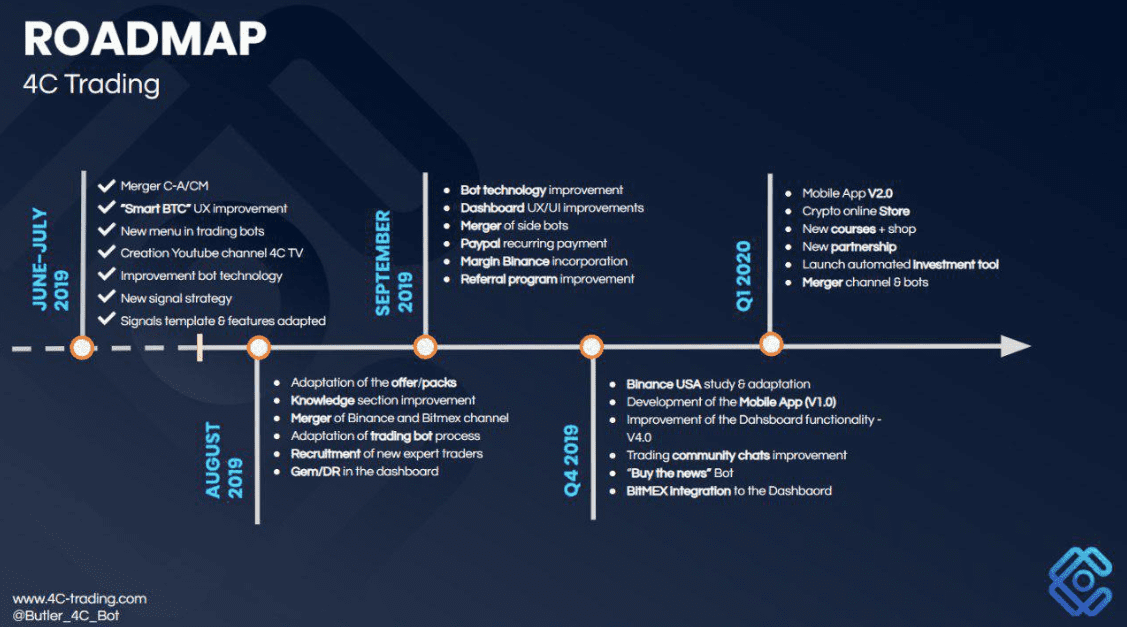 In a few weeks we will update this 4C Trading Review and include our analysis of their trading signals for the period of June 15 – July 15.
Follow our updates to not miss a single detail!