Copy Trading - Risks, Benefits & The Best Platforms [Safetrading 2020 Guide]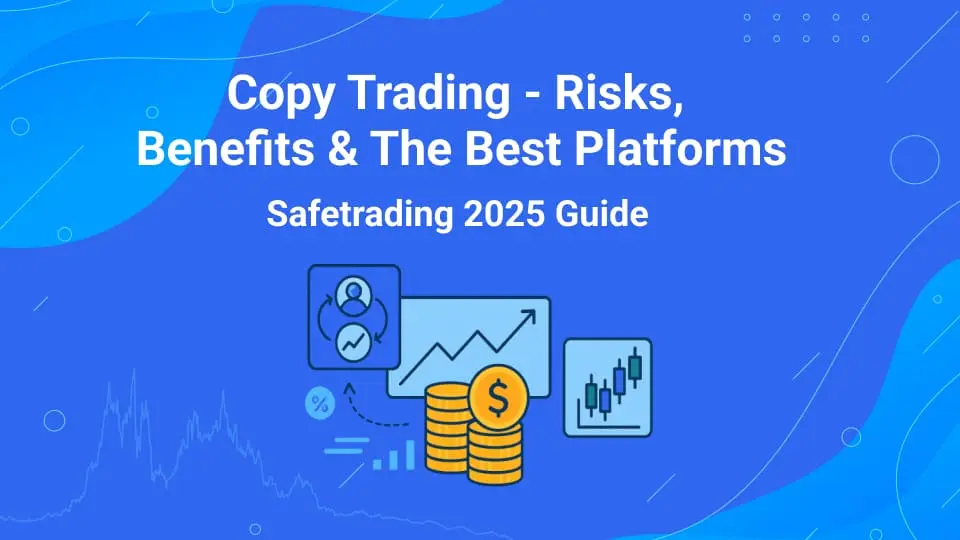 Copy trading is best method for newcomers that has become very popular in recent years. It allows both experienced and novice traders to engage in trading on the cryptocurrency market, allowing newbies to copy the trades of experienced traders with a proven track record and to make money.
I suppose that there were some moments when you wanted to start cryptocurrency trading but every time you have been stopped by the fact that you have no experience.
I know this feeling - I was also such a newcomer who didn't know what to do, and I was scammed because of the absence of good advice.
Today you have your personal adviser - Safetrading. In this article, we are going to show you the proven method of trading using the knowledge of experienced crypto traders.
What Is Copy Trading?
Copy trading is a type of trading where you select a trusted trader and copy his investment.
Actually, our favorite crypto signals can be a part of cope trading as well. There is the only "but" - you never know if the trader invested in the signal he gave you. That is why, it is very important to use only channels approved by Safetrading, and you will be sure everything is fair.
Anyway, today we will focus on mirror trading that is organized with the help of automated platforms.
The process of copy trading Forex or crypto is absolutely simple, so we will not devote half of the article to its description.
Shortly speaking, copy trading works like this:
You register on a platform that supports social trading (it can be either a separate platform or some crypto bots), and pay for a subscription to this platform. Then you look for a trader or traders that suit you, subscribe to their signals, define your settings (number of transactions per day, percentage of investment in each trade, and so on), and, in fact, start trading.
The process itself looks very simple but it has some pitfalls that we are going to discuss later.
For now, let's not talk about the bad - let's see what benefits copy trading can bring to you.
Maybe it would be better to trade on your own?
Copy Trading | Benefits
People choose every type of trading relying on its advantages. Of course, you should never forget about risks but still some of them may be possible to avoid.
Let's start from beneficial features you can have while trading based on other traders' predictions.
Low initial requirements in knowledge and experience, as well as in start-up capital.
Firstly, since copy trading is best automated method, it takes up a little time: you can simultaneously trade and learn the basics of the market, talk to the trader whose signals you are copying.
Then, even if the trader you choose to copy can invest $1 million, it won't mean that you also need to fund your account with that amount.
The trader post the signals to buy, let's say, ADA/USDT and he invests 1% of his capital (0,01*$1,000,000 = $10,000), but, one more time, it doesn't mean you need to invest $10,000 as well.
Your platform will invest 1% of your capital. Let's assume you have $5,000 invested. In the signals to buy ADA/USDT $50 will be invested.
The conclusion is the following:
You don't need to invest a lot. Even if you have only $500, and want to give it a try - no problem.
You will not get high profits quickly in the case you invest less than, I think, $5,000.
You can select the number of deals, direct or reverse copying, time ranges for copying, as well as disable copying at any stage and bring deals to closing on your own.
Here I want to remind you of the next thing:
Even if you find the experienced trader to copy his signals, you will better not trade blindly. Check your portfolio from time to time (the more often, the better).
It will give you not only the opportunity to learn something but to see the decrease in your profit at a right time - until you lose all the money.
People are people - even the most experienced trader can have a bad period.
The ability to copy signals of several traders at the same time.
This feature is very useful and profitable because:
You have an opportunity to compare different strategies and to see which one is more profitable.

You have an opportunity to receive a bigger amount of trades to copy.

The more trades you have, the more profit you may get.
All the above-mentioned benefits are true if your trader is really experienced. That is why, I suppose, it will be fair to warn you about the risks of social trading as well.
Copy Trading | Risks
In 95% you can't be sure the trader is really experienced.
When you visit Safetrading, you always know that the "approved" trader is the trader we checked and we are sure his signals are profitable.
But when you visit any other platforms or bots, you have only statistics that are shown by the trader himself. You can't know - maybe he was just lucky to earn the profit because the market was completely bullish.
And when an expert claims to have many years of trading experience, you have no other proofs than his words.
There are absolutely no traders that don't lose.
That is why if the trader claims he has no losses, you will better avoid him.
Slow processing of deals.
The thing is that the platform may be a bit slow, and this will affect your profits.
The trader posted the signal to buy DASH/USDT at the entry price of 87.05.
Because the processing of the deal is slow, the platform buys DASH/USDT at the price of 87.85, and this will make your profit lower than it was expected.
The lower speed is, the lower your profits will be.
You need to provide your API Key.
This is understandable - the platform will manage your exchange account.
This moment can be risky only if you set the possibility to withdraw your money.
There are many cases when people gave their API Key to unknown bots or "account managers", and the money was lost then.
Risks are present in every type of trading, and here everything depends on your accuracy and attention.
The Best Copy Trading Platforms
According to my research, there are many platforms that offer copy trading features. Among them are:
As you may see, this list contains some of the approved bots we list on Safetrading.
And yes, we can guarantee that the bots like 3Commas, Zignaly, Shrimpy, and Cryptohopper have good and useful functions, the processing of deals is fast, etc.
We can't guarantee that the traders THEY list for you to copy their trades are legit and copy trading is best in case you work with them.
What should you do if you want to copy trade with any of these bots?
The best advice I can give to you is to look for a trader that is approved by Safetrading.
Cryptohopper works with Fat Pig Signals and All In One Crypto App.
What is about other copy trading platforms?
Among the other ones, I can talk only about eToro copy trading. I know it is a well-known broker, and Safetrading reviewed its activity, by the way.
That is why I suppose (attention - suppose but not sure) that its copy trading stocks or crypto feature can be good and fair to use. Of course, everything depends on the traders they work with.
Coinmatics, Trade-Mate, and Tradelize - sorry guys, I can't tell you are good. It is not because I am bad but just because these tools were not reviewed, and for me, the safety of my users is the highest motive.
Conclusions: Is Copy Trading Profitable?
In this article, I gathered all the important details about copy trading.
Now you know that the most important thing is your attention. That is why let's sum up the most important moments:
Use only approved platforms AND approved copy traders.

Check your API settings before you share it.

Remember: every trader loses.

Always check your portfolio even if all the trades are copied automatically.
Copy trading is best solution for both novice traders and those who simply do not have enough time to actively trade.
It is also an opportunity to take a closer look at the trading strategies of experienced traders and borrow from them a number of effective techniques.
We recommend this method but want to remind you one more time:
Be attentive while choosing the copy trading app!