TradingView | Are TOP Authors Really TOP Ones?
TradingView is a charting platform for beginners and professional users, which is used for charts, research, and trading information and is available even on your mobile phone.
It is really very, very popular among traders. It offers a lot of markets to work with - cryptocurrencies, currencies, stocks, indices, futures, etc.
But the thing I like (or even liked) about this platform is their section "Top Authors".
And now, let's start our TradingView review and go through the features.
Features
Charts and Indicators
This feature is available even in the free version.
Safetrading uses them to check crypto signals, and I really appreciate the ease and speed of this function.
You can set your own periods and export the data you need.
Drawing Tools
The best thing for technical analysis!
A lot of trends, lines, etc.
This is very popular for beginners, I think, because with the help of this feature TV will help you to understand all the aspects of any market.
Free Trials
One more convenient thing for beginners or people who want to try this platform!
You have 30 days to try all the features for free and decide if you need this platform.
Plenty of Exchanges
I noticed this feature while checking the signals as well.
User-Friendly Interface
I think that even the person, that didn't know about this platform, can deal with it in a minute.
iOS App
I told you about it at the beginning of our TradingView review. You can download this TradingView app in AppStore for free and enjoy the same features which are present in the TradingView desktop version.
TradingView "Top Authors"
Here you can find a lot of TradingView ideas and consultants of forex, crypto, etc.
But are all of them really legit?
So, as I told you before, not all of the features are available in the free version, but you have a trial - so before buying a subscription I advise you to check this platform.
TradingView "Top Authors"
Some time ago I decided to go through this section and I found a lot of different traders.
And I wanted to know how this platfrom checks traders they add.
The thing is they actually don't.
The popular trader on TradingView D. Lavrov, wrote a small article named "How to Become TOP Author - 5 Steps".
At first, I was shocked, but then I understood the clear sense of this post. Comments helped me.
Okay, the message of this article was that TV follows only community feedback.
There were "traders" who even didn't post anything, but were in TOP just because they asked their friends, cats, dogs, I don't know who else to comment, like, etc.
Also, there were a lot of bad comments from users who can't trust those rankings just because there is a lot of, according to their words, "garbage".
Of course, it is not about all the traders. I am sure that some of them are really legit.
When I went through profiles of authors, I saw that almost everyone invited users to join their Discord or Telegram channels.
And here is the question - how can users know those traders are not going to scam them?
It is the most well-known platform in the whole world! People believe they list only trusted traders, but in reality, the situation is different.
Of course, it is very good for technical analysis, but I beg people who read this article don't follow the list of those "Top Authors".
If you are interested in a particular trader you found, check it one hundred times before subscribing to Telegram channel or following his trading signals - TradingView Forex, crypto - doesn't matter!
Pros and Cons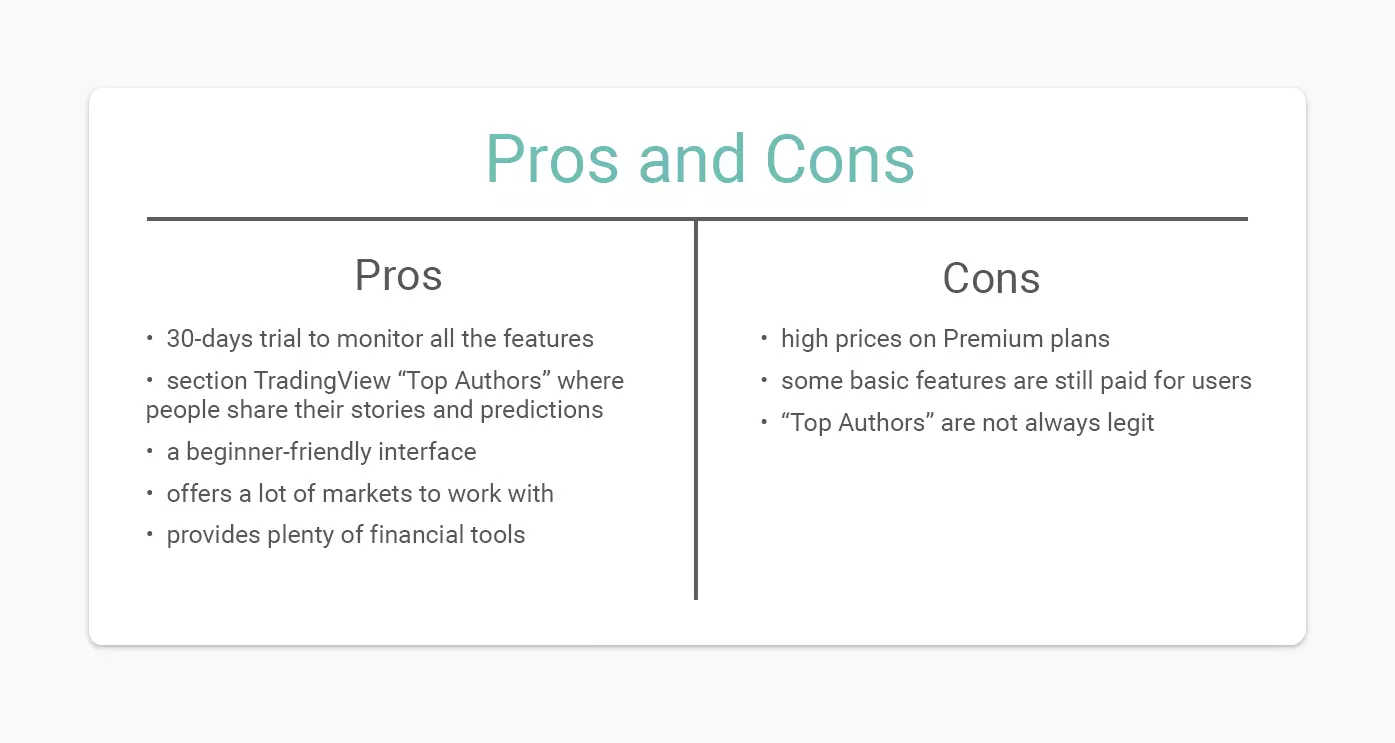 Final Thoughts
In this TradingView review, we discuss the main features, it's advantages and disadvantages and the section "Top Authors".
It is a very convenient platform, but there are still a lot of areas to improve.
And now I am talking about their authors. And it is not only our opinion but the opinion of traders and users.
But even if the prices of Premium plans are high, I think TradingView is worth it, because it is a real miracle for professional traders.
Anyway, if you want to use this platform, use the 30-days trial to go through all the features and then decide!