Day Trading Cryptocurrency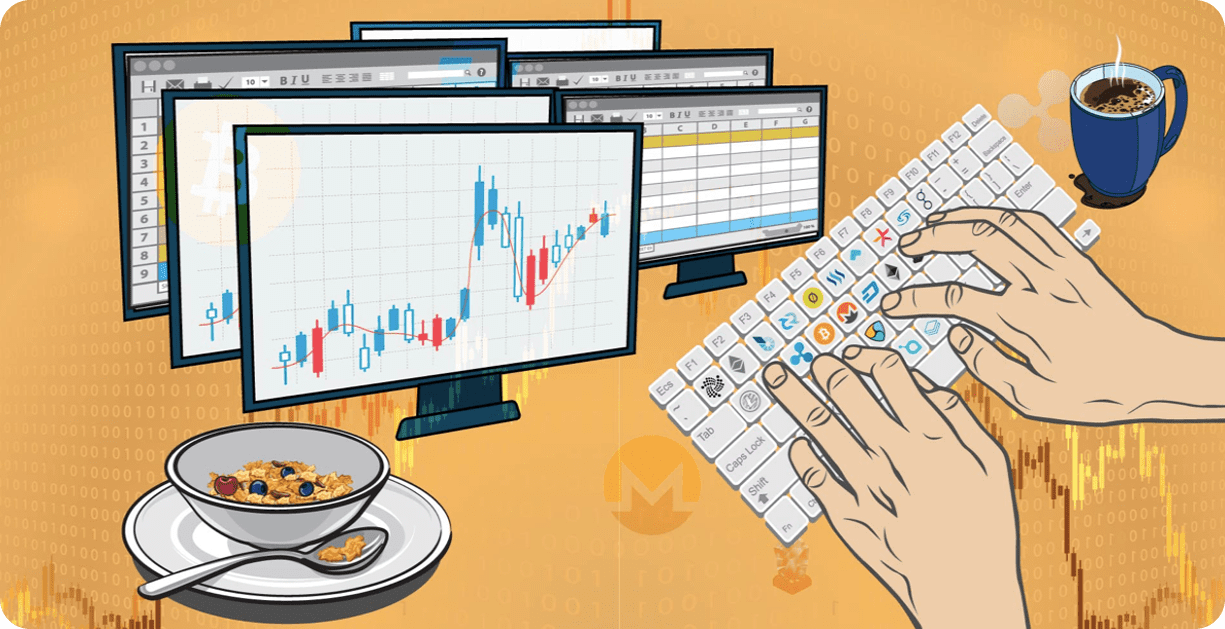 Cryptocurrency trading is not an easy task. Instead, it is filled with risks and failures, so you need to think carefully before you decide to quit your regular job and become a trader. (Though, it may sound really romantic to trade from the latest Macbook while watching the sunset on your own yacht in the middle of nowhere.) Of course, day trading, like any other kind of trading, is very hard and risky, especially if you are a newbie in the world of cryptocurrency. If you want to become a really cool trader, don't want to lose all your money,and if you want to earn more, you should always remember our crypto providers that post trading signals just for you! As well, don't forget about our crypto trading bots that will do everything for you while you are sleeping or reading a book. All the important info can be found here.
Just remember that this is a risky way to make money, so you should approach it only with the necessary skills and knowledge. Now that you are scared to death, let me assure you that everything is possible with the proper mindset, motivation, and a winning day trading cryptocurrency strategy. In today's article, I will tell you how to day trade, describe the benefits and drawbacks, and of course, will offer the most popular and trusted strategies on the market. Day trading cryptocurrency is not for everyone, so don't rush to write a letter of resignation. Instead, read this article first. If you do eventually decide to give it a try, fear nothing and chase your goals!
What is Day Trading?
I would bet that from time to time you wonder how to trade cryptocurrency, especially with all this news coming out about crypto millionaires and their luxury lifestyle! Of course, trading cryptocurrency is a complex science, but it is similar to regular trading, so if you understand the unique aspects of selling assets in real-life stocks, you may find it quite simple to succeed. Cryptocurrency markets operate the same way, but instead of buying and selling regular currencies, shares, and metals, virtual currencies are traded. The goal remains the same: pay less, earn more! Typically, virtual trading is described as either short-term and long-term. The main difference is how long you want to hold the asset before selling it.
So, what is day trading? It is a really short-term trade, that may last from a few seconds to several hours. The main idea is that you sell the asset before the day ends and hope to make small but speedy profits. This type of trading is gaining more and more popularity, so even the top platforms contain multiple groups and discussions for traders. For example, day trading cryptocurrency reddit discussions may give you valuable information on the latest news and trends!
By the way, have you seen the plethora of HODL memes? If not, go ahead and Google them. They are hilarious! HODL means 'hold on for dear life,' which is a strategy of traders who prefer to keep cryptocurrency for a long-term, at long-odds, and for long-range growth. Unlike HODL, day trading cryptocurrency is fast - you enter the market, occupy a certain position, follow this position, and then exit the market with a profit. If you choose to do bot trading, you may get an even faster result (however, this has a few serious drawbacks that will be discussed later on).
One more thing - even if you trade online, it doesn't mean that you mustn't report to the IRS about your gains and losses. According to their 2014 guidance, cryptocurrency must be treated as property (just like stocks, metals, etc.). This means that you should calculate your day trading cryptocurrency taxes and report them so that you do not get yourself into trouble! Cryptocurrency day trading is hard, but it is usually true that more volatility brings more impressive returns. Sounds attractive, doesn't it? However, try to hold your horses and find out what the best day trading cryptocurrency strategy is before you lose all your money!
What Strategies do People Use for Day Trading?
If you love Reddit as much as I do, you can always start by searching for day trading cryptocurrency reddit discussions. These will give you some direction and you may also have fun talking to like-minded users across the world. Now, let's get back to day trading cryptocurrency strategies. To have more chances for success, by this stage you should have mastered a few trading techniques, have your own trading style, and have decided what your final goals are. Understanding all of the myriad mechanisms will help you choose the most suitable strategy and cryptocurrency day trading may become a positive experience, not a disastrous one.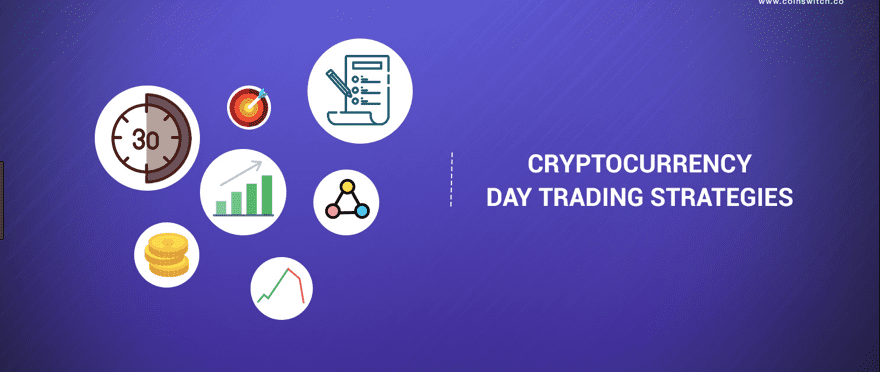 Below are the most wide-spread cryptocurrency day trading strategies. You can try them out one after another, stop your search after a certain strategy, or even combine several of them. The only limits are your goals and imagination!
Following trends
Traders who follow the trends are going to buy assets when the prices go up and sell them when the prices drop. This day trading cryptocurrency approach is based on the assumption that if the prices are changing steadily, they will most likely continue the same way.
Counter investing
Is based on the assumption that the price increase will change and eventually drop. Traders that apply this strategy will buy assets during the drop, hoping that the trend changes.
Scalping
Although the name of this strategy sounds frightening, it is simply based on the speed of making a decision. When applying this strategy, the trader uses gaps in prices that are created by the bid-ask spread (the maximum price the buyer can pay and the minimum price the seller can accept). Usually, this strategy takes a few minutes, or even seconds, so this is not a good example of day trading for dummies who don't have enough experience to make quick decisions.
News trading
When the news is good, investors will tend to buy and when the news is bad, they will quickly sell assets. The drawback of this strategy is that it creates market volatility, which can increase both profits and losses. In addition, you will always have to pay day trading cryptocurrency taxes and will ultimately earn less.
Depending on the day trading cryptocurrency strategy you choose, I would recommend eliminating all possible market fluctuations and swings. This is why if you are a newcomer or don't like risks, it is better to start trading USDT to BTC or other pairs. This approach will help you to avoid double fluctuations on both ends of the pair. USDT is a stable asset that won't change when trading against altcoins. If you have any worries or want to hear someone else's opinion, visit the cryptocurrency day trading reddit and see what other traders have to say.
The Fundamentals of Day Trading Crypto
There may be many day trading rules but the first and the most important is to set a clear goal before entering a certain trade. Remember that you will need to get in and out of the deal as quickly as you can. Greed is in our nature, but it can play a bad prank on traders, so the best way to succeed is to remain calm and to have a clear day trading cryptocurrency strategy. You may feel tempted to buy a coin simply out of the fear of missing out (FOMO), but the market is constantly changing and you can lose huge sums in a matter of seconds.
Day trading cryptocurrency is really risky, so you don't need to test your destiny twice if you have already earned something. For example, your trade brought you profits, but you see that the coin is rising again and you may benefit from it once more. Remember FOMO? It is better to stop, exhale, and leave the market with your profit instead of losing money. If you have a profit, you are already a winner (even after paying day trading cryptocurrency taxes). Fight all of the 'what if' and 'one last time.' It is very unlikely that you will buy the asset at the bottom and sell it at the peak of its price. Be reasonable and you'll manage to stay afloat or even earn something. You should also keep in mind the exchange fees. Even the best cryptocurrency exchange for day trading may have a high fee, so placing one buy and one sell order is a chance to minimize the fees you will have to pay. If you post an order (either to buy or to sell an asset), you act as a 'maker.' To make the trade happen you will need to pay the trade fee. If you are accepting anyone else's price for the deal from an order book, you will have to pay a bigger fee and act as a 'taker.' It is highly advisable to remain a maker in cryptocurrency day trading. You should also check the 'structures' that pertain to the market you are trading on. For example, Bittrex has the same fee for both makers and takers. HitBTC charges takers with 0.10%, while makers don't have to pay anything.
If you have already read a few day trading cryptocurrency reddit articles, you have probably seen how popular trading bots are. This instrument is suitable for everyone and can be a good match, not only for experienced traders, but for newbies as well. Of course, you can't just leave a bot trading (especially while day trading), but a crypto bot is a must-have and it can be really hard to trade without one. I doubt that you want to stare at charts hour after hour, so the trick is to automate the process, not to the fullest, but to partially supervise your bot and its decisions. The main task of a trading bot is to buy and sell the virtual currency that fits your requirements under the market conditions. Unfortunately, turning to automated crypto trading may end up playing a really bad joke on you and result in the loss of money, because programs fail and anything can go wrong at the most unsuitable time. When day trading cryptocurrency, use limit orders and stop losses. After you buy in on a trade, create a stop loss order at once. This is a price that you need to set for exiting the trade after the coin drops to a lower level.
In simple terms:
If the price drops lower, the exchange will sell the order at the price you have set and, thus, you will minimize your losses. Last but not least: never invest everything in a single coin! This is especially relevant for new traders that are not yet capable of evaluating market fluctuations correctly. Start with smaller coins and then switch to bigger ones if you want day trading with cryptocurrency to be fun and free from stress.
Conclusion
As you likely already understand, cryptocurrency day trading is a real pain in the ass and you need to take into account a variety of factors when deciding whether to start trading or not. Have you already put aside your letter of resignation? Unfortunately, you will have to devote lots of time making one mistake after another to achieve your first trading success. In this case, reading a few cryptocurrency day trading reddit discussions doesn't mean that you will succeed. It is always unpleasant to lose money, but if you make these mistakes during your first time at day trading cryptocurrency, you may learn a lot and avoid similar situations in the future when the stakes are much higher.
Now that you know what day trading is, do you think it is for you? Or would you prefer long-term orders instead? Yes, it may take lots of blood, sweat, and tears, but if you remain persistent, you may know the taste of your first million very soon! Just pick a day trading cryptocurrency strategy and try it out. It is also possible to use the assistance of crypto bots and signal providers. However, if you really want to simplify and speed up the process, I recommend using a combo of both! Don't know where to start? Just visit this page and get all the information on cryptocurrency trading, and signals and their providers. This valuable data will help you choose the most reliable providers for the most efficient trading!
Always remember the golden rule of trading - never invest more money than you can afford to lose. Good luck and enjoy the process!