ThinkMarkets - Experienced Forex Broker or Typical Modern Lie? [Safetrading 2020 Review]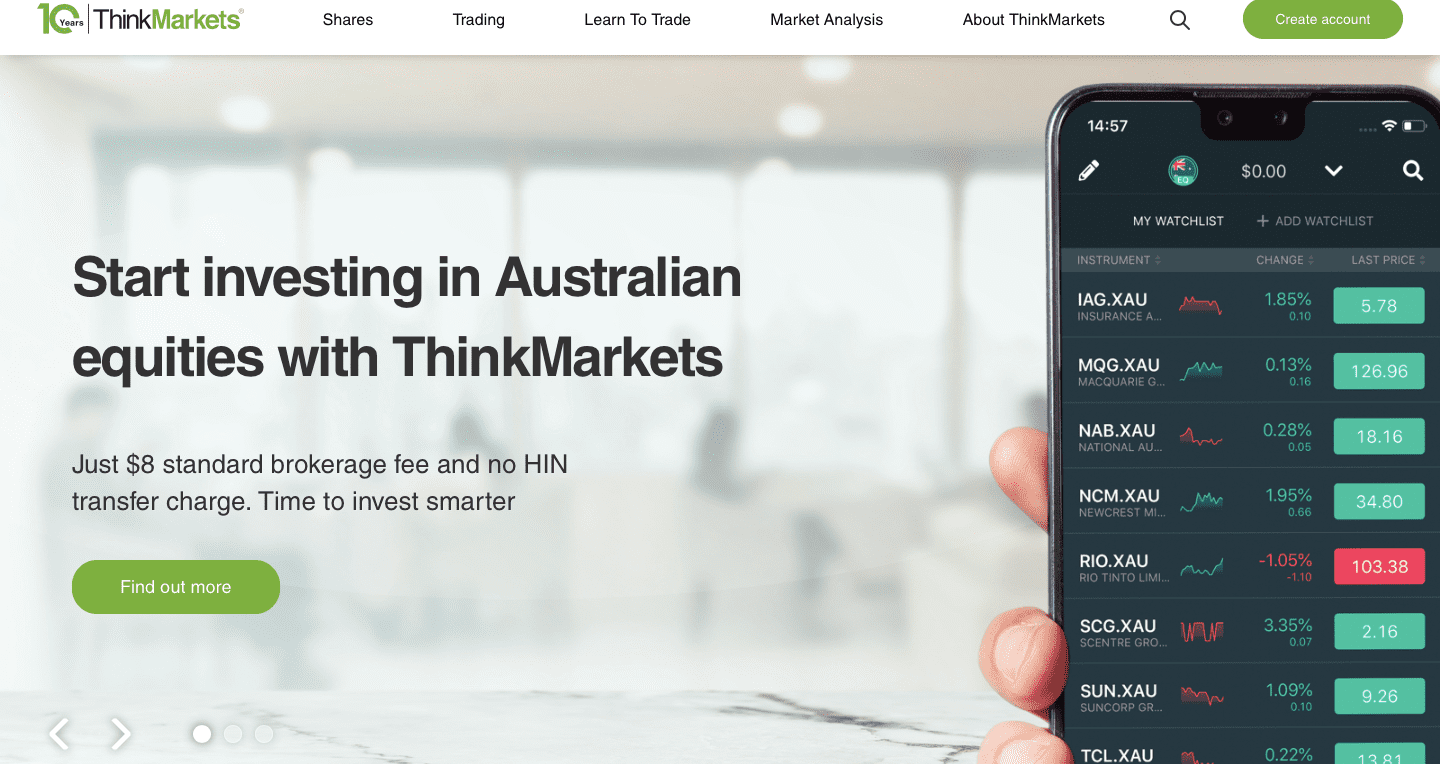 ThinkMarkets is the Forex broker with more than 10 years of experience that offers CFD, crypto, Forex, indices, metals, and commodities trading and is regulated by FCA and ASIC.
If you are a newcomer, you will think that every Forex broker is the same because they offer the same services.
But the biggest difference between all of them is their reliability.
Which Forex broker is the best? Safetrading has the answer.
Today in this ThinkMarkets review we will discuss the history and experience of this broker, it's services, fees, ThinkMarkets Wikipedia, advantages, and disadvantages.
What Is ThinkMarkets Forex?
As I told you before, this broker has a lot of years of experience and is active since 2010.
The first thing you should check is the license. Forget about fees, promised profits, and perfect support - if the service is unregulated, you will better avoid it.
The broker is regulated in the United Kingdom (FRN 629628), Australia (AFSL 424700), South Africa (FSP 49835).
The company-owner - Think Capital Limited is registered in Bermuda.
Every broker has some countries it doesn't support. This broker doesn't offer its services to the citizens from the US, Canada, and Japan.
If you read out previous audits, you will know I pay a lot of attention to the information about CFD trading.
And the broker warns their users about them, which is a good sign for me. They are right - you need to know what you are going to invest in and which risks can be present in the future.
Trading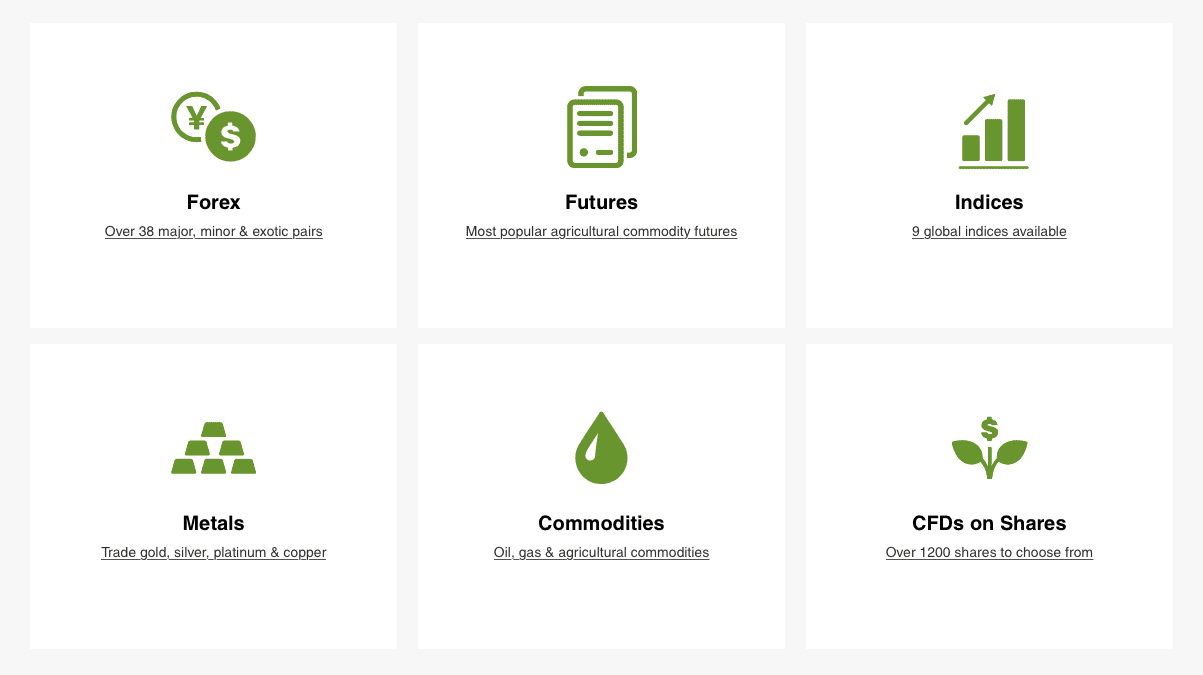 At the beginning of the ThinkMarkets review, I mentioned that they offer the following markets to trade on - Forex, indices, precious metals, crypto, commodities, and CFDs.
Let's talk about each of them in detail.
Forex
As I see from their website, ThinkMarkets Forex offers 6 currency pairs to trade with - EURUSD, GBPUSD, AUDUSD, USDCHF, USDJPY, and USDCAD.
Almost every broker says that his spreads are the lowest, and the same thing does TM. They show us the average spreads that is why it is very hard for me to tell you if they are high or low.
The broker offers 6 indices for trading - UK100, GER30, SPX500, US30, AUS200, and NAS100.
Indices can be traded only in the form of CFDs and are not owned by the trader.
Precious Metals
ThinkMarkets FCA allows its users to trade gold, silver, copper, and platinum.
They are traded in the form of CFD as well. I hope you know that in CFD trading you don't own the asset - the broker will block the price of the asset on the account and send your profit ( or will not in case you lost) back if needed.
Cryptocurrency
Crypto is traded in the form of CFD as well.
I suppose they offer only 5 coins to be traded - BTC, ETH, XRP, BCH, and LTC, all of them are traded to USD.
Commodities
Among commodities, oil and gas are available and are traded in the form of CFD.
By the way, if you don't know how to trade this or that asset, the broker provides an explanation of the trading process for each of the mentioned above.
ThinkMarkets Account Types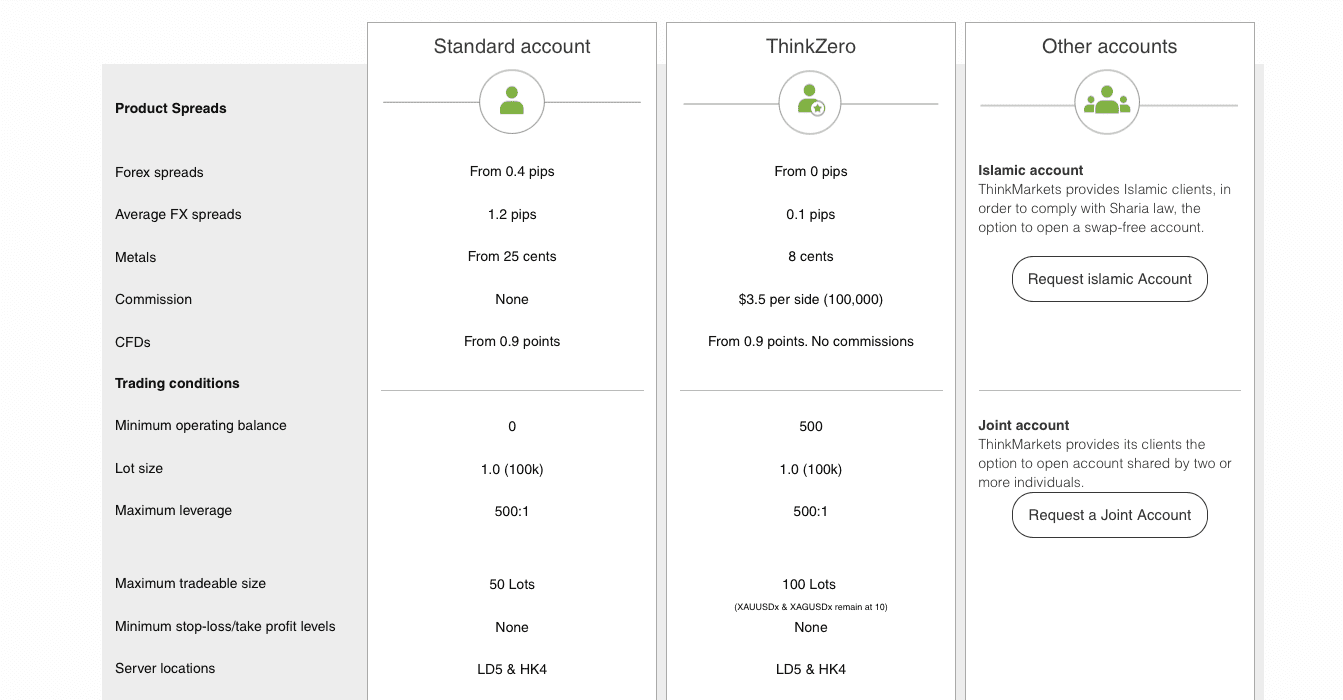 ThinkMarkets Forex offers five types of accounts - Standard, ThinkZero, Islamic and Joint one.
The biggest advantage of the Standard account is that the minimum balance is $0 so you can start trading even if you have $10. ThinkZero accounts require you to have $500 on the balance.
The maximum ThinkMarkets leverage in Standard and ThinkZero accounts is the same - 500:1.
Of course, the ThinkZero account has low spreads compared to the Standard one. It offers AutoChartist and your personal account manager as well.
What about the Joint account?
It is good for people who trade with a friend or business partner.
What Is ThinkTrader?

ThinkTrader is the platform for trading that if offered by this broker and can help you to trade on your mobile phone (desktop and tablet versions are present as well).
This platform is not very hard to use but can be a bit difficult for newcomers.
Final Thoughts
Here is the end of our ThinkMarkets review, and it is time to tell you the most important details about this broker.
I need to tell you that I don't like that they have a limited amount of trading assets.
Also, the support wishes to be better, according to the Trustpilot ThinkMarkets review and ThinkMarkets Glassdoor, a lot of users don't get answers since 2018. But ThinkMarkets withdrawal process seems to be good, according to the ThinkMarkets review Forex Peace Army.
And the biggest advantage of this broker is its platform - ThinkTrader. It is very convenient and is very good to use on your mobile phone even when you are chilling with your friends.
So, what can I say about ThinkMarkets Forex on a five-point scale?
4 out of 5. Don't want to tell they are very bad but there are some moments that still need to be improved.
I hope this ThinkMarkets review was useful for you, and now you know If you want to work with this broker. Additionally, you can go through the Pepperstone review.